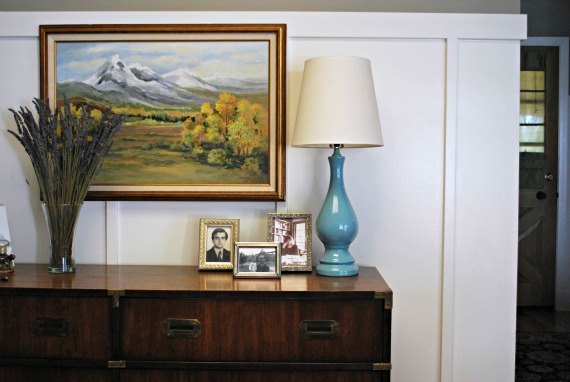 No, we didn't finish the laundry room.
A while back I stopped and started a project organizing my audio-video cords, batteries, and extension cords. I never got around to thumbing through the magazines or buying a box in which to store the batteries. I never got around to buying batteries. I decided to tackle that this month, and while it wasn't my intention to make this my final post, I think it's fitting.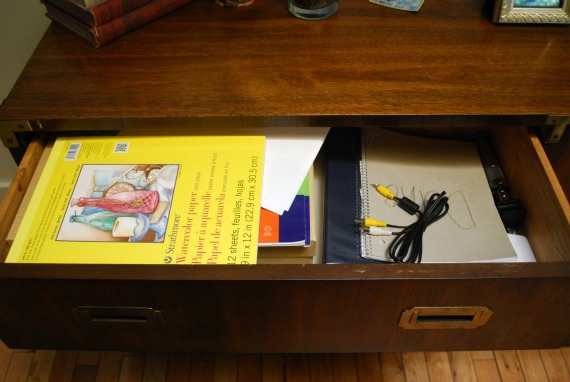 There's a strong temptation to stop at good enough. For some people more than others. It's when I stop at good enough that I tend to get in trouble. This drawer wasn't done, didn't have an official-official purpose, so when school started it was easy for me to open the drawer and toss in graded schoolwork and random art supplies. I fixed the schoolwork issue earlier in the month. Yesterday was time to take care of the rest.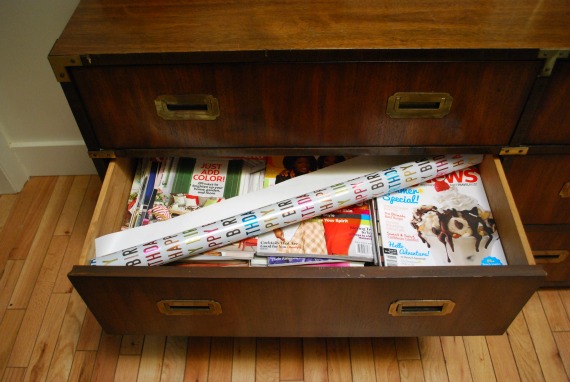 I knew the boxes of cords would fit better in the larger drawer filled with old magazines. I purged the magazines again, getting rid of about 75% of them. I kept only the ones with articles I want to keep. I'll tear those out and put them in a binder. I also kept two dozen issues of Atomic Ranch. It's the Mister's favorite magazine, so I'll put those in a magazine file in his office.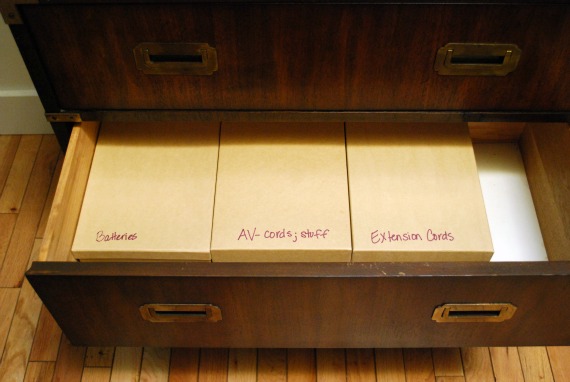 Easy enough.
I didn't know what to do with the top drawer, if anything, until a few days ago.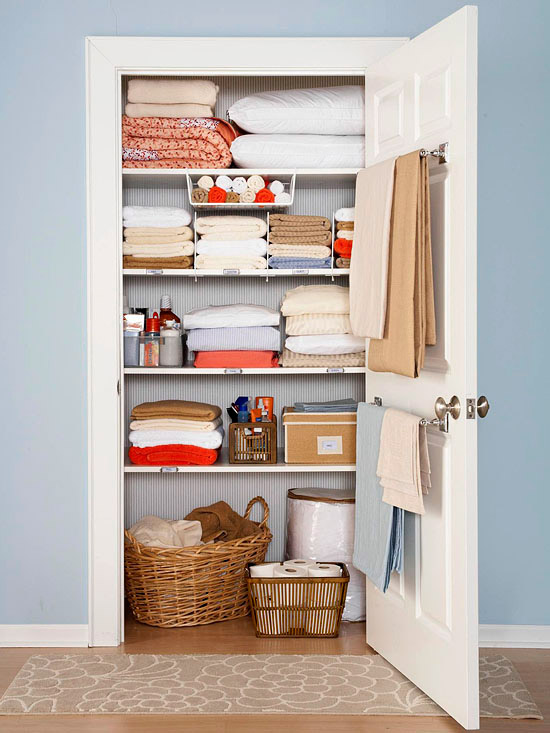 I found this Better Homes & Garden image on Pinterest and immediately pinned it to my William Morris Project board, which is where I keep potential projects, great ideas I might want to tweak, inspirational articles or images, and old WMP posts of mine that that I love or have been pinned. It looked like a great way to store the tablecloths currently piled up in a glass front cabinet we've been trying to sell. I bought them for The Craft Cabinet. They are huge and fit tables of 10-12, if not 20. Storing them in the entry closet seemed like a good, space-saving idea.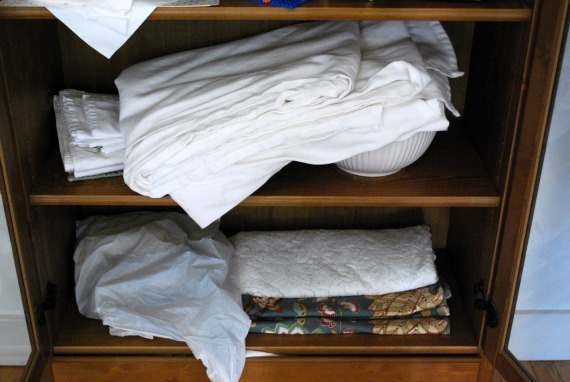 I was all set to go to the store and buy what I needed when I realized I had plenty of places to store tablecloths. I just needed to clean and organize what I had. This is the reason I avoid most home organization blogs, books, and TV shows. The emphasis is often on the latest bin or cabinet or label maker you absolutely need to organize your life. I almost fell victim to the biggest marketing trick in the book.
We buy things we don't need with money we don't have to impress people we don't like.
–Dave Ramsey
I saved myself $20 by cleaning out a drawer and putting the tablecloths inside.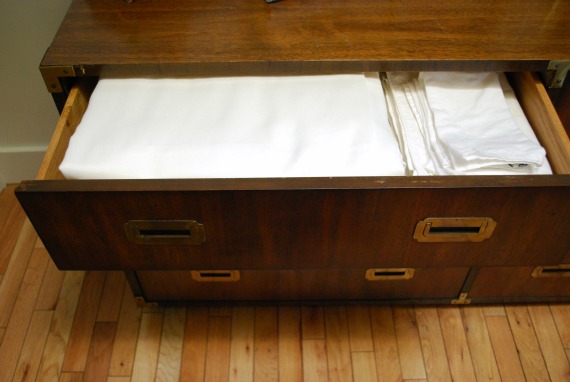 We don't need more stuff to organize our stuff. Stuff is what goes in a house. We're trying to create intentional homes. There's a difference.
That concludes 31 Days of William Morris for 2012. I was going to wrap up this post with my thoughts on how the project went this year, but it was getting wordy. I'll share how I thought it went next week. I did it! I can't believe it.
::::::
New here? For the next 31 days I'm living according to the famous William Morris quote, "Have nothing in your houses that you do not know to be useful or believe to be beautiful." You can learn more about the project here, and catch sneak peeks of my projects by following me on Facebook, Twitter, or Instagram (I'm @pancakesfries).