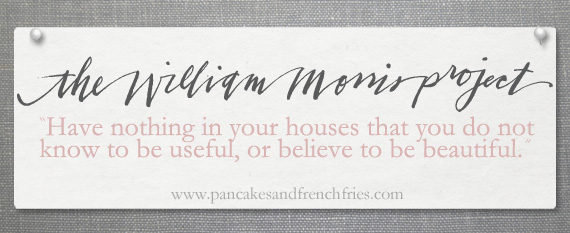 Last week I was busy having fun. On Monday I recuperated. Tuesday I spent procrastinating because I forgot I didn't do anything Monday. On Wednesday the boys and I went to Andrea's house, and during the drive realized I was royally screwed. I promised myself I would leave early enough to come home and tackle a project. I figured 3:00pm tops so I could be home by 4:00pm. We left her house around 5:00pm, just in time for southern California traffic on the 405N. I pulled into the driveway shortly after 6:00pm, and that's only because Andrea let me borrow her FasTrak.
My plan–before I forgot all about it on Monday, Tuesday, and Wednesday–was to clean out the drawer where we store phantom audio video equipment. Cords, chargers, outlet strips, and dozens of magazines I haven't read in years. And glasses and medical equipment, too.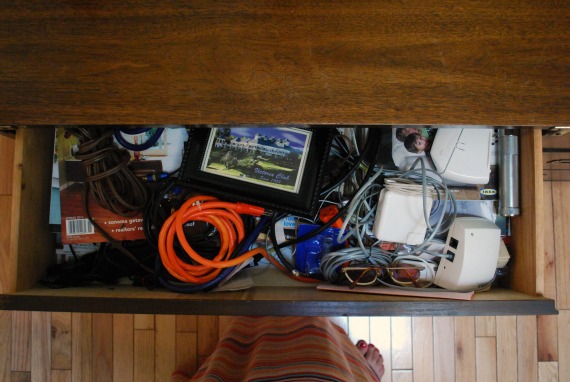 I had a clear vision of how I wanted this drawer to work and bought what I needed weeks ago. I wanted to make this the place where we store outlet strips, batteries, flashlights, and candles. Similar to this drawer by Benita Larsson, but imagine the other items I mentioned as well. I knew at 6:30pm I could never do everything I had planned.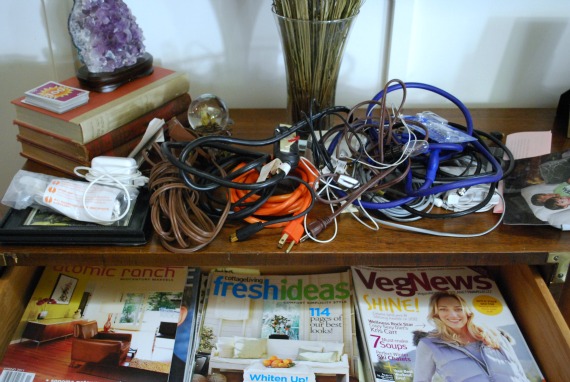 I almost called it a day. I knew everyone would understand. I've been pretty good about keeping up with my weekly projects over the last 5 months, and with my 31-day stretch coming up in October, slowing down would be a good idea. I could have put off cleaning this drawer until I had more time, until I could do it the right way. Instead, I decided to do what I can.
Whenever someone emails me and says they want to participate in The William Morris Project but don't know where to start, I tell them to start with one drawer.
Said the King to the White Rabbit:

Begin at the beginning and go on till you reach the end: then stop.

Lewis Carrol, Alice's Adventures in Wonderland
Make one drawer your beginning. You determine the end.
I had to accept that for me, today, the end wouldn't be a completed project that matched with the ideas I had in my head. The end would be as much as I could do before I burned dinner.
I placed all the cords and whatnot on top of the dresser and quickly discarded what we didn't need. I tossed out all the magazines that weren't dogeared or bookmarked. Those that were, I kept.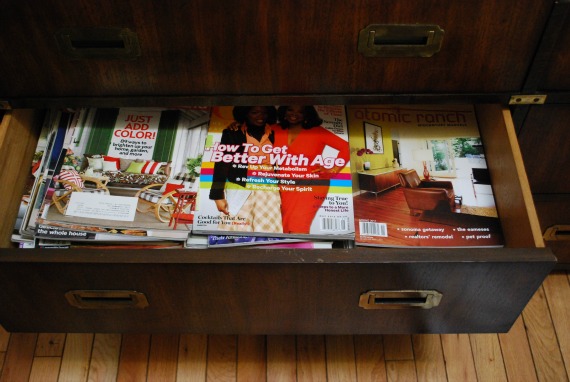 Then, because I didn't have time to go through them and tear out the sheets I wanted to keep, I opened the drawer underneath and put them on top of even more magazines. I had planned to tackle both these drawers at once and do a major magazine purge/organization day, but it didn't happen. That's okay. Progress, not perfection.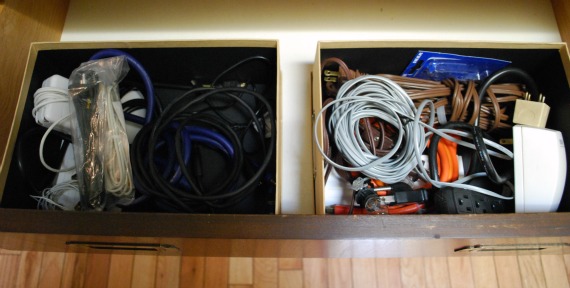 Next week is The Craft Cabinet, so I don't know how much farther I will get with these drawers. The week after that is busy, too. That's life.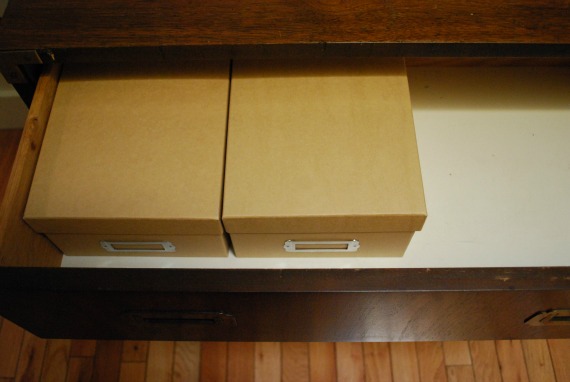 Life is busy and doesn't go as planned. Some things are more important than others, and sometimes you don't have the time or money to do what you want. Don't let that stop you, even though it is so, so tempting. I know that feeling, and I let it stop me from moving forward for years. (I still do.) Tell yourself, like I did yesterday over and over again, that it's better to do something, anything, than to look back on nothing.
::::::
This post was part of The William Morris Project, a weekly series that details the steps I am taking to create an intentional home. You can see more of my goals and completed projects here. To learn more about this project, start here.
::::::
Now itís your turn! Feel free to share how you have lived according to the William Morris quote, ďHave nothing in your houses that you do not know to be useful or believe to be beautiful.Ē Made a plan? Cleaned a drawer? Bought a sofa? Tell us about it with a link or comment. A few guidelines:
Please link to a specific post, not a general blog address.
Your post must relate to your efforts to create an intentional home. I have a delete button, and Iím not afraid to use it.
No links to giveaways, please.
Letís use this weekly link up as an opportunity to gather inspiration and motivation. Click links. Discover new people. Say hi and good job. I know I will.