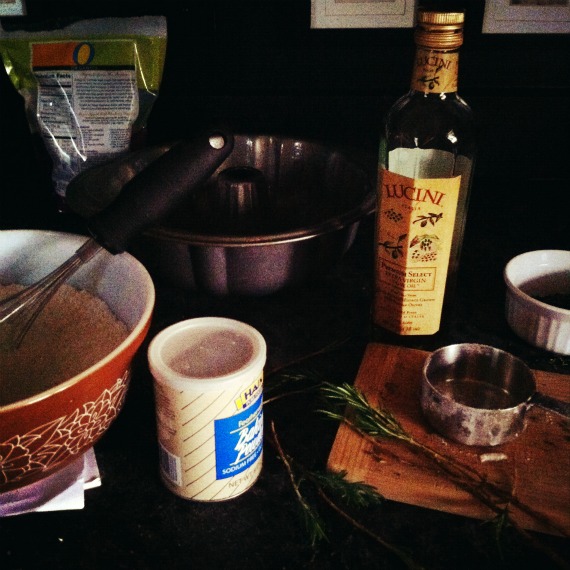 I sat down to write this post with a rosemary cake in the oven, the recipe for which you can find on page 222 of An Everlasting Meal. It's a test run for Mikey's birthday party in June. He loves rosemary, hates frosting, and prefers cakes with dollops of whipped cream and fruit. I described to him the recipe and he asked me to make it for his birthday. Since it's a rosemary cake, not exactly something you would find at most 8 year old birthday parties, I told him we would do a test run first to see if he liked it in practice as much as he does in theory. The smell from the oven is intoxicating.
This story about a rosemary cake is as much for me as it is for anyone. I retell it to remind myself that children can and do have sophisticated palates, and that there is life beyond nuggets. I have to admit, though, that the phrase "sophisticated palate" is the sort of elitist-sounding, quasi-hipster terminology that makes me want to poke my eyes out with a plastic spork. There has to be a better way to say, "I enjoy a wide and varied number of foods." My point is, I read An Everlasting Meal and found many of the recipes better suited to a childless couple or singleton until I remembered that (1) Mikey and Nico are both adventurous eaters willing to try anything once and (2) the spirit of the book is to promote instinctive cooking, and if a recipe that calls for a Scotch Bonnet pepper seems unlikely, follow your instincts and skip it (the recipe or the pepper).
Overall, I enjoyed the book quite a bit and gave it four stars on Goodreads. The writing was clever, sometimes too clever, but overall I admired Adler's ability to extract every last possible use from the ingredients in her kitchen. With each chapter I found myself thinking this would be how I would cook if I learned at the knees of my grandmother, someone who moved from Italy to Argentina and still walks busy city blocks to the butcher and then the produce vendor and then the baker.
Many people consider An Everlasting Meal to be life changing, which I understand. It's the type of book you read once, and then again to take notes and mark important passages. I read it once and have fifteen post-it flags sticking out of the book.I hope I make the time to read it again. I feel I will get much more from it a second time around.
There are little things Adler does that wouldn't occur to me, like saving the ends of onions for chicken stock. I use onions regularly and always toss the ends. In fact, it's one of the reasons I want to start a compost bin; the waste bothers me. So when I read she saves the ends to use later for chicken stock, I had to laugh. I make chicken stock regularly and always use a fresh, whole onion. Never, not once, did it occur to me to save any of the vegetables ends I discard during the week for another purpose.
After I read that I started saving the ends and scraps and the chicken stock I made that week was better than any I ever made in 12 years of marriage. I later used the chicken stock in a sausage and kale soup that was also pretty darn tasty.
Most of the recipes in the book are made from odds and ends, mistakes and regroupings. There is a lot of adapting leftovers, lots of, for the lack of a better word, European eating. I'm not sure that's the phrase I'm looking for, but I'll use it until someone suggests something better. Simple meals made of simple ingredients, like a baguette and soft-boiled eggs over greens, that make dinner seem almost decadent. It's strange to think of such a spare meal as decadent, but isn't it, in a way? No rigid eating guidelines or courses, no formal "this is a dinner and we must dine" mentality.
It sounds crazy, to have a dinner that isn't really a dinner. And then I remembered the night that in January when we ate a dinner that wasn't a dinner.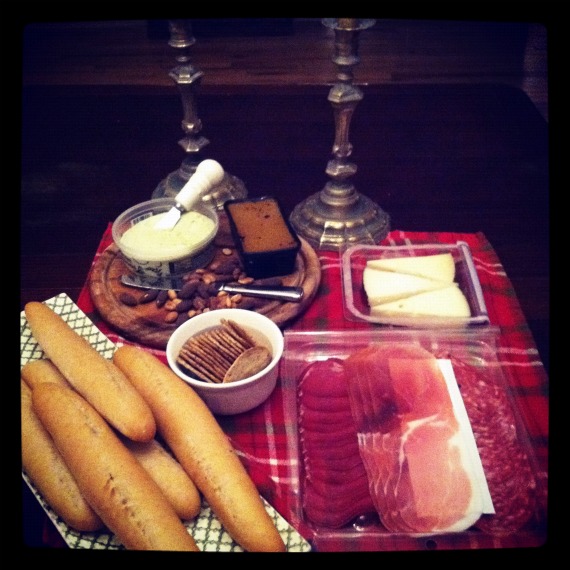 And how we promised that we should do it at least once a week because it was so satisfying, so delicious. Number of picadas for dinner since January: zero.