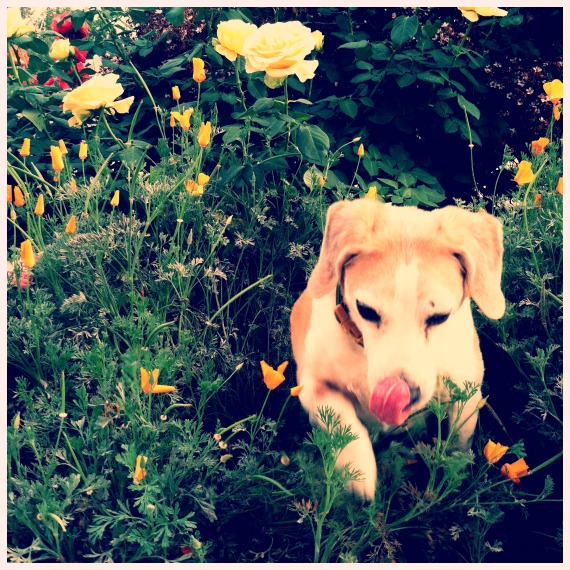 I started the week determined to make it great. Iím ending it committed to making the next one even better. These are some of the things that made me happy.
:: On Saturday we watched both boys play baseball, and for once it was a beautiful day. Hot, even.
:: Sunday brought us more baseball and more heat. Everyone was complaining, but I soaked it up like a lizard. Vitamin D, that's what I was thinking.

:: Monday brought very good news, indeed. Good enough to take the sting out of yet another baseball game. Also, I was honored at Mikey's school assembly for the volunteering I've done at the school.
:: We didn't even touch a baseball on Tuesday.
:: Buster snuck out of the house on Wednesday while I was talking to the Mister, who just got home. It wasn't a big deal because Buster is far too lazy to go more than a few yards without Buddy leading the way. I ended up walking alongside him for all twelve feet of his journey and took some pictures of him playing in the neighbor's garden.
:: I drove Buddy to a fancy canine ophthalmologist in Upland on Thursday. His left eye is clouded and irritated, and has been since December unless we give him special drops. I had to take him in to rule out a "more aggressive disease state," which is code for cancer. (If I never hear that word again…) Turns out he is fine, though he will be on drops for the rest of his life. He has, essentially, Old Man Eye. He has Old Man Lung, too, but that's a different set of medication. My poor Buddy. Twelve is hitting him hard.
:: Today is Friday, a day Nico has been looking forward to all week. A school friend is having a birthday party! I will not know a soul there. I can't hardly wait.
Saturday and Sunday? More baseball? Get outta here. I'm shocked.