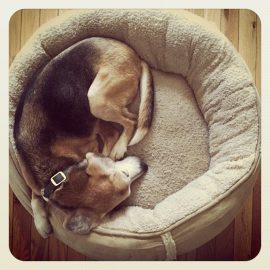 †† On the same day I took Buddy to the ophthalmologist, perhaps while we were at the ophthalmologist, Buster ate something inadvisable. He spent the night in and out of the backyard, every three hours, until around 5:00am.
Buster has what one would delicately describe as a thick form. Such indiscretions are not unusual for him, and we figured he would be fine after a day of rest.
Not so!
He was up all night Friday, but not on Saturday. We had him skip dinner that night, and he seemed better after his fast. After resuming meals again on Sunday, he was up all night, again until 5:00am. That seems to be the time even his bowels get tired. I made an appointment for him first thing Monday morning.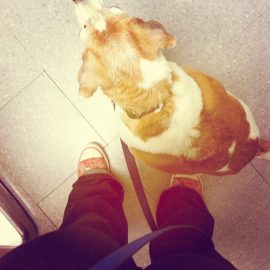 † When I took Buddy to the vet on Thursday, he sat quietly by my side. When the vet stuck little paper things under his eyelids, he didn't move. When they flashed lights in his eyes and approached him with headgear, he moved, but only to purse his lips like an anxious child. He sat there, a little zen master, waiting patiently while the humans performed their tricks. The only indication he gave that he might be nervous was the occasional tremble in his thighs and the way he would curl up next to me and put his head on my shoulder.
Then, there is Buster.
I'm not even finished opening the car door before his corpulent body is out inspecting the vet parking lot for a morsel of food. (You never know, a 12 year old raisin may have fallen from a Mom Car.) He rushes towards the door like I'm mushing him towards an endless row of toddlers in highchairs with poor pincer grasps. He is the eternal optimist.
Buddy approaches the vet with resignation. Buster approaches the vet with blind hope.
Ten minutes later he is shaking and looking at me wild-eyed as if to say, "I can't believe it. I really can't believe it!"
Then he'll catch the scent of another dog in the waiting room, and the memory of the rectal exam is pushed aside in favor of what lies behind the hollow-core luan door. A Pomeranian, it turns out.
If Buddy is the zen Buddhist on a spiritual pilgrimage, Buster is the greaser in a hot rod on his way to meet a girl under the high school bleachers. They are the same, only different, and we love them both to pieces as we help them navigate these new, somewhat more challenging senior years together.