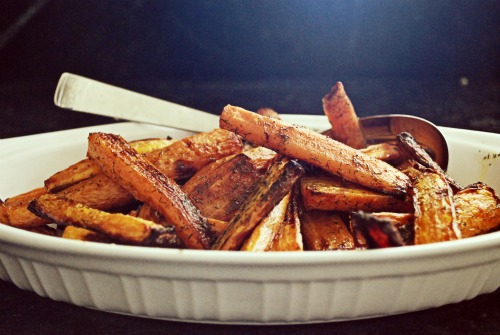 All summer long we feasted on sweet roasted carrots with dill. Even Mikey ate them, and he hates carrots right now. Sally asked me for a recipe in the comments of my roasted vegetables post but, no surprise here, it's not much of a recipe. Having said that, these carrots sure are yummy. I wish I had a plate of them right now.
The secret ingredient is extra virgin coconut oil. You can use any oil you like, including olive oil, but coconut oil brings out a sweet flavor without being cloying. My favorite is Nutiva Coconut Oil. It's not cheap, nor is any brand of coconut oil. I like it because it has the best, mildest flavor–the least coconutty–and is frequently on sale. I roast everything in coconut oil, so I buy a large container to last a couple of months. You can find it at most health food stores.
Sweet Roasted Carrots with Dill

adapted from Barefoot Contessa

2      pounds carrots, washed and sliced uniformly in halves and quarters
2-3   tablespoons of coconut oil
1-2   teaspoons good quality salt (I use Real Salt)
1-2   tablespoons of fresh or freeze-dried dill (dried works well, too, but you may need less)

Preheat oven to 400°

Slice carrots so that they are all the same size, either in halves or quarters. They should be the size of thick cut steak fries. Keep them long–they'll shrink as you cook them. Place them in a shallow roasting pan or sheet pan and toss to coat with coconut oil and salt. The carrots should sit in 1 layer.

Roast in the oven for 20 minutes, or until carrots are golden brown and tender. They will not get crispy.

Remove from the oven and sprinkle with dill. Toss to coat. Serve.