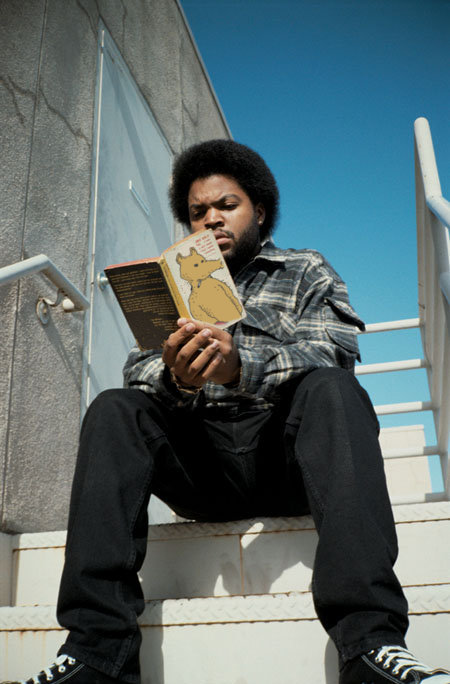 I love it when I get a good idea–even when they aren't original and have been done a million times.
Yesterday, after I replied to an email about the shame boys feel when they are perceived as smart or bookish, I became increasingly angry with the situation. Boys! I would strangle all of them if I didn't love them and they weren't integral to the continuation of the human race. I had to do something to show boys that getting caught reading in public–The horror! The horror!–is not social suicide.
Enter, Ice Cube.
I spent some time with a 6th grade boy this week, trying to get him to read something, anything. (His grandma reads this blog so this is for her: I got him to check out The Lightning Thief and suggested he read it and see how it compares to the movie.) I know he loves rap music and basketball, and I know he read Harry Potter 1-4. On a whim, I started googling "rappers reading books," "basketball players reading books," and ever other combination of "guys teens would know" reading books.
Then, I posted the picture to Instagram where I knew he would see it. I might have given a small lecture on boys and reading, but nobody's perfect. I showed great restraint under the circumstances!
Today, I got up early and posted a picture of Rupert Grint and Tom Felton (Ron Weasley and Draco Malfoy) reading in between takes of one of the final Harry Potter movies because I know this boy checks his phone before going to school.
Tomorrow I'm going to post a picture I found of Lebron James reading.
#nothingwrongwithreading
I've been collecting all my pictures on pinterest in a rare instance of organized researching. I'm going to try an post a picture to Instagram as often as I can after I figure out the legalities of reposting pictures that aren't mine. (Any lawyers out there with thoughts on this? I'm assuming I have to alter the picture somehow…)
In the meantime, let me know if you find a picture you think a teenage boy would appreciate. A few of you already have and sent me pins via pinterest. Thank you! It doesn't have to be rap/basketball/Harry Potter. I searched for those because I had one boy in mind yesterday, but really I'm doing this for all boys, whether I know them or not. It's better than strangling them.