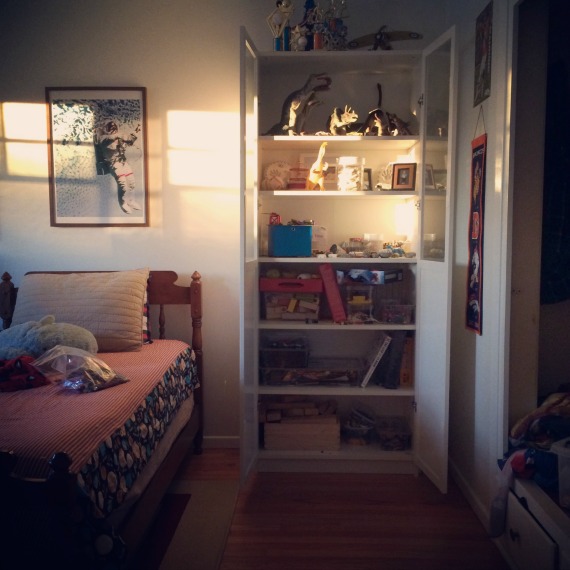 I just spent time undetermined looking for a missing hermit crab (Hermie Rex). Months had gone by since we last saw him, and I was afraid his molt had turned into a mortality. We found him, and all seems well.
Monday
Back in the library, at long last! The kids liked all the decorations, so that made me happy.
Tuesday
I finished the first season of Doctor Who! Not the first first season. The season with the 9th Doctor, Christopher Eccleston. This Doctor Who thing is all very confusing. I can tell, especially now that I'm watching season 2, that I'm missing back stories and characters, and when that happens I head to Google. Normally I like to start a show from the beginning, but I can't very well watch 26 years of episodes now, can I?
Wednesday
Mikey and another classmate represented the 4th grade in the school spelling bee (4th – 8th grade). He was so nervous. I was beyond nervous, but tried to pretend it was no big deal. He made it to the 3rd round and misspelled the word "exhibit." I guarantee he will never forget how to spell that word. He was very disappointed he didn't win, but that's typical Mikey perfectionism. He was feeling better by the time I picked him up from school.
Thursday
I took a nap. Not a really big deal, but Nico had a croupy cough this week and the Mister was out of town. There was one night where I didn't sleep more than 2.5 hours, so that nap in the late afternoon felt like, I don't know, kittens sliding down a rainbow into a golden bucket full of rose petals.
Friday
I am so excited about the William Morris Project for next year! I've been reading some books on decluttering and simple living that have been getting me excited to tackle some projects again.
The Weekend
I hope to do some reading and relaxing! Nico has a birthday party he can go to, but with him just getting over that cough I really don't want him rolling around in a Fun Zone.
Have a happy, happy weekend, everyone!