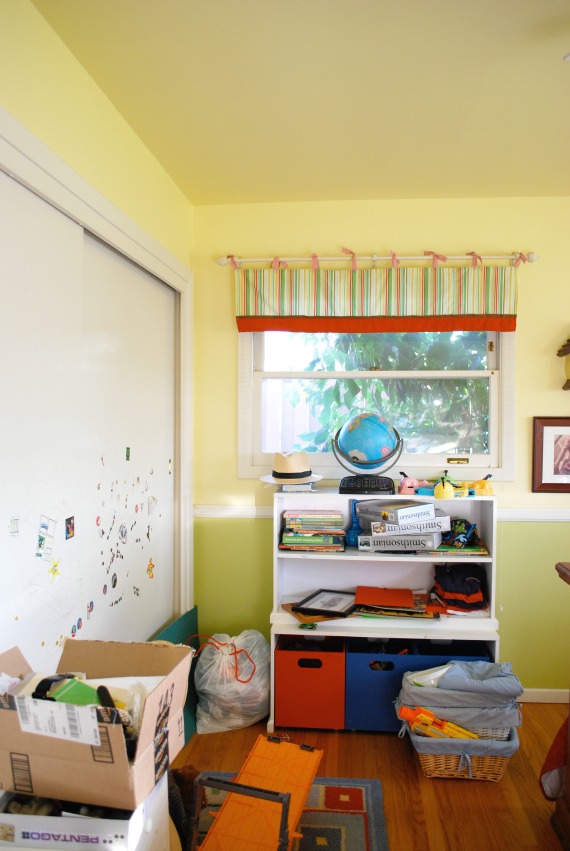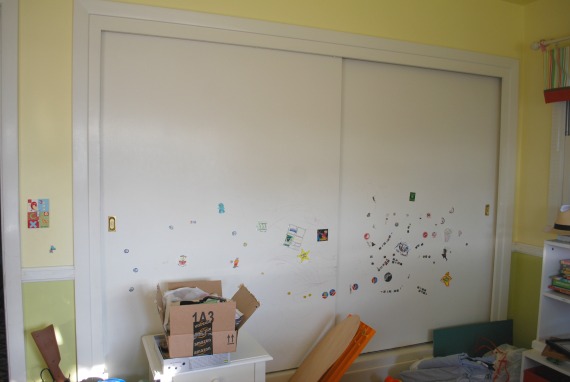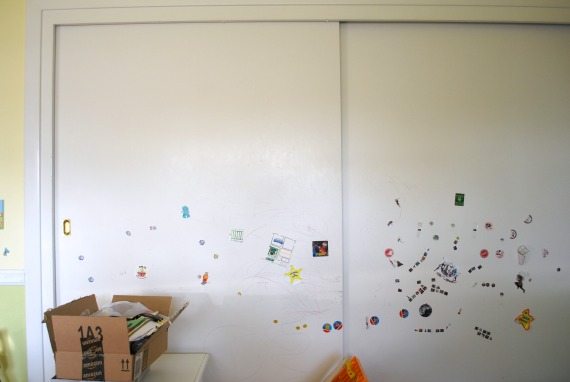 The Mister just walked in the door. He's sitting on the sofa watching Veggie Tales with the boys–Nico, who is still croupy and Mikey who now has a fever. Welcome home! Aren't you glad you're back?
I haven't mentioned Nico's old room since he and Mikey started sharing one room. In short, it's become The Room Where Furniture Goes to Die. It's also The Land of Misfit Toys and where The Child Who is Sick sleeps. Over the last couple of weeks it's also become Where They Do Homework thanks to some desks we bought them last month. I also bought a simple bedspread that incorporates the nursery colors because we don't have the time to repaint anything right now. By the end of the month, I hope to have the toys cleaned out, the desk situation figured out, pictures up on the wall, and the closet organized. Rather than taking this on all at once or creating day-long projects, I'm taking it easy. Yesterday I handled Nico's well curated sticker collection and his abstract crayon art on the closet doors.
You can't really see the crayon marks, but they were there. Both the stickers and the markings were something I ignored because I knew from experience that it was a phase he would outgrow and nothing too taxing to clean up once, versus over and over again. Trust me, I know how to clean taxing, and a couple of dozen stickers and some crayons isn't it.
So I waited, let Nico have fun with his stickers, and sure enough he outgrew his adhesive phase. Since we're never in that room unless one of the boys is sick, I forgot all about the stickers until this month. Perfect project for a lazy day with sick boys and a burned out mom. I don't know how long it took me, but it wasn't more than 20 minutes. The stickers peeled off without a problem. Most of them were low adhesion stickers for fruits, vegetables, clothing (not much of a collection, if you ask me), so I didn't have to scrape or soak a thing. The crayon marks came off with a magic eraser, because those things truly are magic.
Eventually we'll repaint the room and when we do, we'll repaint the closet doors. But for now? Totally fine.