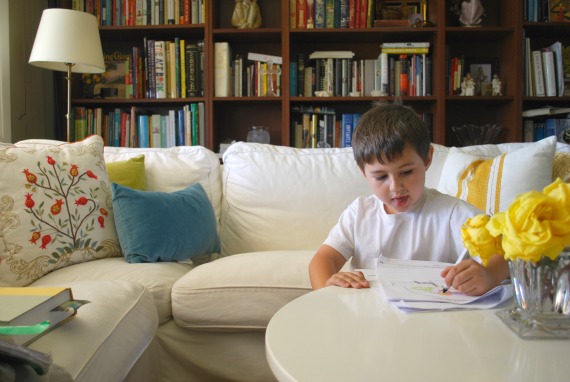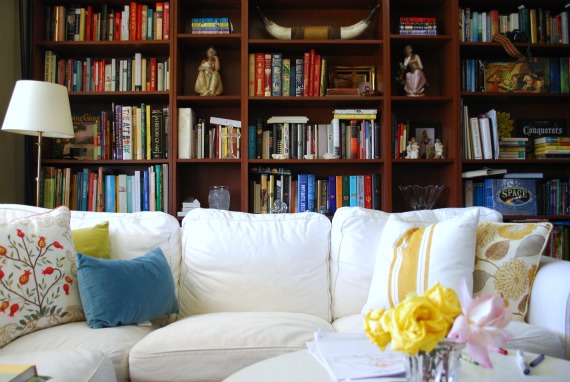 Hello! Only three more days left in the month! I'm going to be glad when the month is over, let me tell you.
There are two things you already know about our family room: we have a white Ektorp sectional from IKEA that we love and my inspiration for the family room featured a blue and white settee and a wall of bookcases. The only similarity between our room and my inspiration room was the books.
Our family room doesnít look much like the picture. One day I will have white bookcases and a little more color on the sectional. Specifically, blue and white because confession: I love blue and white. Second confession: I never use blue and white. Iíve found itís a color combination that can go wrong quickly, or if not wrong, really, really specific.
I went into IKEA on Sunday prepared to buy a blue slip cover–the vellinge in dark blue–but when I went in there I started to second guess myself. A quick text to Nicole and Andrea and a post on Instagram confirmed I should follow my gut and go for dark blue. So I did!
Thank you to Andrea for not reminding me that I scoffed and said, "Life's too short for beige sofas!" when she debated her teal sofa two years ago. I already have a blue sofa, so I'm not sure what the hand wringing was all about.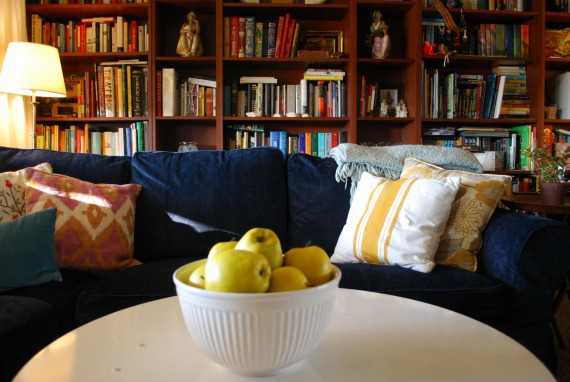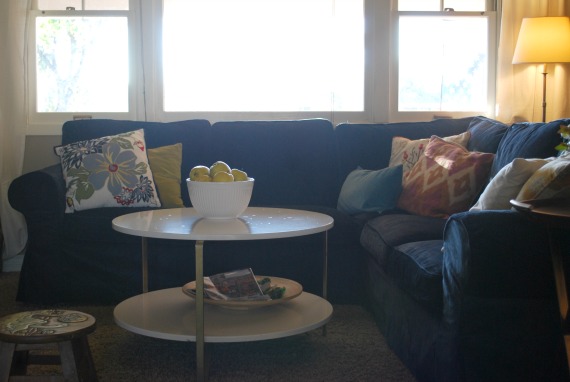 I still loved the look of white, but I'm fickle–never lied about that–and was looking for a change. The dark blue with its not-really-velvet texture is warm and comfy for winter. Plus, the blue is taming some of the olive in the wall color, which is what I was hoping it would do. Because this is a west facing room, the afternoon light filters through the trees in the front yard and turns the gray walls a drab olive color. You can see it clearly in this picture. The dining room (where the game cabinet is) and the family room have the same wall color, if you can believe it.
In the picture above, where the sofa is below the window, you can see a corner of the wall. It definitely looks more gray and less army green thanks to the deep blue of the fabric.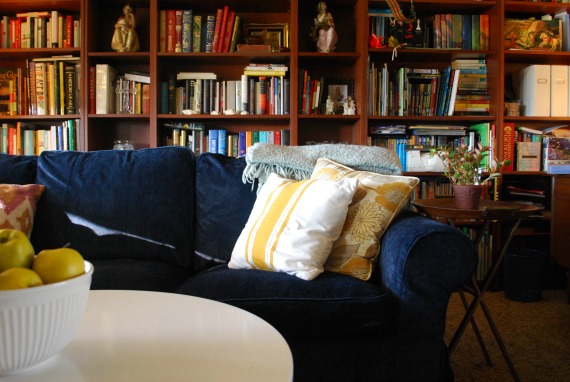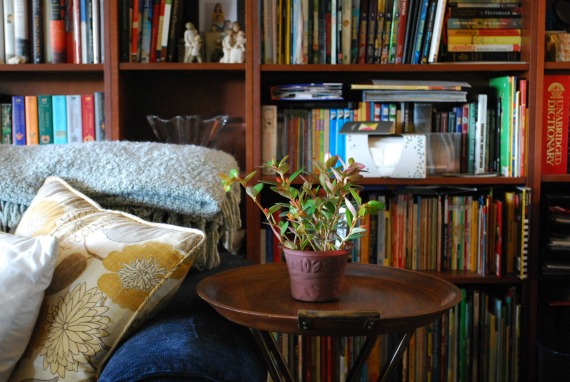 I found the plant stand at Target (clearance!) but I've already moved the goldfish plant to another spot. My zebra plant, which I kept in the living room, is now on this small table. Hopefully it does better here with the brighter light. That living room is a plant killer. It's way too dark.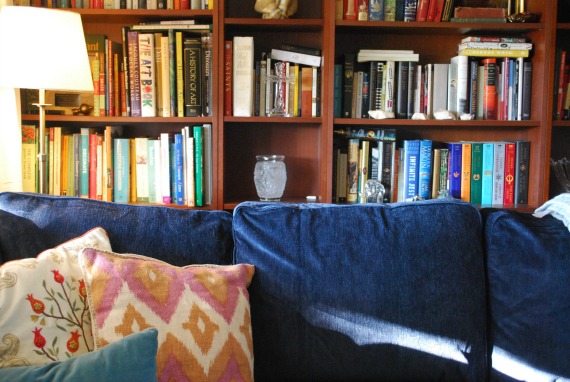 This is a closeup of the fabric. It's a redundant picture, I know, but I have a blue sofa so I went a little nuts with the camera.
p.s. The bowl of apples is not me doing a blogger style thingy. It was my mother in-law's birthday dinner and there wasn't room on the table for the bowl, so my husband moved it there. I didn't bother moving it for pictures, but I did later for cake!