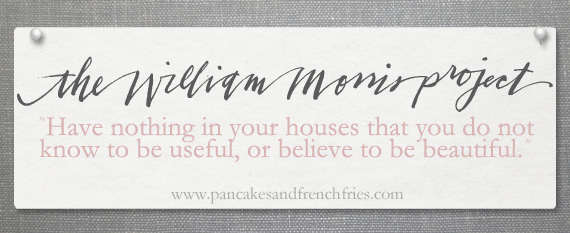 I wanted thank you all for your input on Nicholas the other day. I never considered ADD because I thought hyperactivity was a component of the disorder, and he is definitely not hyperactive. He's actually calm and sweet, and when he's doing something he enjoys–like building or drawing–he can stay focused for a long time. (This all works nicely with what I have since read about ADD.) I've been doing some research, checked out some books from the library, and have been working on some questions to ask the pediatrician. I mentioned to my mom my suspicions a few days later and she said one of my brothers was diagnosed with ADD as a child. This same brother is the consummate highly gifted day-dreamer. The plot thickens!
Maybe I have ADD, because this is all I was able to achieve in two weeks. I bought frames. Yay, me!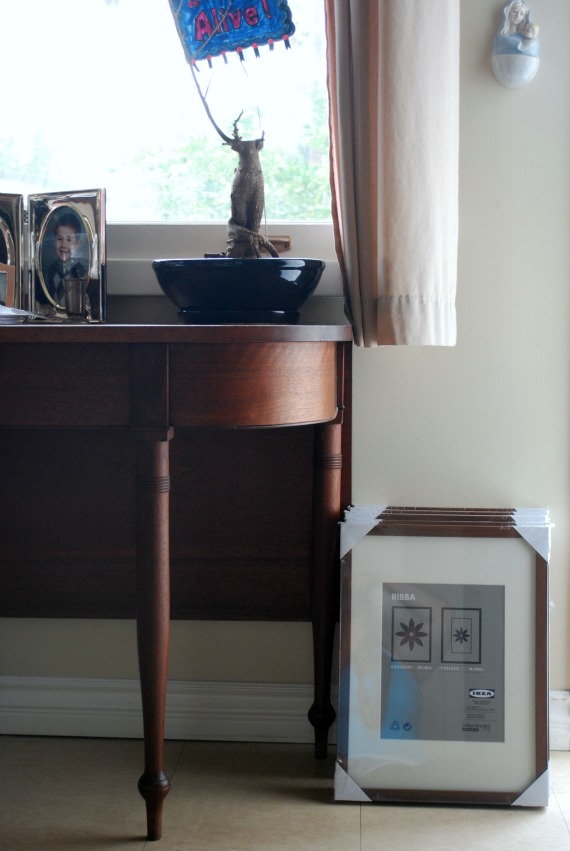 These frames were going to hold my favorites drawings from the boys in the laundry room, but my procrastination my have worked in my favor because now I'm not sure if that's the best idea. We have a nice expanse of wall that may be better served with an enormous chore chart because ohmyword summer vacation.
The boys are slobs now that school is out.
They lounge on the sofa like kings.
I tell them to pick up this and that and everything else what feels like 400 times. I hate to dole out the consequences, but sometimes they paint themselves into a corner and leave me no choice but to follow up on my threats. This ticks me off because I would like to go swimming at grandma's house, too, so their day isn't the only one "totally ruined."
After dinner the other night I must have complained or I don't know what, because the Mister snapped like a dry twig and held an emergency Come to Jesus meeting. As the middle son of a single mom for most of his early childhood, he grew up with far more responsibility (and at an earlier age) than our boys have now, which he likes to point out every now and then.
It's not that the boys do nothing. They make their beds and clean up, but there is nothing formal in place.
Assigning responsibility is one area where we don't always to see eye-to-eye. I half expect him to toss them the keys to the car and have them fill up the tank on the way home from picking up groceries. He probably has nightmares of me rocking them to sleep as adults like the mom in I Love You Forever. On Tuesday we met in the middle.
Mikey is now in charge of clearing all the plates from dinner, rinsing them, and loading them in the dishwasher. He hand washes anything delicate. (Any dishes in the sink from throughout the day are also his responsibility.) Nicholas is in charge of putting away or to wash all the linens and wiping down and cleaning the table. They did a fabulous job. Far better than I expected.
And do you know, the next day at breakfast as Mikey sat down Nicholas almost had a coronary because he didn't put down a place mat. "My table! My table! Dude, that's my table. I just cleaned it and you're going to make it all messy!"
Later that night, Mikey remembered on his own to do the dishes and load the dishwasher. I had a #momfail because I didn't let him wash my chef knives by hand. I admit it, I chickened out. I didn't like the way he was playing with them and instead of correcting him I took them away and said I would wash them. I knew I was doing the wrong thing even as I was doing it, but if I was perfect I'd have a federal holiday in my honor and the power to divide nations.
Instead, I have 5 frames I might not use. I don't have a chore chart. I do have quite a few websites that breakdown chores according to age, and they are inline with what we had planned, so that's good.
Speaking of chore charts, anyone have one they like? I admit I would like a cute one. I know! So dumb. These seem to be pretty popular. It's a little girly for my taste and I don't care for the black frame, but I know the boys (okay, Nico) would love those magnets.
EDIT #1: The dry erase method has been recommended and it's one I considered, but I know the smudges would drive me crazy plus I don't want to be the mom who doesn't let the boys touch something because they'll "ruin" it. (Because that's exactly the mom I would be.) Both Mikey and Nico are left handed, so there is no way around smudges.
EDIT #2: I think I might have found what I was looking for on Pinterest. Simple, inexpensive, not too "baby" for Mikey. Thoughts?
//////////////////////////////////
This post was part of The William Morris Project, a weekly series that details the steps I am taking to create an intentional home. You can see more of my goals and completed projects here. To learn more about this project, start here.
//////////////////////////////////
Now itís your turn! Feel free to share how you have lived according to the William Morris quote, ďHave nothing in your houses that you do not know to be useful or believe to be beautiful.Ē Made a plan? Cleaned a drawer? Bought a sofa? Tell us about it with a link or comment. A few guidelines:
Please link to a specific post, not a general blog address.
Your post must relate to your efforts to create an intentional home. I have a delete button, and Iím not afraid to use it.
No links to giveaways, please.
Letís use this weekly link up as an opportunity to gather inspiration and motivation. Click links. Discover new people. Say hi and good job. I know I will.