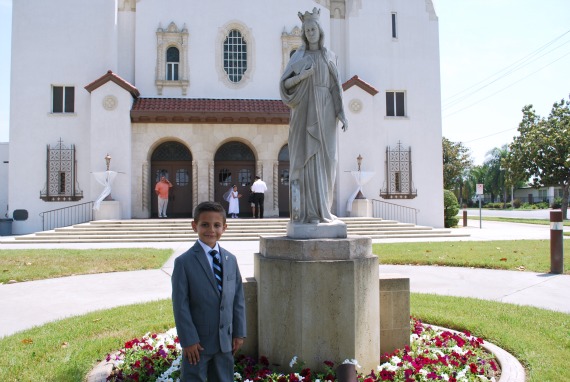 Part of me was dreading Mikey's First Holy Communion. Lots of people, expense, and work were guaranteed. Another part of me looked forward to this day because for Catholics, this is our walkabout. Our bar mitzvah, our rite of passage, our Prom with God. It's what separates the little kids from the big kids, especially since our parish waits until the 3rd grade before the kids have their first communion. I guess a part of me was dreading it because I wanted it to be special, and if it wasn't I was going to be sad. I decided to do something I never do to ensure the day went somewhat well. I made it as low-key as possible. I didn't try to do anything perfect, didn't try to have THE FIRST HOLY COMMUNION TO END ALL FIRST HOLY COMMUNIONS.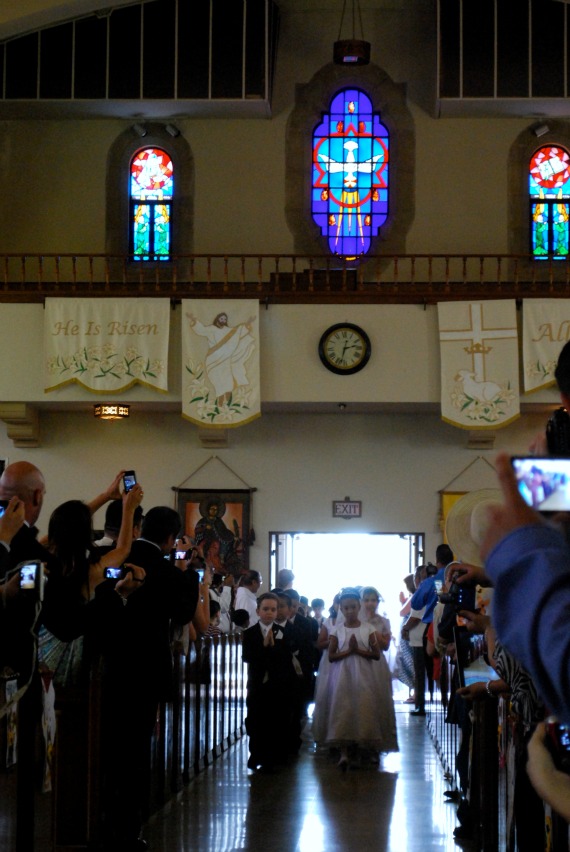 I didn't try to get perfect pictures. The lighting in the church is horrible and I was too nervous. I focused on taking pictures of everything I wanted to remember and left it at that.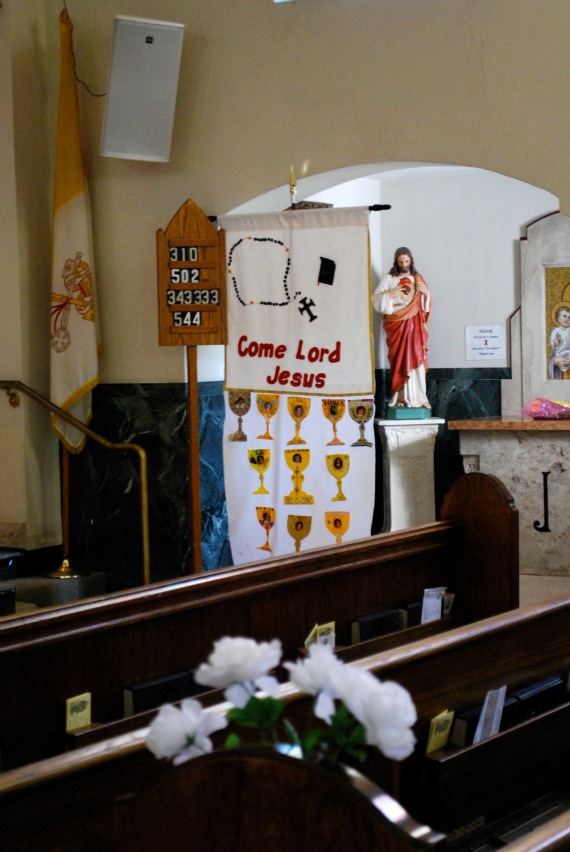 One of two class banners, this one holding Mikey's "Holy Grail."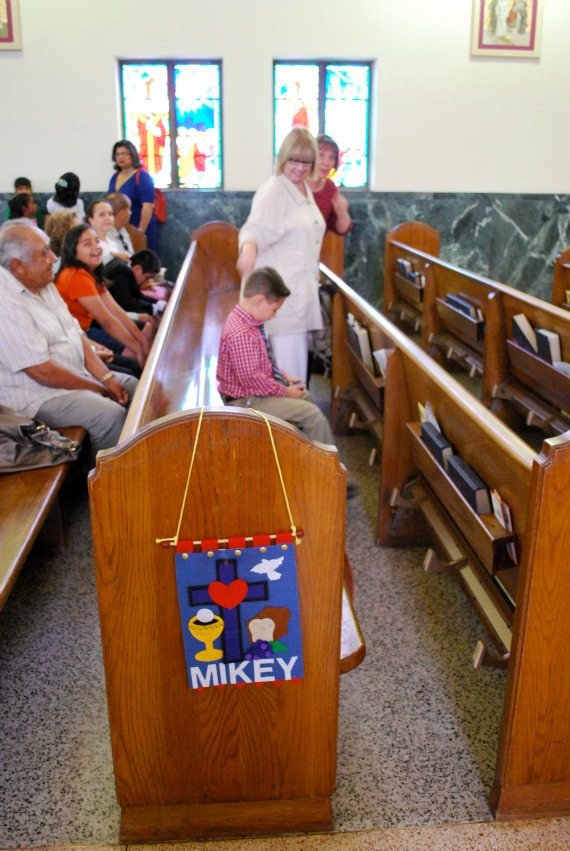 Here is the infamous banner marking our pew, which turned out to be in the 2nd row thankyouverymuch. I thought my mom was going to have an aneurysm when she realized we were so close. She called me every day the week prior to ask where we were sitting, as if she asked enough, that whole "lottery thing" would disappear and we could stake out the pews with sleeping bags and lawn chairs like normal Catholic families. She called me twice on Friday on my way home from the conference and I finally snapped at her and said, "Lottery! We are having a lottery! Why do you keep asking where we are sitting? I have no idea! Please stop asking me."
And she said, I swear on a stack of Bibles, "Well, I only ask because I thought you might have some inside connections because of the boys."
Inside connections because of the boys?! Mikey and Nico are in the Children's Choir, not the mob. Her excitement was palpable, endearing, and very much appreciated…but grandmas like her are absolutely the reason why the lottery system was put into place.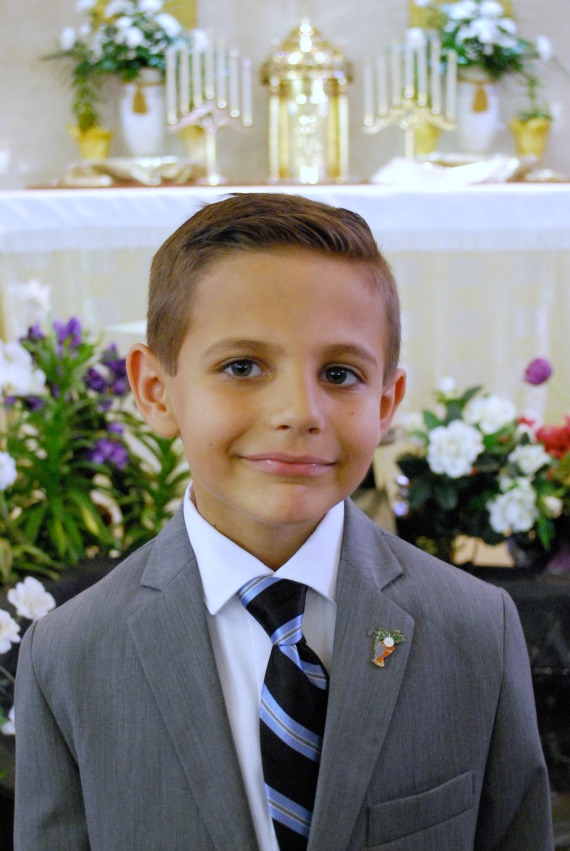 You know it kills me that his tie is crooked in this picture, but I got the tabernacle in the background so I'm happy. Also, his suit! We compromised and went with gray. I wanted something a little lighter that had a southern gentleman vibe that he unequivocally vetoed. Like, "over my dead body, mom" vetoed. I vetoed the "21 Jumpstreet" suit that had a vest and red tie. We bought his suit at Macy's, for those who are curious.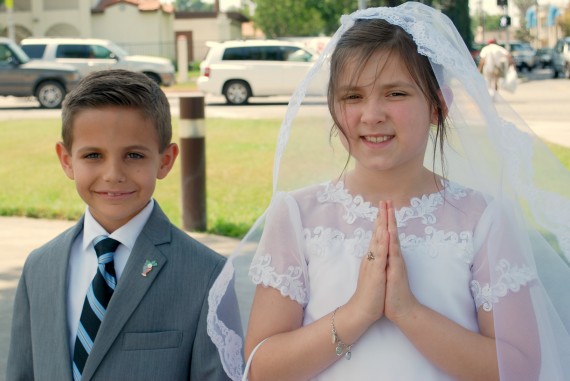 We didn't have much time to take pictures outside, but I did make sure to take one picture of Mikey and Emma, much to Mikey's horror. Mikey and Emma have history. He thinks she's too carefree with the rules and acts too much like a girl. She thinks he's an uptight know-it-all and immature. Other than that, they get along great! Her mother and I, actually, are great friends and for the most part they really do get along when they aren't around other kids from school or when Mikey isn't telling Emma that taking a picture with her is his worst nightmare.
Yes, that's right. I thought Emma looked beautiful. Her dress was one of my favorites and because her mom is one of my close friends, of course I wanted a picture of the kids together.
So I said, "Mikey, stand next to Emma so I can get a picture of the two of you."
And he said, "OH MY GOD THIS IS MY WORST NIGHTMARE."
Emma, to her credit, merely gave Mikey a withering stare that said she would like nothing more than for Mikey to have his first and last communion–while she watched.
In my head I planned to calmly say something like, "That was rude. Apologize to Emma."
Instead, in a shrill voice that probably echoed across the four corners of the church yard I said, "WHAT?! WHY? WHAT IS THE MATTER WITH YOU?!"
"Mom, I told you. No pictures standing next to girls! Look at us. People are going to think we are getting married!"
Now, to be fair, Mikey prepped me for weeks telling me he wanted no pictures with girls and, if possible, he didn't want to stand next to any girl at any time during the day, for any reason whatsoever, to avoid the millions of staring eyes sure to result. He prepped me, but I didn't think he believed I would listen. A mom, not taking pictures at First Communion? Lucky for you wishes are free, my son.
I told him to zip it, stand next to Emma, and smile. He did, but not before steeling himself like a soldier going into battle. He looked at her like at any moment she was going to leap at him with a marriage license and a catalog of china patterns. Emma looked at him like he was something found on the bottom of her white, patent leather Mary Janes. Then they went inside and shared the body and blood of Christ!
Days later we were still teasing him about his fear of pictures. He stands firm that his concerns were reasonable.
"You have to admit, mom, two kids getting married at my age is highly inappropriate. People probably thought we were crazy."
My big boy. This is actually a staged shot the priest was kind enough to recreate for all the parents. We weren't allowed to take pictures during the actual mass. I thought I was going to be a blubbery mess, but it was my stoic, silent, still waters run deep husband who burst into tears. He earned 200 bonus points.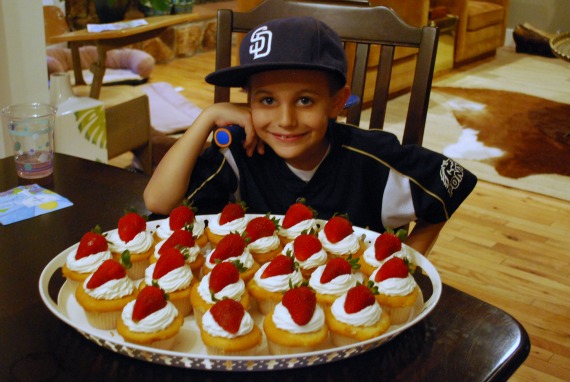 After the service, which was amazing, we stopped at the house for a few minutes so Mikey could change for his last baseball game of the season. His First Communion party was us ordering pizza and eating it at the game while he played baseball. After the game we went home (with extended family in tow) and had cupcakes. Mikey hates frosting, so the cupcakes were white cake with custard filling and whipped cream topping. Strawberries on top because he loves fruit of all kind, especially strawberries.
It was a great day. My favorite moment of the day had to be when we were leaving Mikey's baseball game. I was walking with him, teasing him and asking him if he felt any different. He said that yes, he did. The bruise on his knee from when he fell the other day, for example, totally didn't hurt anymore. I looked at him and smiled, noticing his gray eyes were the pretty blue-green with light brown centers they usually are when he's upset.
"Hey, your eyes are really blue right now," I said. "They're that pretty color they turn when you cry."
Mikey looked up at me and nodded, awed but not really surprised. "Do you think it's a side effect of having Jesus inside of me?"
I told him anything was possible.