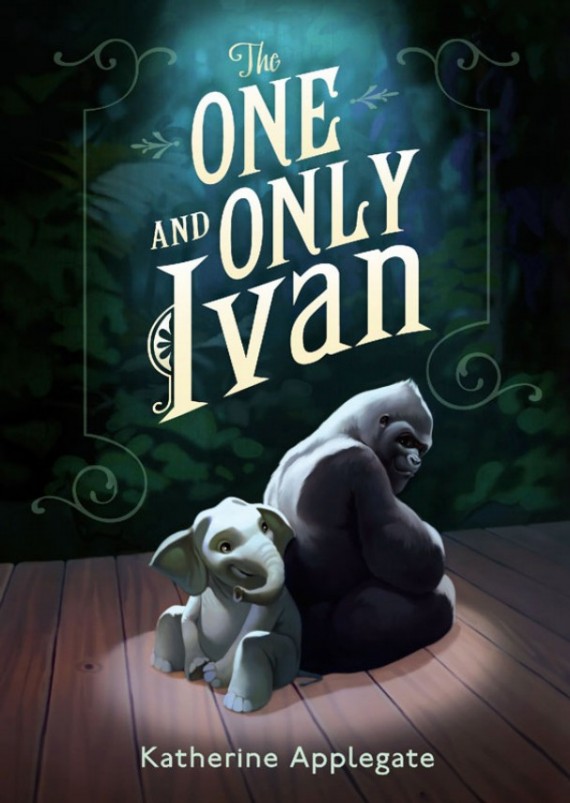 This is the real Ivan.
He died in August of 2012. He never did mentally overcome those decades in solitary confinement and become a mighty silverback once he was transferred to the Atlanta Zoo, but he died content, and at 50 years of age, he was one of the oldest gorillas in captivity. Here is one of his obituaries.
This book.
The writing was like poetry. So good, so evocative. I was laughing or smiling or sighing or crying but I was never editing. I never skimmed.
Some examples of a few favorites:
On imagination–here Ivan is contemplating a human friend's ability to draw.
Someday, I hope I can draw the way Julia draws, imagining worlds that don't yet exist.

I know what most humans think. They think gorillas don't have imaginations. They think we don't remember our pasts or ponder our futures.

Come to think of it, I suppose they have a point. Mostly I think about what is, not what could be.

I've learned not to get my hopes up.
Ivan contemplates his place in the world.
But many days I forget what I am supposed to be. Am I human? Am I a gorilla?

Humans have so many words, more than they truly need.

Still, they have no name for what I am.
In these two passages, Ivan is getting frustrated because Julia and her dad don't understand the message he has left for them in paintings.
This is taking much longer than I'd thought it would.

Humans.

Sometimes the make chimps look smart.

—–

George gazes at the letters. He spins around to look at me. "Maybe it's just a coincidence, Jules. You know, a once-in-a-trillion kind of thing, like that old saying about the chimp and the typewriter. Give him long enough and he'll write a novel."

I make a grumbling noise. As if a chimp could write a letter, let alone a book.
I could go on, especially about one scene that just took my heart and finely minced it like a cucumber for relish, but I don't want to spoil it for those who haven't read the book. It's not just a book for children. In fact, I don't know that most kids could even appreciate The One and Only Ivan. Nico definitely not. Mikey maybe.
Sometimes you read #1 bestselling books and wonder what you're not getting. Same thing goes with the award winning books. This book is both commercially and critically successful, and I get it.
EDIT: I had no idea Katherine Applegate is the author of Animorphs! That series is so popular at the school library!