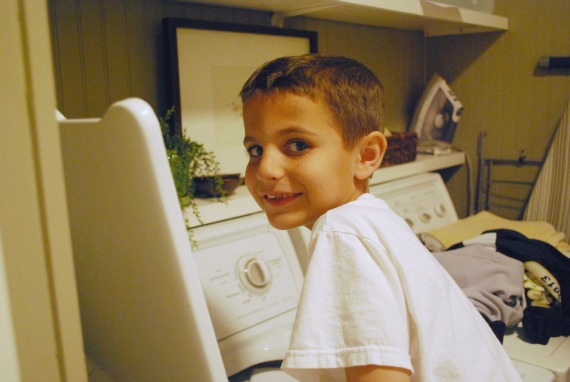 What a week! Daylight savings time always kills me, but I love the extra light–especially now that I'm walking.
Monday
I had my roots touched up, and if you have as much gray as I do (I'm almost 75% gray and have had premature gray since my 20s) you know nothing short of a miracle baby or a lotto win could top that euphoric feeling of fresh color.
Tuesday
Mikey learned how to do laundry. Specifically, he learned how to launder his baseball uniform. It's now his responsibility to prepare his uniform and baseball bag the night before every game, and after each game he has to wash and dry his uniform. Of course, this can wait until the next day if the game doesn't get out until after 9:00pm, but he still has to put all those grubbies on the laundry room floor. Let's just say there was a last minute rush/panic search for socks/belt/hat and return trip in traffic for cleats 30 minutes before a game that will never, ever happen again so help me, God.
Wednesday
I HAVE NO IDEA WHAT HAPPENED, BUT I'M SURE I THOUGHT IT WAS IN ALL MY LIFE THE MOST EXCITING THING TO EVER HAPPEN IF MY LIFETIME!!!!!!!!!!!!!!!!!!!!!!!!!!!!!!!!!
Thursday
Larissa and I finished Mikey's quilt! Now all we need to do is the hand-tie both of them. We estimated each quilt will need 150 ties. Then we whimpered.
Friday
I'm meeting Andrea and Danni for lunch to discuss Craft Cabinet stuff. Important stuff, like, what we're doing.
Speaking of The Craft Cabinet, those of you who follow me on Twitter and Facebook (links in the gray flag at the right) already know this, but I've been writing at The Craft Cabinet blog all week! I've been geeking out over First Position, a ballet documentary I watched with the Mister and the boys last week. So good.
I've taken inspiration from the documentary and applied it to fashion, food, home decor, and art. That's pretty much the format Andrea will follow for that blog, and we're really excited to do something so different from the everyday. I hope you check it out! (And like it, of course.)
The Weekend
NOTHING!!!!!!!!!!!!!!!!!!!!!!!!!!!!!!!!!!!
Have a happy, happy weekend, everyone!!!!!!!!!!!!!!!!!!!!!!!!! <---One last time for good measure. Edit: In order to claim my blog with Bloglovin', which I suppose I should do now that Googlereader is closing, I have to post this in a post. So, here it is. Follow my blog with Bloglovin