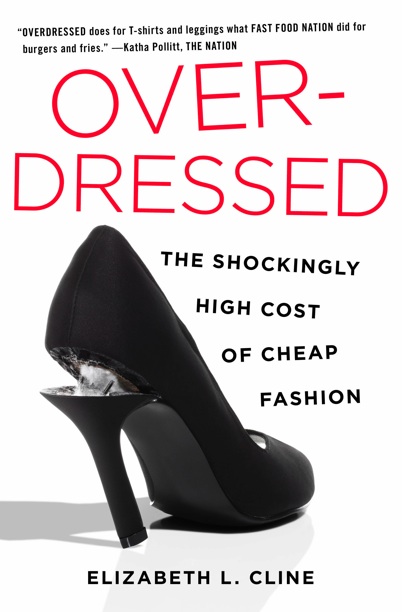 This book was as concerning and overwhelming as I predicted. It ended on a positive note, though, and for that I was appreciative. I've typed out a few passages from the book I thought were interesting and worth discussing.
"Sewing should be a good job; it should be a great job." (page 142, 2nd paragraph)
I agree. Sewing, healthcare, teaching, food production, and childcare should all be great jobs. The jobs that either sustain life or attend to our basic needs have become menial and unimportant. Athletes, celebrities, 7-figure authors–entertainment, in other words–are who and what we exalt and consider of value.
China has become the colossus in the field. Chinese apparel imports to the United States have more than doubled since 2005 and now account for an astounding 41 percent of imported clothing. In certain categories, China totally dominates, making 90 percent of our house slippers, 78 percent of our footwear, 71 percent of our ties, 55 percent of our gloves, and roughly 50 percent of our dresses. (page 164, 1st paragraph)
I'll just let you noodle on that for a bit.
The Chinese factories make the whole process of garment production very easy. But they can also make the process very hard, as Karen Kane has experienced. Michale Kane says, "They have such a monopoly on manufacturing now, especially in apparel, that they really can dictate whatever quality they want to put out. And you really can't challenge them. You're kind of locked in." (page 166, 3rd paragraph)
We see a shift from this attitude when the book ends–China is becoming too expensive a producer and more fashion lines are looking to bring production back to the States–but it's worth noting that it never pays to give anyone or anything too much power over you. Checks and balances, people. The Roman Republic figured that out several thousand years ago.
Clothing that isn't produced at resource-draining quantities or by shortchanging the people making it is not cheap. Clothing that is well made is not cheap. (page 207-208, 3rd paragraph)
I have argued this point so many times online and in real life that I don't have anything more to add than, "No duh."
Hah. As if an opinionated loud mouth like me would be so brief! I would add that many expensive status labels do not, in any way, shape, or form, equate to quality. In my opinion, you start to see a diminishing return on investment when you get into some of the more ludicrous luxury labels, along with no significant improvement in quality.
So why not take more risks with our clothes? In a way, personal style has become an imperative. Trends change so fast now that we are handed two choices: Change trends like a maniacally flickering light switch or have the courage to develop your own look. (page 209-210, 2nd paragraph)
I knew that stores were getting shipments of new clothes every couple of weeks, but I didn't make the connection to impact. As strange as it sounds, I have been aware of the fast fashion concept and yet completely unaware. I don't know why I thought Fall fashion kept arriving in stores until Spring. I honestly didn't give it much thought. I certainly didn't consider what it meant for our economy and environment.
Because when I walk by an H&M or an Old Navy or a Target, I see what once looked like fashion meccas for what they really are: unsightly jumbles of cheap clothes dressed up as good deals. When we can recognize how clothing is put together, what it's made of, and can visualize the long journey it makes to our closets, it becomes harder to view it as worthless or disposable. (page 221, 2nd paragraph)
I agree, sort of. I believe this is true if you treat your clothing solely as disposable objects. I do not. I'm a proponent of altering clothing to fit and flatter, but I'm not a seamstress. I don't know how to make compression pants, and I like the 3 pairs I have from Old Navy. The goal, I believe, is to reduce our shopping and eliminate the fast fashion mindset. I didn't buy 12 pairs of compression pants from Old Navy because they were on sale ZOMG! I bought 3 pairs because I walk every day and I thought that was a sensible number to have in rotation.
I do want to take a class in sewing. I've been tempted with the idea for a while, and this book convinced me I should take the class I've been eyeballing.