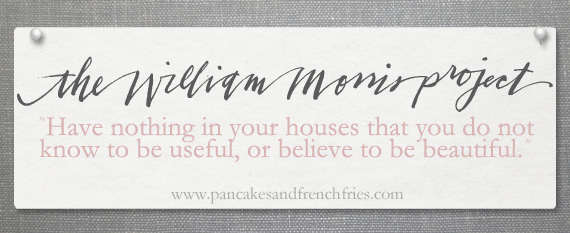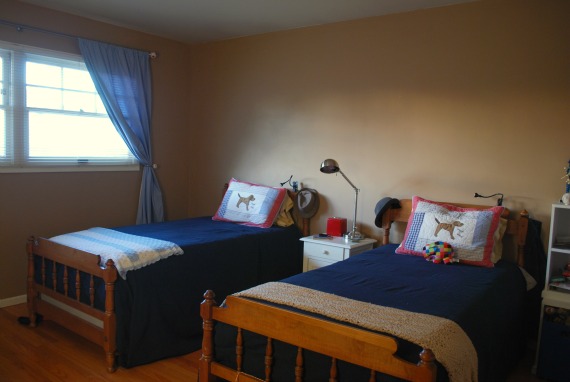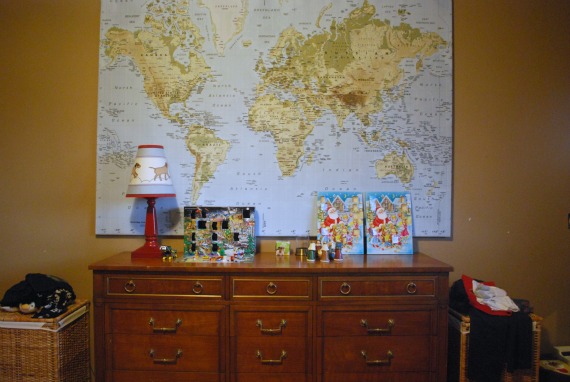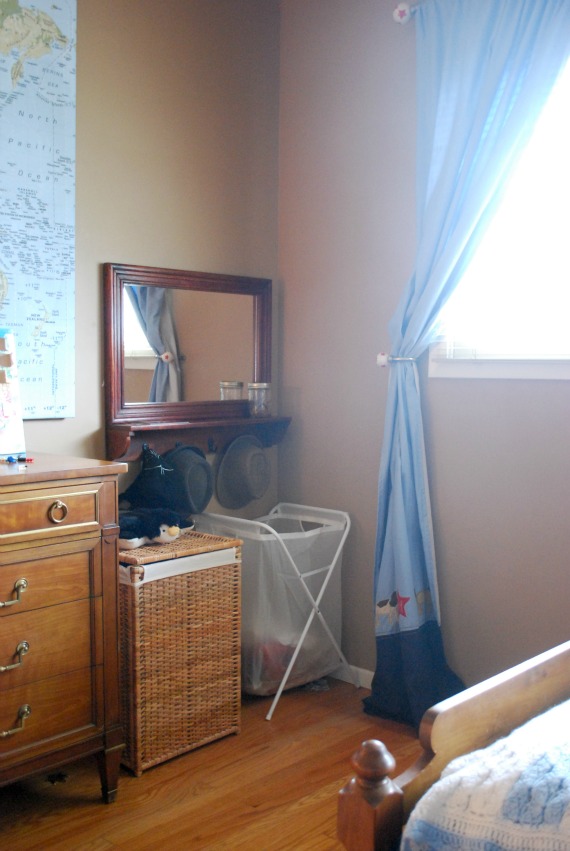 I never thought I would have white walls, but there you go. Not only do I have white walls, I paid someone to paint the walls white on purpose. I could tell my painter thought I was cuckoo to pick white, but also didn't really care. Money is green, even when the client asks you to paint the walls the color of trim.
We went with Benjamin Moore's Moonlight White but color matched it to Behr's paint and primer. I did the same with the trim, Simply White. The poo-poo brown of the walls would have required a googol of coats without primer, and even with the more expensive paint it took 3 coats.
Here's how the room looks now, STILL IN PROGRESS.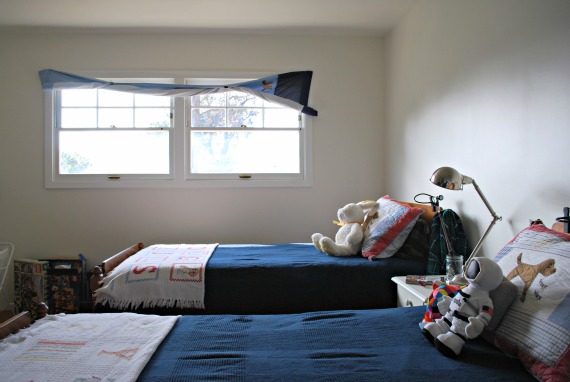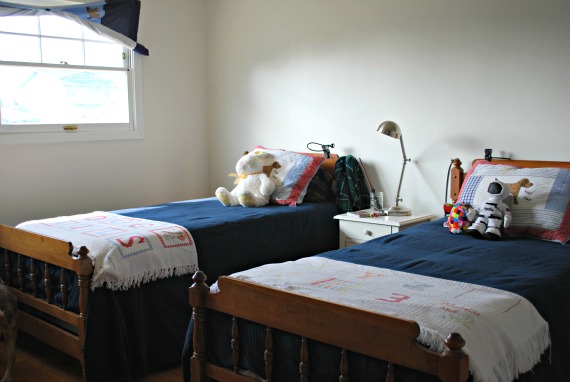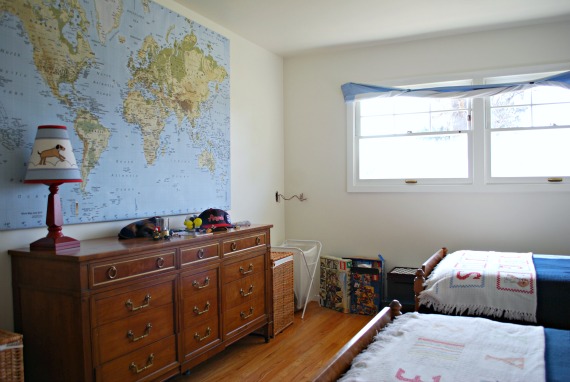 It looked amazing when the room was empty. Light, bright, and clean. When the furniture came back in, I started to panic just a teeny bit. It didn't look as great, but I refuse to make a final decision until everything is in place. Still missing are window treatments (do you like our horizontal curtain faux Roman shade held by alligator clips?), artwork, lighting, rugs, some sort of Lego storage (any suggestions?), and of course, the cheater quilts.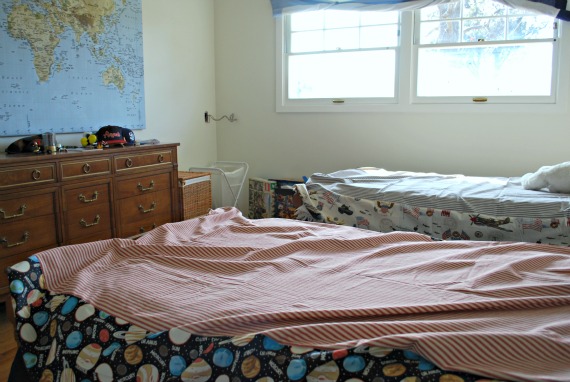 I worked on the cheater quilts last weekend with my friend, Larissa. By work I mean she did everything while I handed her scissors, ironed, bought lunch, held the quilts together while she sewed, talked to her 12 year-old son, made googly eyes at her 9 month old, and cleaned up–but only a little. I was supposed to do everything, but Larissa hasn't sewn in a while. Who am I to deny an old junkie her fix? Also, she may not appreciate my uptight and undeniable need for patterns, lists, calculators, rulers, triple checking, and agonizing over things I know nothing about, like batting weight.
"Oh my gosh, it's just a cheater quilt! Move over."
She makes fun of me, but when she was casually unfolding all the fabric and the gentle scent of white lavender and sandalwood wafted up and dusted the air, who was the one who mentioned how wonderful my ticking smelled? Not I, because I already know my ticking smells great. A little White Lavender and Sandalwood Exhilarations followed by spritzes of Mary Ellen's Best Press in lavender ironed obsessively into the fabric to remove even the most stubborn nonexistent wrinkle and you have great smelling ticking. It's called scent layering, my friend. Sure, now it smells like the inside of the Michael Levine plastic bag and the floor of my closet, but for twenty minutes we had lavender.
I laid the quilts out on the beds the other day to check for size (perfect, no thanks to me) and to see if they made the paint look better. I believe they do. Once they were out on the bed, the colors in the room made more sense. Now everything is soft and faded, comfortable and welcoming. No one color stands out just yet, but from all the accessories I have picked out, I think watery blue-green is the front runner. I'm feeling much better about everything and can't wait to see how it all comes together.
(Please God, let it all come together.)
Time to link up to projects or posts that reflect your desire to create an intentional home.
*Apparently there is a bug with the latest version of WordPress that fails to recognize embeded codes for videos, link-ups, etc. So, if you do not see the WMP link up option in this post, just know that I will reinsert it first thing in the morning. Website cursed, I tell you!
//////////////////////////////////
This post was part of The William Morris Project, a weekly series that details the steps I am taking to create an intentional home. You can see more of my goals and completed projects here. To learn more about this project, start here.
//////////////////////////////////
Now it's your turn! Feel free to share how you have lived according to the William Morris quote, "Have nothing in your houses that you do not know to be useful or believe to be beautiful." Made a plan? Cleaned a drawer? Bought a sofa? Tell us about it with a link or comment. A few guidelines:
Please link to a specific post, not a general blog address.
Your post must relate to your efforts to create an intentional home. I have a delete button, and I'm not afraid to use it.
No links to giveaways, please.
Let's use this weekly link up as an opportunity to gather inspiration and motivation. Click links. Discover new people. Say hi and good job. I know I will.

//////////////////////////////////