An online friend I met years ago contacted me via Facebook three weeks ago and asked me if I was interested in joining her writing group. I've been asked to participate in writing groups before but have always refused. I was too scared. I even took a creative writing class in college. Better stated, I showed up on the first day of class. When I heard we had to read our writing aloud for constructive criticism, I dropped the class the next day. I'm such a perfectionist that it's difficult for me to see what I do well, to believe I might do something well. And I hate to publicize my failures. I guess I run from critiques because it has been easier, and far more pleasant, for me to avoid risk.
I told my friend I would do it before I had the opportunity to talk myself out of it.
Our first submission is due on Friday. I have written a grand total of zero words. I'm really, really nervous/scared/overwhelmed/totally wanting to quit. I even said that I might not participate this time around–giving everyone fair warning that I am approaching Retreat Mode–and my friend quickly told me it wasn't an option.
Well, shit.
I guess that means I have to think of something to write between now and Friday. A few ideas have come and gone over the years. One idea keeps coming back often enough for me to save a few images here and there, create a song list. I listen to it when I walk.
Here is one of the pictures I love most. It's Duane Michael's This Photograph is My Proof.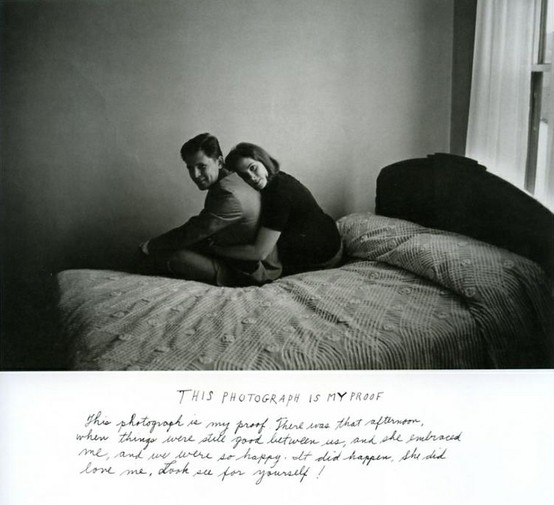 The text is handwritten onto the photograph and reads:
This photograph is my proof. There was that afternoon, when things were still good between us, and she embraced me, and we were so happy. It did happen, she did love me. Look see for yourself!
And this is one of the list songs I play on repeat. It's Patient Love by Passenger. The lyrics are below the video in case you like that sort of thing.
Depending on how it goes, I may start devoting one day of the week to writing fiction. (Don't worry, I won't publish it here!)
Wish me luck.
got a pinch of tobacco in my pocket
i知 not gonna roll it no I知 not gonna smoke it
til we池e staring at the stars and the rockets
twinkling in the silvery night

two sips of whiskey in the flask but I知 not gonna drink them
I swear I値l make it last
til we池e drinking out of the same glass again

and though the sand may be washed by the sea
and the old will be lost in the new
well four will not wait for three
for three never waited for two
and though you will not wait for me
I値l wait for you

got a polaroid picture in my wallet
I知 not going to tear it no I知 not gonna spoil it
It痴 an unspoken heartbreak
a heartbroken handshake i値l take with me where I go

and three words on the tip of my tongue
not to be spoken nor sung
or whispered to anyone
til I scream them at the top of my lungs again

and though the sand may be washed by the sea
and the old will be lost in the new
well four will not wait for three
for three never waited for two
and though you will not wait for me
I値l wait for you
I値l wait for you
and I値l wait for you

got a pinch of tobacco in my pocket
I知 not gonna roll it no I知 not gonna smoke it
til we池e staring at the stars and the rockets
twinkling in the silvery night