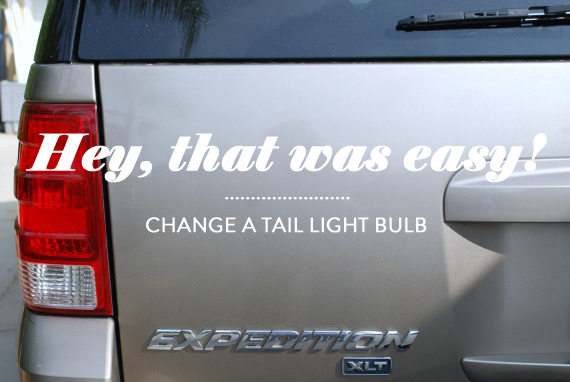 There are people who like it light, and there are people who like it dark. I like it light. I wake up in the morning and the first thing I do is pull up the shades. In the shower, I turn on all the lights so it's as bright as possible. I'm a light sleeper and get up easily. I've never been one to need caffeine to get me going in the morning and once I'm up, I'm up. Mikey is just like me.
The Mister likes it dark. If the world suddenly lost power and we had to live by candlelight, I would feel the breeze rush past my face in the dark from all his euphoric fist pumping. The last thing he does is pull up the shades. He showers in the dark, barely tolerating the dawn peeking through the metal blinds in the bathroom. He sleeps like a drugged animal in transport to a mating facility and wakes up by degrees. A heavy meal or TV works as well as a tranquilizer gun. Nico is just like him.
It's no surprise that light bulbs are important to me and not important to him.
One of the inescapable consequences of a long term relationship is that somewhere along the line you pick up rolls and duties that the other person in the relationship believes only you can fulfill. For example, I do all the cooking. Occasionally the Mister will cook, but it fills him with such dread and stress that he loses all ability to think and I have to leave very, very, very specific instructions on what to do or I will come home to 4 oz of grilled salmon marinated in 1 cup of coconut oil.
"You said one part oil to one part acid! You never told me how much one part is!"
"Because it's 4 oz of fish. I figured you would know I meant a few tablespoons versus 2 cups of marinade! Seriously, did the fish float?"
"A little."
I'm just as guilty. I am incapable of changing a light bulb. A light bulb will burn out and I will walk across the house, past the cabinet with the light bulbs, and say to him, "The light in the family room just burned out." Depending on the location and wattage of the bulb, he'll change it. Kitchen, yes. Family room, yes. Living room, dining room, laundry room: yes, yes, yes. Master bedroom and master bathroom: not even if my life depended on it. There are light bulbs in those two rooms that have been burned out for years. I watched the light fixture in our room go dark bulb by bulb over the course of two years. When the last one went out, we had a Battle of the Breezes in the dark. I was shaking my fist indignantly. He was fist pumping.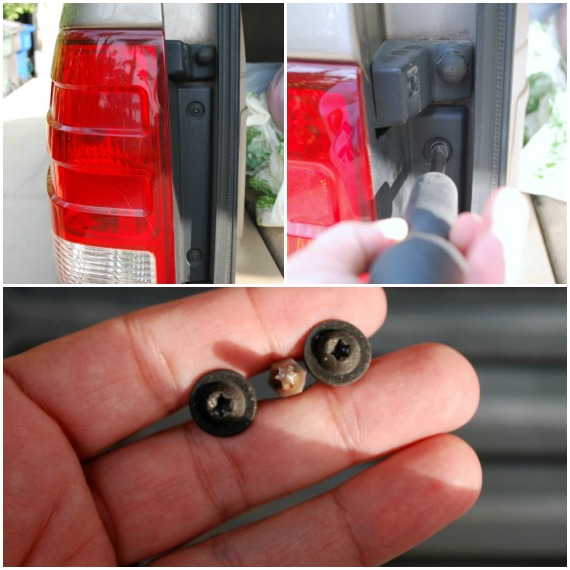 When the light bulb in my tail light went out, I was understandably in a panic.  I am not only a light person but a blinker person as well. I always, without fail, employ my blinker. I would just as soon ride without a seat belt than I would turn without using my blinker.
Thankfully, the tail light bulb is another one of those light bulb areas that meet the Mister's approval. I called him at work to tell him my left tail light burned out, and on his way home he stopped at the dealership and pick up a light for around $3.00.
Then it sat on the entry table in the kitchen for a few days while I drove around making only right turns. In his defense, he was extremely busy. He just wasn't going to be able to get to it until the weekend.
I was convinced something was going to happen because I didn't use my blinker. I cringed; I waited for the blast of a horn; I looked for flailing middle fingers in my rear view mirror. I became so nervous I started using the hand signals I learned in driver's ed 25 years ago, except then I became nervous that because it's been so long since motorists actually used those hand signals, no one would know what I was doing. Like, maybe they would think I was stretching my arm after a particularly vigorous series of tweets at the stop light, or enjoying the grit of smog running through my fingers. So along with the left turn hand signal, I started pointing to make it perfectly clear to everyone involved that I was going places, and that place was LEFT.
At that point I became alarmed with how incredibly awesome I must look. After I turned left, I quickly turned right and headed home so I could pull out my vehicle manual.
As it turns out, changing out a tail light bulb isn't that hard!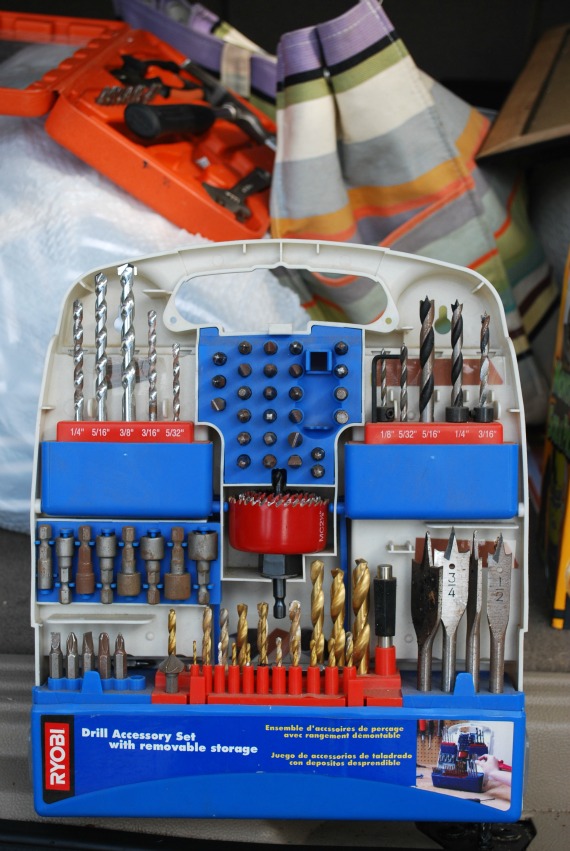 The hardest part was finding a bit to fit the torx screw. I ended up using the Mister's drill accessory kit with the IKEA tool kit in my Mama's tool box.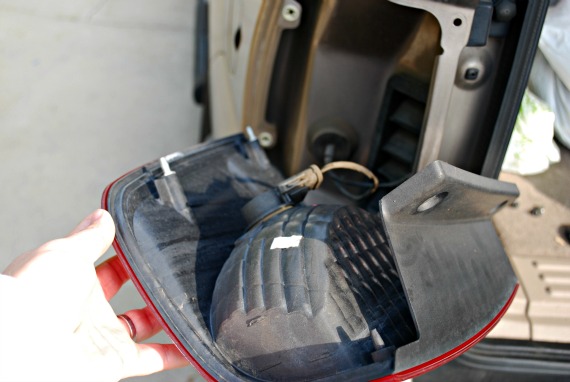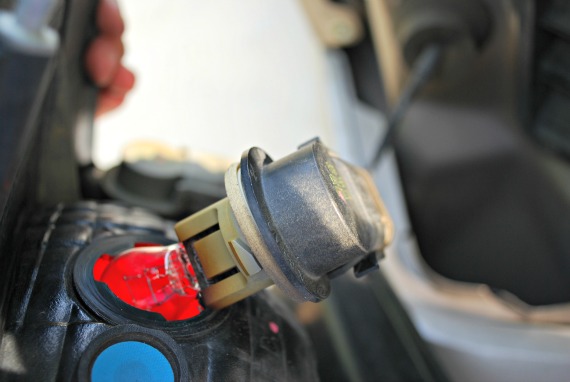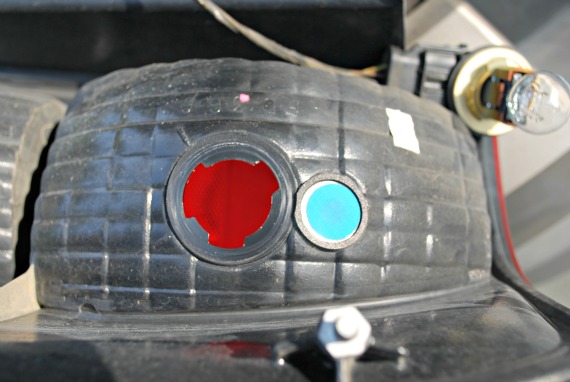 After that, I pulled the light case from the car, unscrewed the bulb cap-thingy, and popped out the bulb. You don't even need to screw in the bulbs–at least not in my car. You just pop it in the same way you plug a charger into a phone.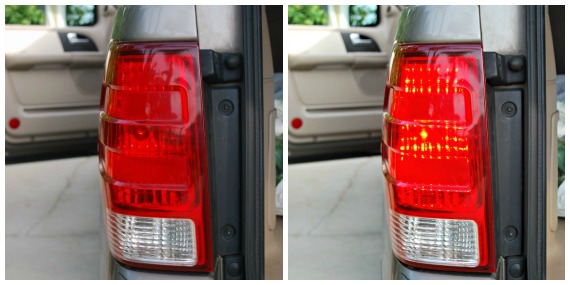 Success!
I spent so much time bragging about my mechanical prowess to the Mister that it backfired. Two days later I was in our bedroom trying to decide if I was holding a blue or black sock when I sighed dramatically and said, "It sure would be nice to have a working light bulb by which I could pick out socks!"
He just grinned widely and said, "You should probably get on that! You did change out a tail light."
I blinked twice and picked up the gauntlet. One week later I told him I needed him to make pasta sauce for dinner. In my instructions I told him he needed to add "some wine."
He used 1/3 of the bottle and a bucket of sweat.