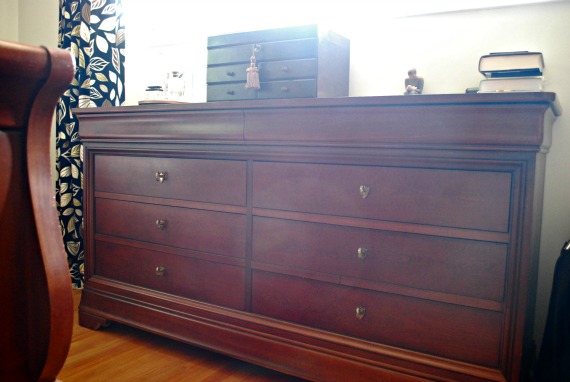 I'll make this quick because the pictures made it obvious. I cleaned out the bottom four drawers of my dresser. It was full of t-shirts, which I rarely wear outside the house.
I was the first woman to burn my bra – it took the fire department four days to put it out.
Dolly Parton
Like sweats, t-shirts don't do me any favors. When you can give Dolly Parton a run for her money, shirts that accommodate your bust are often big in the shoulders and waist. Fitted t-shirts solve the problem, but a fitted t-shirt only calls attention to what is usually a pain in the neck (and back) in more ways than one. For a lot of reasons, primarily poor body confidence and shyness, I stick with the flowy tops that have been popular for the last few years, usually with an empire waist. Fingers crossed I can afford a reduction before they officially go out of style.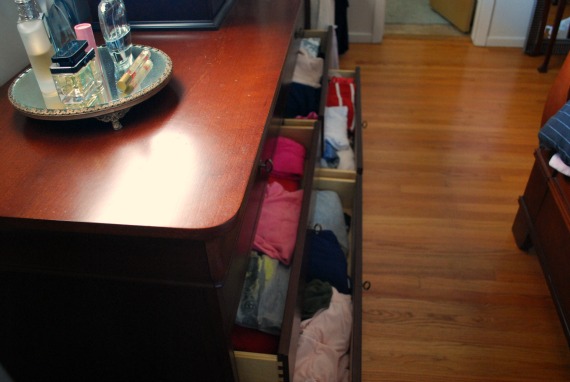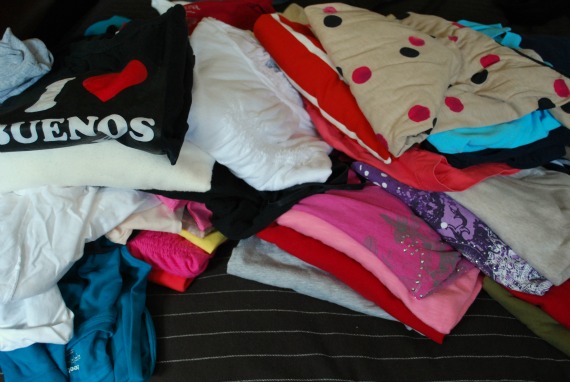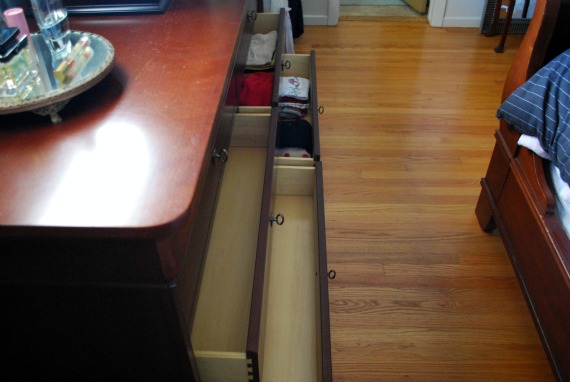 I don't think my before was all that messy, but I knew most of it had to go. Not just because it looked bad or didn't fit, but because many of the t-shirts had holes. Itty-bitty holes in the front, down by the hem.
This is what I really want talk about. Does this happen to you? It seems like all my t-shirts get holes slightly below the belly button. I thought it was my washer or dryer snagging them, but appliances aren't selective about what they destroy. I don't imagine dryers roll t-shirts around their drums like a fine wine, tasting the bouquet of cotton and only taking a bite when the finish has the unmistakable zing of thin t-shirt, China.
I thought maybe it was me, my soft belly testing the confines of its cottony prison. But no, I once mentioned it to a thin, flat-bellied friend and she admitted to having the same problem. The only conclusion we reached was that we rubbed them from standing against counters, but even as I type that it makes no sense. If the holes are from friction, they wouldn't be holes. They'd be tears or patches of threadbare material…right? I'm stumped and I need to solve this mystery.
Last theory. Cheap t-shirts? Like, maybe the t-shirts are thin and the belly button area is a stress point? This theory reminds me of Overdressed: The Shockingly High Cost of Cheap Fashion, a book I've been wanting to read. I'm interested in the premise. I feel like my position on expensive clothing versus cheap clothing changes everyday. And yeah, okay, I have hopes I'll find a chapter in the book that addresses mystery holes in t-shirts from Target.
::::::
New here? For the next 31 days I'm living according to the famous William Morris quote, "Have nothing in your houses that you do not know to be useful or believe to be beautiful." You can learn more about the project here, and catch sneak peeks of my projects by following me on Facebook, Twitter, or Instagram (I'm @pancakesfries).