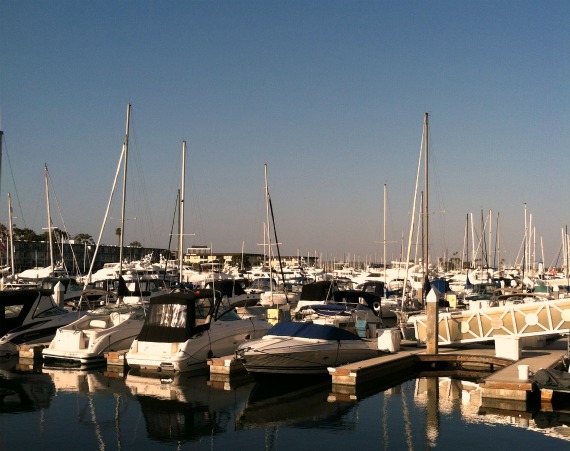 My return to calm and measured eating started over the weekend without much fanfare. It felt comfortable, like slipping into a pair of favorite shoes. I thought I might be skipping over the withdrawals I've had in the past until Sunday, when we went to Marina del Rey to celebrate my youngest brother's birthday. I developed a migraine somewhere around Cypress. I'm not sure if it was related to my change in eating–the suddenly cleaner foods or the stress of saying goodbye my tried and true coping mechanism– or the strawberries I ate with breakfast (they sometimes give me headaches), but by the time we reached my brother's place, I struggled to pretend I didn't feel as miserable as I did.
The worst part of a migraine isn't the pain, although that's pretty terrible. The worst part has to be the nausea. I sat there on the sofa and willed my stomach in order while we waited for my parents to show up. When they did, I mustered a hello and warned my dad as he approached, "Don't jostle the sofa."
He landed across the pillows like he was taking the Nestea Iced Tea plunge. I did not feel good all over.
Not long after that, everyone got up to make their way to the restaurant. I tried. I really, really tried. Between the migraine and waiting too long to eat, I reached the end of my mind over matter. My mom and sister in-law took one look at me and suggested I lay down instead. I was too far gone to pretend the idea didn't surpass other notable ideas like the cotton gin, plastic, and Craigslist.
I might have started crying and said I ruined my brother's birthday, but that didn't last long. I was asleep in under 5 minutes and dreamed of talking squirrels and the number 7.
I woke up when the Mister called about an hour later. I felt better–the nausea was gone at least–so he came back to take me to the restaurant. I ate a strip steak and arugula and in between bites told my sister in-law that her body pillow might have saved my life.
"It was perfect," I said. "It kept me reclined enough to sleep, but I wasn't sitting. You know how you can't lay flat when you have a headache?" She agreed, and shared how she uses her body pillow to sleep.
"Well you know," said my middle brother. "I recently bought a wedge pillow. I haven't slept so well in forever."
We talked about pillows and sleep and popped Lactaid before eating dairy.
There are moments in life that mark changes in time. They are signposts that read "Here. Here is where life changed." Here is where you sat with the brothers who you once played G.I. Joes with and discussed jobs and health and a different sort of pillow talk.