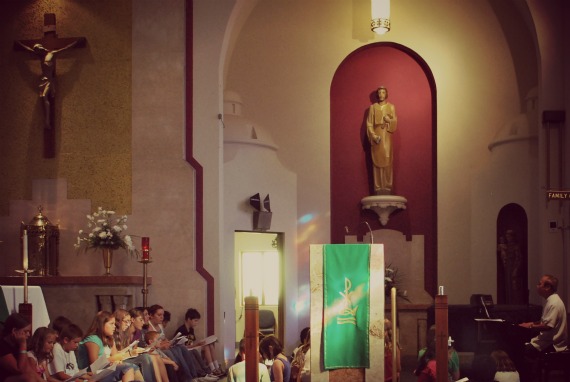 This month marks the anniversary of our children's choir, so the parents decided to come together and do something for the priest who directs the choir and the assistants who help him. We had a brief brainstorming session and my friend Jen recommended buying everyone holy medals of Saint Dominic Savio, the patron saint of choir boys and troubled youth…and children and the wrongly accused. (Saints are like moms–they wear many hats.)
Then, someone suggested that, in addition to the medals, we give the priest a nicer, more expensive second gift, like an album with choir-related pictures of the kids over the past year. We all agreed this was a fantastic idea, since odds were he already owned a crucifix or 30.
I wonder how often priests receive crucifixes from well meaning parishioners. I'll bet there is a Monica's closet in every rectory stuffed to creaking hinges with crucifixes and rosaries. Like, you can't even open the closet without an avalanche threat. I'm pretty sure crucifixes and rosaries are to priests what address books and coffee cups are to the rest of us. This is why the album was such a great idea. It's personal, sentimental, and unique. Also, I could do everything online using Shutterfly. We adjourned the meeting and I told everyone to expect to hear from me soon.
In my first email, I asked the parents for a few pictures of the children during the year at choir.
A seemingly benign request, but it was like I dropped a Geronimo balloon full of water in the middle of a clowder of cats. Everyone ran for safety and I was left standing there, blinking. Albums take work, especially when you are relying on dozens of families to send you a couple of pictures. It didn't seem like a huge task when I blithely took on the project, but many of the parents in choir didn't take pictures (we're not supposed to during mass, so no judgment) or if they did, used their cell phones.
In my second email, I asked the parents to send me whatever choir pictures they had, and that I would work with whatever I got. I was having similar problems. I could swear I had hundreds of pictures, but I didn't. Lots of video, not a lot of pictures.
Some people sent okay cell phone pictures, but okay cell phone pictures don't always have the resolution for a large format album. To solve that problem, I converted some of the pictures to black and white or sepia, gave the others an artistic interpretation, and grouped several pictures on one page. I did that with a few of my own iphone pictures.
Some people sent images I can only assume were taken underwater, in the dark, during an earthquake. I would get all excited when an email would come in, open the attachment, and stare. Really? Really? I can't even. I wanted to reply with a thank you, but I can do is edit and organize pictures, not feed the multitude.
A few people sent me pictures taken with actual cameras on solid ground, and those three people were manna from heaven.
To recap, we have people without pictures, people with a large amount of cell phone pictures, or people with pictures taken underwater, in the dark, during an earthquake. And I, the avowed non-scrapbooker, volunteered to lead these people into the promised land, knowing there were at least two hardcore scrapbookers in the group. It's like I stopped Moses at the gates of Egypt with a hand on the chest and said, "Dude, I've got this."
I really hoped this would be what tipped the scales and made me a scrapbooker.
I cursed like a sailor and listened to LMFAO on repeat (link NSFW) while I researched catchy bible verses and tried to stretch the pictures I had to fit the album. In creative writing classes they call that "tension." In real life they call that "you are an idiot and deserve the next 12 hours of misery."
Wiggle, wiggle, wiggle, wiggle, wig… #$%&!!!
In my third email, I asked the parents to send me anything and everything they had. School pictures? Mugshots? Whatever. Want.
I stayed up past midnight on Monday working on it because, of course, I put it off until the last possible minute in hopes people would send me pictures.
In my fourth email, I asked the parents to send me the pictures of their freaking kids so I can put this album together for the damn priest!
Paraphrasing, but still. I must have managed to communicate "shrill" and "hysteria" in my email because pictures hit my inbox. Not many, but the people who did send pictures were lifesavers. Many of them were taken with actual cameras on solid ground and a few were even professional shots.
I don't want to say Shutterfly isn't a pleasant experience, because I'm sure it is for people who don't obsess over placement and fonts and page colors and whether this picture "goes" with that one. But, since I do, putting together the album was like opening a Pandora's box of all my worst faults and idiosyncrasies. It took me about 13 hours over two days (with help from my friend Jennifer towards the end) to put together an album I'm worried won't be good enough.
Now, keep in mind, I know it will most likely be more than good enough. Wonderful, even. But, this is how I am with crafty projects. It's hard for me to go with the flow and accept it won't look perfect. "This is fun!" I thought Monday night as I arranged a page to my satisfaction. Then my mouse stopped working and I almost crushed it with my bare hand.
Nope. Still not a scrapbooker.