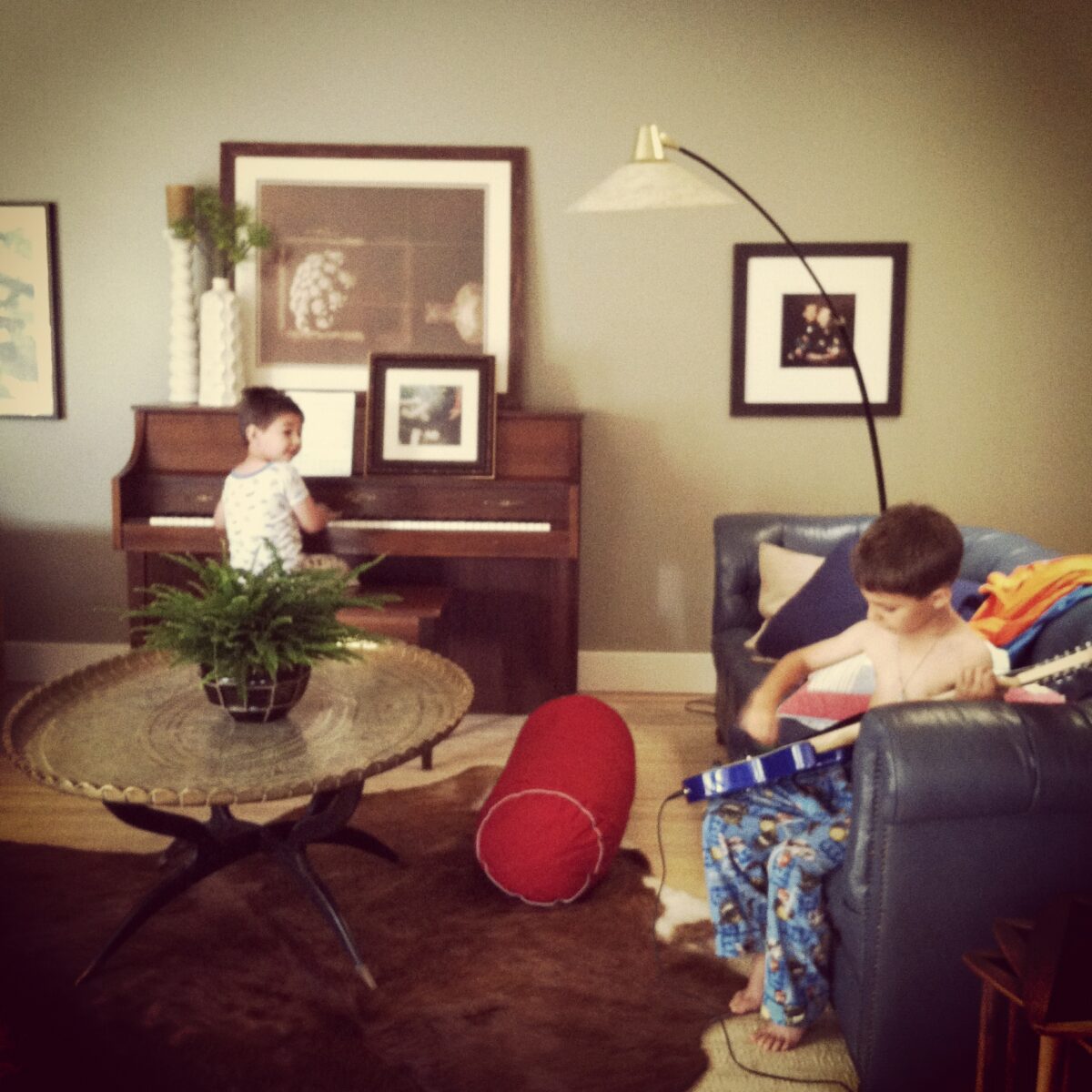 Oh, man. On Saturday is Mikey's playdate/slumber party, and that means Sunday marks the end of our two month season of busy. You know how each of us has a season of insane obligations, usually brought on by an unrelenting succession of birthdays in combination with holidays or child-related events? That's our May and June. July we have only 2 birthdays, and August only 1. (Not including friends.)
::  On Monday Mikey started music camp. He loves it. Of course, I can't think of an extra-curricular group activity Mikey doesn't love. He's such an extrovert.
::  Mikey was so inspired from camp on Monday, that he and Nicholas had an early morning jam session on Tuesday.
::  I worked on the picture wall on Wednesday. It was looking bare in certain spots, but I knew adding more frames (which my budget wouldn't allow, anyway) would make it look cluttered and uninteresting. I decided to go through the house and see if I could find something to fit. What do you know? In the closet I found mirrors, the same mirrors I wrote about in a fury during the 31 Days of William Morris. It seemed obvious to me–nearly seven years after buying them–that they should be spray painted gold. So, you see, I was hard on myself in October for no reason! I'm not forgetful or wasteful; I'm clairvoyant. I just didn't know when I bought and forgot those mirrors and then failed to ebay or Criagslist them like I promised that I would one day need them on my picture wall. Note to self: don't question your inherent brilliance. Also, sloth isn't always a deadly sin.
::  I saw Madagascar 3 with the boys on Thursday. Watching movies with Nicholas is a joy. That kid! He laughs hysterically at slap-stick humor. His laughter fills the theater, and the movie goers almost always start laughing because he is laughing. When he isn't laughing, he's doing this weird Rain Man humming/muttering, especially during conflict scenes or any time the antagonist is involved. He's like a plot barometer.
::  Today is Friday, and while I haven't done much, I did have a good chat with a friend. I'm going to go pick up Mikey from his friend's party, and then come home and start decorating the place for his party.
Have a happy, happy weekend!