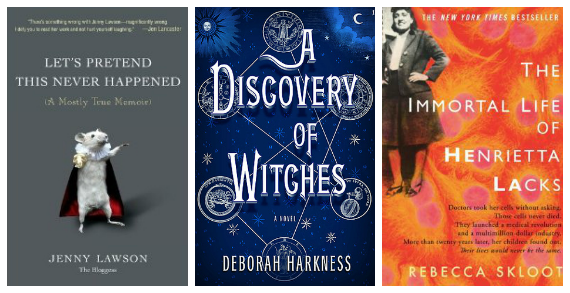 Picking three books for the summer was an impossible task. There isn't a single book on the book club board I don't want to read. On the plus side, I know what I will be reading this summer beyond the three official book club picks.
We have done so well reading a wide variety of books! So far we have read general fiction, young adult, a cookbook, and some fantasy. Not too shabby, don't you think? Each selection has been one I would normally consider interesting, but not enough to pick up and buy. Not all of them have been THE BEST BOOK EVER!, but The Book Thief is one I'm glad to have read, especially since I shy away from young adult. That's a book I will take down from the shelf and reread favorite passages, if only to get another glimpse at that lemon-haired saukerl, Rudy.
In keeping with the theme of variety, I've decided on Let's Pretend This Never Happened for June. Technically, this is a "mostly true" memoir, but I'm calling it humor. (I'm now obsessed with reading something completely different every month of our first year.) The only problem I foresee is that we won't have much to talk about, which is why I resisted popular memoirs like Bossypants and Is Everyone Hanging Out Without Me? We'll see what happens. I'm hoping the outlandishness of the stories will at least prompt us to figure out in the comments which part of the memoir is mostly true.
In July we'll read A Discovery of Witches. This is listed as a fantasy but we've already read a fantasy. I'm calling it a paranormal. (I should be in politics.) This is a book that some loved, some hated, and the majority thought was perfectly okay. It's part of a trilogy, with the second book available in July 2012. I chose it because I hope to tear apart the vampire/paranormal romance genre in the comment section and then build it back up. How sick of the genre are we, when will it end, and if we are so sick of it, why do we keep buying and reading?
Last, but not least, is The Immortal Life of Henrietta Lacks for August. It's our first non-fiction account! It's the most popular book on Goodreads, either because you have already read it or because it's on your list of books to read. Since so many of you have already read it, I thought it would increase participation in the book club chat.
Okay. That's the plan for this summer. I better publish this post because while I wrote it I changed the books three times.