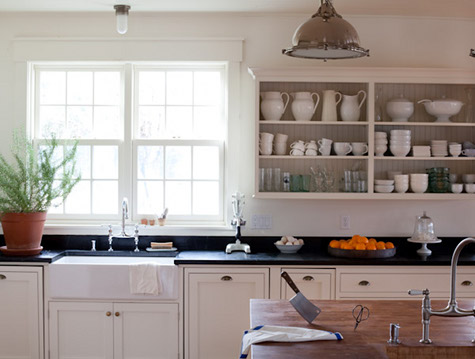 This is not my kitchen. The kitchen belongs to the much loved Emerson of Emerson Made and was part of a universally loved sneak peek on Design Sponge. Balloons popped, bunting rippled, and stripes flew off shirts in blogger homes across the country. We shared a moment.
I've been staring at it and staring at it and staring at it. There is enough in common with my kitchen for me to get a similar look for very little money. I'm thinking about it.
I'm also thinking about organization. The older I get, the tidier I become. I have a pretty good routine, too. I clean the fish tank, sweep up after the dogs, and avoid waste when I can. My secret to cleaning is this: have less stuff and a place for all your stuff. To be honest, it took  giving up our housekeeper a couple of years ago to get the hang of keeping house well and regularly. I believe this is one of the best things we ever did for our family, and I wish I did it sooner. It boiled down a simple issue of entitlement. When it's your little fingers getting dirty, you pay more attention to what you buy and where you set that coffee cup. You become a more conscious consumer and invested homeowner. This isn't the case with everyone, of course, but I don't think my experience is unqiue.
My downfall is paper. I am at a loss when it comes to collecting and storing the paper trails that prove we exist. Bills, contracts, insurance policies, school work, report cards, tax returns, family photos, and holiday cards are killing me. Franz Kafka's short story, The Penal Colony, centers around an elaborate torture and execution apparatus that carves a sentence into the skin of condemned prisoners. I forget the particulars, but I'm pretty sure the blades were made from old utility bills. If I were ever condemned, my sentence would be "File me."
I store our bills in accordion files separated by year. Every year after tax season, I place all the supporting receipts and documentation in a large envelope with a copy of the submitted state and federal returns. If we are ever audited I have our evidence at the ready. (That's the lawyer in me and if I can give you any advice, do this.) Most of our photos are tossed in an enormous drawer in a hallway built-in and I have two "memory boxes" for the boys. Schoolwork, cards, and things like hair and teeth go in there. (?!)
I'm on the verge of a paper solution. I can feel it. All I need is a healthy dose of inspiration. Are there organization blogs you like to read? Monica and I were discussing our love for Chez Larsson on Twitter yesterday, and how excited we were to see she joined Pinterest. But aside from Benita, we came up empty. My problem with most organization blogs are the features on organizational products/furniture/calendars, etc. That's not what I want. I want to learn how to manage my home from someone who is naturally tidy and good at editing. If you do a good job controlling your home inventory, you won't need special equipment for its management.
So says the girl who couldn't find her son's baptismal certificate yesterday.