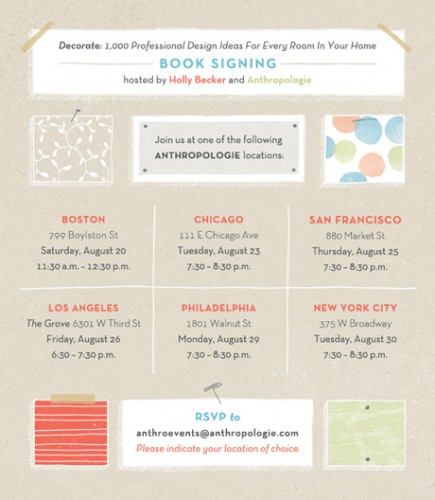 I'll be at the Holly Becker/Decorate book signing tomorrow! I asked a while back on Twitter if anyone else was going, but aside from the lovely Alexandra, I heard crickets. I refuse to feel miffed. It's because you live outside California, right?* I know it's not because you are willing to miss an opportunity to see me look older, heavier, shorter, and infinitely more awkward than I do here on the blog.** And if that's the case, shame on you. Where's your catty female spirit?!
The mood board portion of the event is full, but the book signing is open to anyone willing to hang around and have fun. Afterward, Tristan, Danni, Alex, Andrea, and I will grab a bite to eat. Please do join us! All we ask is that you keep your van, rope, and chloroform soaked rags at home.
* Seriously. In which state do you live?
** Do you remember that scene in Moonlighting where Cybil Sheppard's character (Maddie Hayes!) opened the door to her office and addressed Bruce Willis (David Addison, Jr.!) from behind a gauze-y tissue because there wasn't a soft lens? I want to do that tomorrow.