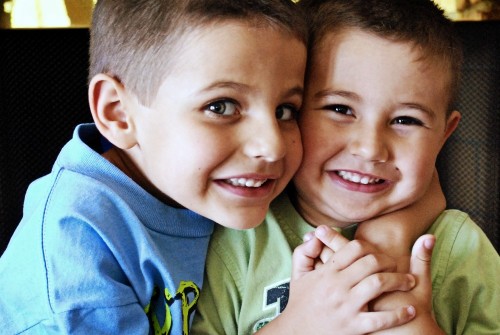 I wanted to cry when thick locks of hair dropped to the floor. I prefer them with their hair longer. Not long, just longer. But they've been swimming this summer, and the hair gets in their eyes. When they ride bikes or scooters, there is always a bit of maneuvering when taking off the helmets to reduce the amount of hair pulled and lost. And no matter the brush or spray, nothing could tame the mops of two boys in the heat of summer. Their hair grew up and out like chia seeds in a drip tray of water. They looked like bobble heads.
Instead, I cried uncle and watched them get buzz cuts for the summer at their favorite barber shop, the one with the black and white floor tiles, football pennants, and stations made from Craftsman tool chests. With each swipe of the clippers, their eyes seems brighter, their hair lighter, and their excitement pretty darn cute. Cute enough for the row of military boys lined up for their own summer buzz cuts and high and tights to grin and watch. And when one of those soldiers looked over at me and smiled as if to say "Handsome boys," I had to agree for entirely different reasons.
I still wanted to cry, only this time it was to declare that God bless summer, God bless the U.S.A., and God bless boys in buzz cuts.
(And uniforms.)