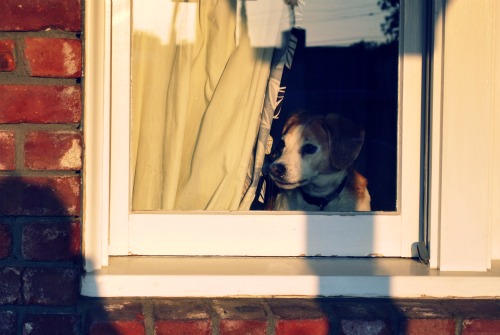 The year before our next door neighbor passed away, he raced around town in a sports car he bought with the retirement he rarely touched. He would take that small, inconvenient car to run errands, go to his doctor appointments, and, of course, to his weekly lunch meetings with other retired officers. There was no schedule to his day, but I knew from the roar of the engine when he hit the corner of our street. Buddy and Buster would wait by the fence that separated our yards while Fred peeled in the driveway, opened the garage door, and tossed over the fence way too many dog cookies. You've never seen two beagles more in love.
So much so that Buddy and Buster would head towards the fence 15 minutes before our neighbor turned the corner into our neighborhood. Either they had super sonic hearing and could detect Italian sports car engines from dozens of miles away, or they had some sort of sense for when he would come home. I used to wonder if they showed as much dedication when any of us left the house.
Two weeks ago we did some rearranging of furniture in the den. The kids table got pushed up against the wall, and Buster  quickly took advantage of the extra height. The table didn't stay there forever–we moved it this weekend–but it sure did feel good while it lasted to pull into the driveway and see his little white mug in the window waiting for us.