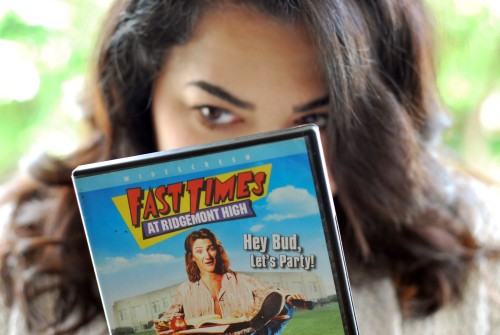 I can check something off the bucket list I didn't know I had. Finally, twenty nine years after its release date, I saw Fast Times at Ridgemont High. This is one of those movies that most people my age remember fondly, every now and then referencing characters and lines, usually when referring to our own waning youth.
If you haven't seen this movie in over 20 years and remember it as a tour de force, I encourage you to watch it this weekend and see if it still astounds you with its cinematic greatness.
I'm going to guess no, except for Phoebe Kate's breasts and how she looked in her red bikini. Both are as great as you remember, so brace yourself for an exercise in humility.
I wonder if the same would happen to me if I re-watched all my favorite movies from the 80s and 90s. I've never been one to watch a movie or read a book more than once, but there have been a few where I did. Most of them were John Hughes movies like Pretty in Pink, Some Kind of Wonderful, The Breakfast Club, and Sixteen Candles, but there were a few others.
There are a few that I know I will love even 20 years later. The Princess Bride is one; When Harry Met Sally is another. I mean, come on. The other day I was reading a book where the protagonist flippantly told his girlfriend "as you wish," and my mind immediately went to a thatched hut, a stone pitcher, a tousle haired Wesley. Some moves withstand the test of time.
But perhaps the movie I loved the most as a teen, and the one I am most nervous about seeing again, is Dogfight with River Phoenix. My friend Tiffany is reading this right now and laughing because I was obsessed with this movie. Obsessed. It's about a nice girl who wasn't all that pretty or popular who, kind of, in a round about way, managed to get the guy. Kind of.
Let's just say I could relate. Except for the part where she got the guy. For that one, I had to wait a while.
Am I the only one who saw this movie? It was an indie movie, so I don't think it hit the theaters. I going to try to find it see if I love it as much and I swear if it's stupid I'm going to kick myself for ruining a good memory.