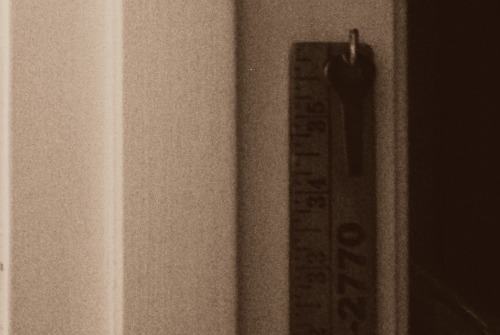 The key to a good relationship between the sexes lies in communication, but not how you think. There is no denying that couples should carve out time to shoot the breeze or dissect issues. A willingness to hear and fulfill your partner's needs goes a long way in strengthening your relationship. Really, though, communication is about maintaining proper expectations. This is why I am still married. I don't expect to ever understand the who, what, where, or how of 99% of anything that comes out of the Mister's mouth.
Men communicate to react; women communicate to perceive. And for the Mister and I, this has never been more apparent than when one of us is running late. Let's assume we are meeting for dinner at 6:00 pm. If I am running late, I start calling twenty minutes before I am supposed to be somewhere.
"Nicholas can't find his shoe, so I will probably be 7, maybe ten minutes late if I hit the traffic lights. Go ahead and sit down, because the dinner crowd usually hits at 6:10 maybe 6:15 and if we wait a second longer we will be standing around for forty minutes to eat Americanized Mexican food we don't even like. Is there already a line? There's already a line, right? You know what, don't even tell me because I'm already annoyed. Do you think we should just go somewhere else? Because I'm fine with that, and if we get burgers at Henry's it's a little closer to the house and we might be able to shave three minutes off my time, provided Nicholas finds his shoe."
The Mister will approach the same situation with his own communication style. My phone will ring for the first time at 6:25 pm.
"Hey, I'm running late."
He's running late. I had no idea! This shard of wisdom communicated because despite my two graduate degrees, I never learned how to tell time without looking at the sun, which of course you can't see when you are inside a mediocre Mexican restaurant being tossed about by the dinner rush like underoos at a Justin Bieber concert.
Men communicate to react; women communicate to perceive.
The doors to the bedrooms and bathrooms have twist locks you can't release by jiggling the knob. They are the kind with a little twisty key, and if you are on the outside of a locked door trying to tell a toddler how to release the lock, you have a problem. We put in knob covers when we moved in, not long after a 2 year-old Mikey locked himself in the bathroom for what seemed like hours but was only seconds. Now that the boys are older, we've taken them all down. Occasionally the doors will lock when you grab the door knob wrong on your way out, which is a hassle because there is no one on the other side of the door to unlock it. It's happened to me once with the bathroom, and while I lost spirit, I didn't lose hope. The original owners left behind an enormous freezer bag with hundreds keys and a note that read, "Sorry to say we don't know what most of these open."
Number 75 opened the bathroom door.
Last night I took a break while cooking a late dinner and went to put on my pajamas. The boys and the Mister were watching Iron Chef America–secret ingredient, lentils–when I walked by, tired and quiet. I tried the bedroom door and found it locked. Tired and quiet go bye-bye.
"Oh, come on now! What the hell?!" No way was I going to sit with that bag of keys again.
The Mister came around the corner in his usual slow, easy fashion with a bored look on his face. I used my eyes to communicate a message. Somehow, someway, this is totally your fault.
His eyes sprouted shields and deflected my daggers. A huge, exasperated sigh. "What are you all worked up about now?"
"The door is locked. I didn't lock the door, of course, but it's locked. Which means I can't get in. Because it's locked."
"So use the key." This said while opening the utility closet perpendicular to our bedroom door. From a hook on the wall he pulled a skeleton key.
"What is that?!"
"The key."
Sometimes, he makes me want to commit a violent act. "I know that. When did you put it there?"
"I didn't put it there. The original owners did."
"Were you ever going to tell me?"
"Tell you what?"
"We've lived here six years."
"I don't understand."
"Were you ever going to tell me there was a SKELETON KEY hanging in the closet?"
"I just did."
No words. Only gaping mouth, bugged eyes, shortness of breath.
"Why are you upset? The door's unlocked now. Oh, and you can open the locks with a butter knife. Guys learn that when we're kids. But you can use your fingernails, too, if they're long enough." And then he winked.
It's nice there is a key in my house that opens all the doors, but what I wouldn't give to find one that opens up the recesses of his mind so I can see how it works.