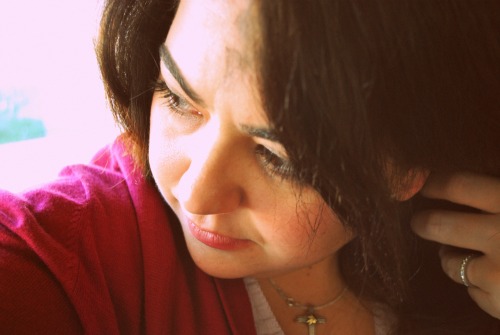 I feel like I can't top Lent from last year. For one, I didn't kiss anyone's husband on the church steps. As for penance, I'm coming up dry there, as well. I'm not giving up blogs this year; as someone without a computer during the day or a cellphone with internet coverage, I'm not worried about screen time. I haven't given anything up, so far. A week ago I gave up refined flour and sugar, and that's still going strong. This year I may focus on the three pillars of Lent and not be such a cafeteria Catholic.
The beginning of Lent usually leaves me inspired and optimistic, eager to change the many things about myself that drive me nuts. I don't feel that way today. I feel content. I still have room to grow, and will always struggle with facets of my personality I would like to crush like a bug under my heel, but today the journey towards maturation feels more ongoing and less like spring cleaning. And, really, this is how it should be. The purpose of Lent isn't to improve yourself for 40 days. It's to begin or continue lifelong changes in your spirit and conduct. This realization makes me feel good, like I'm finally heading in the right direction. At this rate, I may be acting like an adult by the time I turn 40.
But, since I have two more years before I reach adulthood, I will say that just once I would like to receive ashes on my forehead that resemble a cross. Mine always look like a Rorschach blot, like the priest or deacon looked into my soul and decided of all the shapes in the world, smudge represents me best.
Speaking of proper representation, a couple of you wondered about my bags and wrinkles, the ones I fastidiously edited out in the last picture I posted. Well, here they are, my penance for Ash Wednesday. Of course, I'm still a sinner. I made sure to pick a picture where the light from the windows blurred them out, just a touch. And that act of vanity is why, I suppose, priests and deacons always give me ashes that look like a smudges.