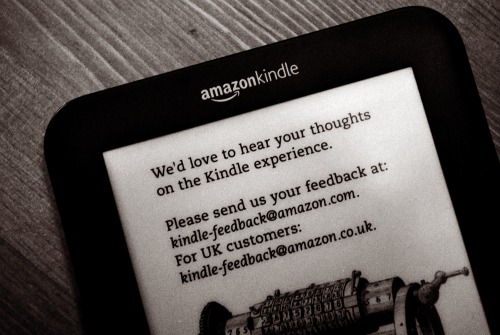 Well, Kindle, since you asked, I hate you. I love you. I never want to see you again until the next time I can't live without you, which is always then never. You have me in fits, a flush-faced teen addicted to the ups and downs of a first relationship that could be everything and nothing but nothing in between.
My dad gave me a Kindle for Christmas. I wasn't thrilled. I love to read any which way I can, but reading from a book is like nothing else. I love the weight of a good hardback and the feel of deckled edges fanning underneath my fingers once I pass the 1/3 mark. I love the smooth slip of a book jacket and using the interior flaps for bookmarks. Depending the book, I can feel sad, overjoyed, or smug when I switch from the flap in front to the flap on the back. I'm more than half-way done! The flap doesn't lie.
But he was excited, talking about the present he was sure I would love all of Christmas Eve and then the next morning. Finally, he couldn't take it anymore and asked me to please open my gift. I pretended to love it, but not just because I couldn't bear to hurt his feelings. I did think a kindle was something I would love, but I love the sight of books on a shelf. You can't get that with an electronic reader. Also, I was afraid of the damage I could do to my health and bank account with instant access to books at 1am.
Last month I decided to put the kindle to use. It was exactly as I feared.
I have an entire Unread Library to finish, and any book I read and love holds a place of honor on my shelves so that I can reread favorite parts on nights I'm too tired to tackle new reading. (I know I can reread on a Kindle. Logic has nothing to do with my reasoning.) So, I googled "free Kindle ebooks" and "Kindle best sellers, love stories." I was looking for quick, cheap reads so that when my dad asked, I could tell him, yes, I have been using my Kindle!
Ten books later…
Believe it or not, it took me a few books to realize a lot of the books sold for $0.99 are self published. Some of them are quite good, and it was only the slightest errors here and there that made me cock an eyebrow and wonder if there was a publisher involved. Then I read a really bad book. So, so bad that I held a memorial for the brain cells that died on the suicide mission that was reading that book. I decided to take a break, right after I finished one more book.
I finished the last book today. After I was done, I scanned a few blogs before picking Mikey up from school and ended up on Shannon's blog, Make It, reading a post on ebook wunderkind Amanda Hocking. I didn't know who she was, so maybe you don't, either? I'll sum it up in a sentence or two, but I encourage you to follow Shannon's well selected links; you won't be disappointed.
Amanda Hocking is a 26 year old woman from Minnesota who has self-published 9- 10 books via Amazon and Barnes and Noble. The books complete two series (one a USA Today national bestseller), with a third just beginning. Those watching her ascent estimate she sells 100,000 ebooks per month at $0.99-$3.00 per book. It's a tidy income, and one that traditional publishers can't match. What most people find confounding is that her writing is, by most accounts, only good enough.
I can't say whether this is true or not. I have yet to read any of her work, but even if I did think it was drivel I would never say so online. Those paid to review books can shoulder that load. I am more interested in your thoughts on electronic format publishing and where you feel the medium is going. Many view Hocking as an enterprising David to publishing's Goliath, a comparison she finds inaccurate and naive. Others are concerned self publishing under such readily accessed means will–and has–negatively skewed our perception of what is acceptable writing. I can see both sides of the argument, and remain on the fence for now.
I bought Hocking's first ebook tonight, even though it is about vampires and goes against my "dead horse beaten" policy. I want to see what hundreds of thousands of people find so compelling. If it sucks, it sucks. Either way, my hat is off to her. What she has done is impressive, and I commend her for having the guts to open herself wide and live her passion.