My unstyled life isnít messy or clean or ugly or stunning. Instead, my goal is to create a home that reflects back the spirit and personality of our family. Itís a work in progress. Sometimes the beauty in my life is by accident, other times itís intentional. Itís there, either way, because when I remember to fill my home with what I loveĖperson, place, or thingĖodds are it will be beautiful. Maybe not always appreciated, but always beautiful. If you feel the same, you are welcome to share a link to your own unstyled life in the comments.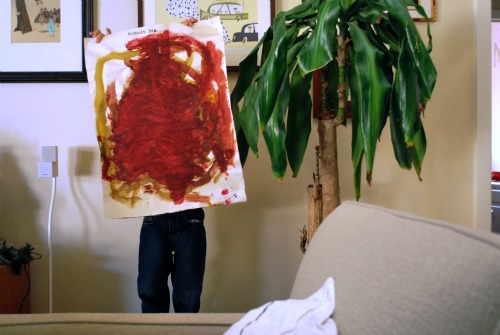 My gallery wall is progressing slowly, hampered as I am by a small budget, a large wall, and a fixed streak of indecisiveness. Part of the problem lies in the scads of design blogs I read, each one better than the next. I read Trina of A Country Farmhouse, and I want white and sparse. Then I'll see an interesting collection of art and I am back to square one.
I may be all over the place, but I know I am framing Nico's painting and adding it to the maybe temporary gallery wall. I exclaimed my love for it the second he pulled it, roughly, out of his cubby. Right then, I promised to frame it and hang it up with the rest of my special art. The mom next to me looked at me and said, "Wow. You are a nice mom, aren't you?"
Maybe. Or maybe this first school painting will hang on our walls and serve as a reminder of an attitude I hope to adopt. Creativity reigns. Feelings matter. And the passion and courage of youth shouldn't fade.
p.s. You'll have to excuse my poor corn plant. Two of the three are dead thanks to last spring's vacation to Florida. It normally sits between the picture windows and I think the sun cooked it. The tallest one is doing fine, and actually has new growth. I need to re-pot it, but I don't know if I should (or can) buy two smaller, individual stalks to keep him company. I know they like to be a bit root bound, so some friends might cheer him up.