I'm ready for March.
Reason No. 1 (Violins, kindly rosin your bows.)
If you read the comments a while back, you know The Mister has been out of town for almost two weeks. He's in Philadelphia, wrapping up 10 days of training for the new job. He comes home tomorrow, and we couldn't be more excited. The last week and a half has been a comedy of errors. Both boys sick, Mikey coming home from school with chest pain, two plumbing debacles (last night the washing machine backed up sudsy water through the toilet and flooded the bathroom and laundry room), two Christmas performances on the same day, a freak 6-day rain storm, and, on top of all this, trying to get ready for Christmas. I don't know how single parents do it.
He'll be traveling again in January, and February has a bunch of birthdays, so basically March looks good.
Reason No. 2 (Still about me, slightly less whiny and ungracious.)
I really want this necklace, and the outfit I picture it with is better suited for spring, probably summer.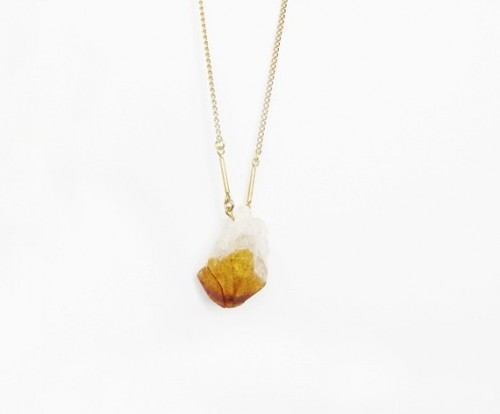 I saw it last week on Design Sponge, and since then it's all I think about. (Not true, but it is one of my more pleasant thoughts.) The necklace is by The Vamoose, a UK shop full of lovelies, including this jasper necklace that I feel should also be mine. I've been a wee bit obsessed with brass lately, and coupled with my love of stones, I'm beginning to think this shop is in existence to taunt me. So consumed am I that I actually broke down and put my future outfit on "paper" so I can better imagine myself traipsing around town under a warm, dry sky in March.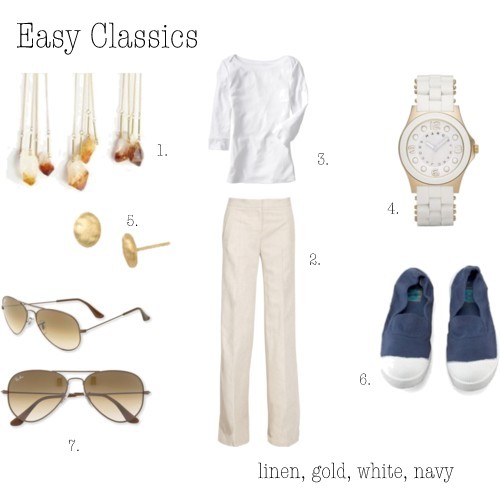 This is me, remember? Traditional, trend-aloof, me. If you want trendy, avant garde, risky, or conceptual, you're at the wrong blog. I like to wear color and pattern for special events, but the rest of the time I keep it pretty basic. The plus to this is that I am rarely too horrified when I find pictures of myself ten or twenty years later. Frightened, perhaps, but rarely horrified. (I'm working up the nerve to post some pictures from high school I found over the summer.)