I suspect this is a southern California thing, but the major supermarkets around here (Ralph's, Vons) have mini sushi counters next to their service delis. Am I right? Is this a southern California thing?
Anyway, it's not like you can have a seat and drink sake, at least not at the ones in my area, but you can place an order and wait while a sushi chef prepares your rolls or nigiri. The chef arrives mid-morning and starts preparing a selection of commonly ordered items that are then packaged and positioned for sale, much like a shrink-wrapped turkey on rye. Most people just pick from the pre-made items and head to the register.
Sushi is my favorite thing to eat. If you steer away from the mayonnaise loaded rolls and mercury-tainted fish and instead focus on the vegetables, rice, nori (did you know it's high in vitamin C?), and avocado, it can be a inexpensive, healthy lunch that is really quite satisfying. Plus, reputable as they may be, I'm squeamish about buying nigiri or fish-based sushi from anywhere other than a restaurant. You can call me a chicken; I'm fine with that.
My favorites are the cucumber roll (thin cucumber spears, rice, nori), the avocado roll (avocado slices, rice, nori) and the vegetarian roll (thin carrot spears, cucumber, sometimes spinach, avocado, rice, nori). You can find a more varied selection of vegetarian options at a true sushi bar, but for $9 combined, it can't be beat. I usually share the cucumber and avocado rolls with the boys.
That said, $9 is $9 and I can't–and don't–spend $10 a day on lunch. This is more of a once of month treat that I wish I could do more often. I wish I could go to sushi restaurants more often but that's a whole different story. My point is that my birthday is at the end of the month and, having promised my in-laws that I would come up with a few gift ideas, finally tossed out the idea of a sushi making kit. It started off desperate, just something that I could say to them so they wouldn't have to scramble at the last minute for a gift, but the more I think about it the more excited I get. It's not like I would be working with raw fish, of course. I'd use it only to make vegetable rolls.
Once I decided on this, I had to then find a decent kit, and that's where I am at a loss. There isn't really a kit for vegetarian sushi. There are some kits at place like Amazon, but they include books on traditional preparation methods. As great as they may be, I have no interest in preparing fish and don't want my family to waste their money on something I will not use. So, I've taken it upon myself to make my own kit.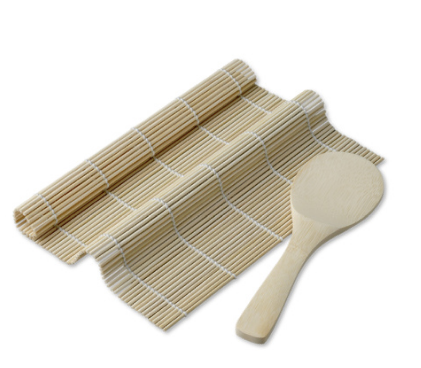 This modest kit from Sur La Table contains a bamboo mat, wooden rice paddle, and instructional booklet for $5.95. Here is a fancier one (comes with a knife and form box) from Bed Bath and Beyond.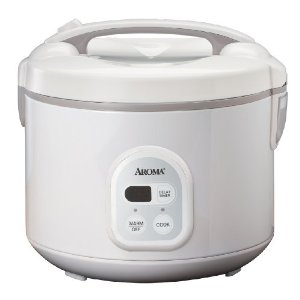 Next, I was thinking I might need a rice cooker. Normally I am not found of single purpose kitchen devices, mushroom brushes notwithstanding, but I (1) always burn the rice (2) have had many of you recommend them the last time I complained about burning the rice and (3) doubt I can recreate that sticky texture of sushi rice without one. Any thoughts on this? Am I right? This Aroma model comes with a steam basket and has received good reviews on Amazon. The price ($34.99) seems middle of the road. The prices seem to swing from a low of $12 to a high of $200 and up.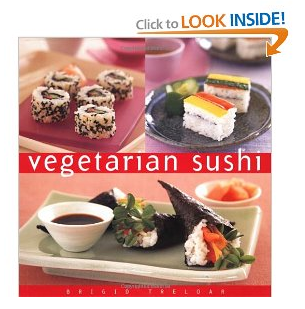 It took some digging, but I did find a vegetarian sushi book. There are some complaints that it isn't truly vegetarian because many of the recipes call for fish flakes, but that doesn't bother me. I can guarantee that any recipe I make won't have fish flakes. I can't be trusted to go to the store for bread; I'm not about to hunt for fish flakes. I just need to first see it in person. I'm going to see if my area booksellers carry it.
So, that's my kit. Can you think of anything to add? I can. Here are some nonessential items I found.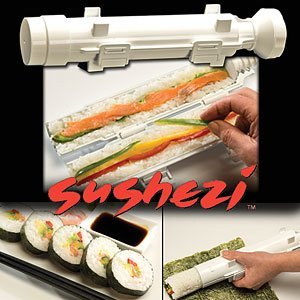 Check out this bizarre thing I found on Amazon while looking for a book. Is it not the cheesiest looking thing, ever? The faux samurai typeface is ridiculous! I think the company is based in New Zealand. I was all set to make fun of it, but people seem to love it! It's called a Sushezi, and it helps you build rolls faster. I've linked to the company, which has an informative website instead of the Amazon page, which was no help. Who knows if it works? This really seems like a limited use item, but fans say they also use it to make cheese logs and fudge rolls. Both sound…well. Still, after all that, I totally want it. I'm a gadget junkie, which is why I own a mushroom brush. It's $18.99 on Amazon.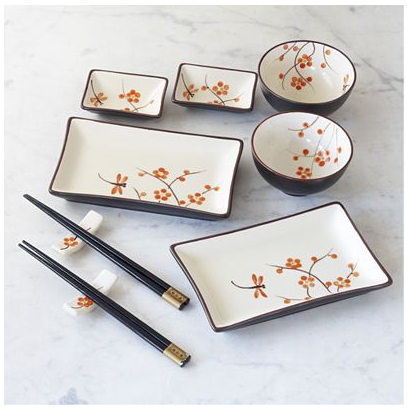 And, of course, something cute to serve it in. This set from Cost Plus World Markets isn't fancy, or even my favorite, but the price is reasonable and I know the boys will flip over eating at something with bugs on them. Orange bugs, Mama.
Mercy! Would you look at this post! Mikey came home from school with a tummy bug–maybe the same one Nico had over the weekend, and I thought I would write this fun and lighthearted post to relax and get my mind off things. Mission accomplished, I guess!