Nigella Lawson's Chocolate Guinness Cake is fantastic, and I'm not a fan of cake. I find most are too sweet, too light, and too spongy or airy or something. I don't know…just something. Boxed cakes, for me, are the worst because they usually highlight the three aforementioned qualities. Yes, I am aware that most people love cake and most people love sweet and light and airy and most people love cake mix. I'm the outlier.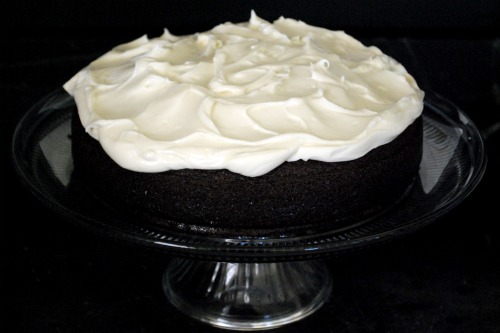 Guess what I liked about this cake? Yup. It wasn't sweet at all, although the plenty sweet cream cheese icing was the perfect foil to the earthy flavor of Guinness. The crumb is dense and solid, just a step down from pound cake. Taste wise, it met all my requirements. The best part? When you slice up a piece it sits at attention, nice and solid. You aren't moving at lightening speed trying to get it from platter to plate before it falls apart in a soppy mess. It doesn't smoosh into itself from the weight of the cake knife as you slice each piece. You can even slice yourself a sliver without destroying the rest of the cake, although I can't imagine why you would be so prudent. This one is a keeper.
(And you'd be hard pressed to find a cake that photographs as effortlessly on a cloudy evening, too.)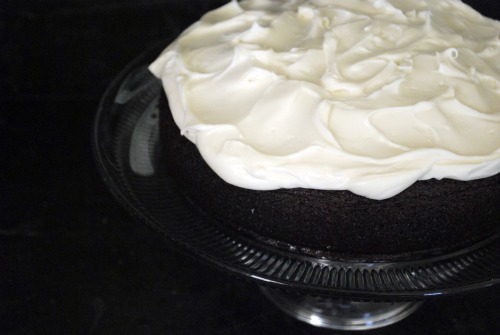 Nigella Lawson's Chocolate Guinness Cake

from Feast, although you can find the recipe in metric on her site and in U.S. customary measure at the NY Times.

For the cake:
Butter for pan
1 cup Guinness stout
10 tablespoons (1 stick plus 2 tablespoons) unsalted butter
3/8 cup unsweetened cocoa
2 cups superfine sugar
3/8 cup sour cream
2 large eggs
1 tablespoon vanilla extract
2 cups all-purpose flour
2 1/2 teaspoons baking soda

For the topping:
1 1/4 cups confectioners' sugar
8 ounces cream cheese at room temperature
1/2 cup heavy cream.

1. For the cake: heat oven to 350 degrees. Butter a 9-inch springform pan and line with parchment paper. In a large saucepan, combine Guinness and butter. Place over medium-low heat until butter melts, then remove from heat. Add cocoa and superfine sugar, and whisk to blend.

2. In a small bowl, combine sour cream, eggs and vanilla; mix well. Add to Guinness mixture. Add flour and baking soda, and whisk again until smooth. Pour into buttered pan, and bake until risen and firm, 45 minutes to one hour. Place pan on a wire rack and cool completely in pan.

3. For the topping: Using a food processor or by hand, mix confectioners' sugar to break up lumps. Add cream cheese and blend until smooth. Add heavy cream, and mix until smooth and spreadable.

4. Remove cake from pan and place on a platter or cake stand. Ice top of cake only, so that it resembles a frothy pint of Guinness.

Yield: One 9-inch cake (12 servings).