Tomorrow begins the insanity. Are you doing it? I still haven't decided. I probably will, but since I haven't yet figured out what I am going to write about, I'm more stressed than excited.
The office in our backyard hasn't seen life since The Mister switched jobs 18 months ago. I decided that for this month I would take advantage of the solitude and make it my writer's studio. We have an old laptop that works, at best, as a fancy typewriter. No internet, no email, no games of solitaire. Right there goes three hours of potential procrastination. I don't want to assume that I will replace those three hours with productive writing, but I figure it's good for a few paragraphs of something that won't melt eyeballs. I'll set it up tomorrow and maybe even show you (depends on how desperate we both are for procrastination, right?) but until then I thought I would show you what I found when I visited my old desk for the first time in over a year.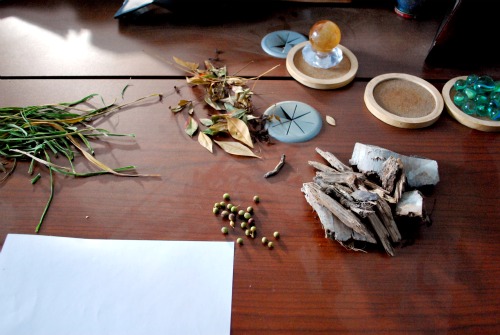 They look like random, albeit organized, bits of nature, but when I asked Mikey what it was, he explained they were parts he and Nicholas collected to build a dinosaur robot. Bless their hearts, they sure are cute.
Okay, so who is doing NaNoWriMo with me? Do you know what you are writing about? My answers are "probably" and "no." One more question, and this one is just out of curiosity–what types of books do you like to read? I love a good love story. I also like stories with a bit of magic in them, like those by C.S. Lewis and Carlos Ruiz Zafon, except I'm not so keen on demonic possessions and satanic themes since I believe both are possible. When they combine both, like A Prayer for Owen Meany, I'm in heaven. When they combine both and make it an easy read, like Twilight, I am up until 3am. I hear this series is an up-until-3am magical love story. I'm staying clear of it for as long as possible. I'll need all the sleep I can get this month.