Did you know you are not allowed to write or read a blog if you don't own a French sailor's shirt?  True.  It's in the Blogger's Handbook (see, §7.3.1 Appearance and Uniform).  I've resisted–mainly because I couldn't find one that met my requirements.  You can't just toss horizontal stripes across a pair of watercrafts and think everything is going to be okay.  No, sir.  You need heavy weight cotton.  A fit that skims without clinging.  And, for the love of everything holy, no rhinestones, sequins, poofy sleeves, or string ruching.
I think maybe I found something?  Well, it's from L.L. Bean, so I didn't exactly find it.  More like, everyone else knew about it and I am just now opening my eyes to what has been under my nose forever?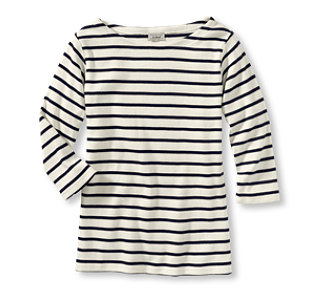 Cute, yes?  I think so.  It looks cute, anyway.  The cotton is heavy.  Many of the reviews say it is almost a thin sweater.  It looks long, which works great for my torso.  I love 3/4 length sleeves.  Best of all?  Cream and navy.  Cream!  (I look better in cream than I do white.)  The shirt comes in regular and plus sizes and, since I am smack dab in the middle, I waffled on which size to buy.  I ended up buying the 1x.  We'll see if that was a bad move.  I think it might have been since they run large.  Oh well.  I don't like shirts that are tight across the chest but, more importantly, I want the torso to stay nice and long.  My shirts always shrink up in the torso after repeated washings and end up hitting me wrong, you know?
Anyway.  You can find the shirt here in several colors (regular and plus sizes) and a coupon for free shipping here.  Be prepared to wait the better part of a century if you opt for the free shipping.  I'm patient and cheap, so I went for free shipping. :)