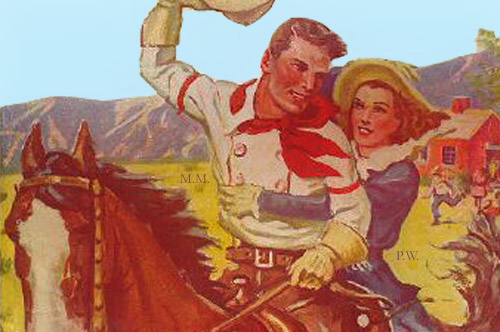 Remember when I posted How I Met The Mister, Part 3?  Well, in the comment section, Amy of Magpie and Muttonfly said something that I thought was funny but didn't really get.  My real life friends who were emailing me off site thought it was funny, too, although I suspect they got the joke.
Sigh. I love it. This is the third time I've made this deep comment, but it's true. And you realize that you've started something now, don't you? You're gonna have to be like The Pioneer Woman … and just keep the story going. You'll be writing "how I met the Mister" #5,052 and we'll still be sighing and tearing up and asking for more …
I thought she was talking about the way Ree always mentions Marlboro Man in that sweet love-story kind of way.  Well, it turns out Amy was referring to Black Heels to Tractor Wheels, a series of posts Ree has written since 2007 detailing how she and her husband met and married. I know, you all are probably laughing at me right now.  The only reason I even know this much is because today Ree announced that the story had been optioned and may be made into a movie.
I wonder if I would have figured it out had I not seen a tweet congratulating her on the deal.  I can picture it now, me sitting in the theatre thinking it was a neat story, kinda like The Pioneer Woman with the red hair, four kids, cattle ranch, cowboy husb…wait a minute…
Two weeks ago I was in my car waiting in a long line to pick up Mikey from school.  I was in my own little world when all of a sudden a #2 pencil hit my windshield, scaring me half to death.  It was Harvey, who was in the car diagonal to me.  Apparently he had been trying to get my attention for several minutes and finally had to resort to tossing solid objects at my head.
This kind of felt like that.
p.s.  Congratulations, Ree!
UPDATE:  My friend just sent me this link about the movie.  I assume Ree is writing about this on her blog, but, you know…blog fast.  I'm totally out of touch.