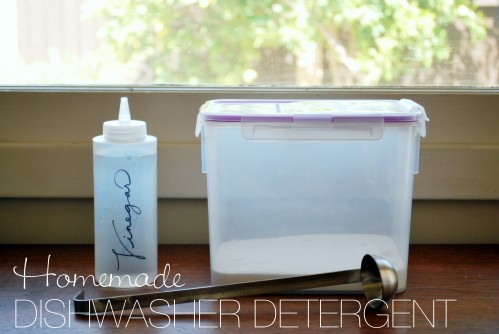 Yup!
A couple of weeks ago I had to pick something up at the health food store.  I was also out of dishwasher detergent, but had no desire to add a trip to a second store on top of the other errands I needed to run.  I could have bought a detergent at the health food store, but the eco-friendly dishwasher detergents they sell are cost prohibitive when compared to their cleaning capabilities.
So I googled how to make homemade, non-toxic, eco-friendly dishwasher detergent.
I love google.
I love making weird, random stuff.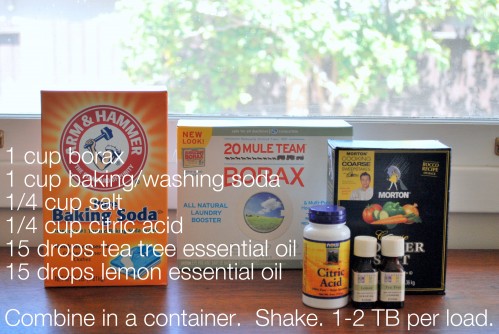 This recipe was all over the place and took seconds to make.  I picked up the citric acid at the health food store but if you can't find it, or don't want to go through the trouble, you can always use 2 packets of sugar-free Lemonade KoolAid instead (no joke on the sugar-free or Lemonade–you do not want to melt sugar in your dishwasher or dye it red with fruit punch).
I used the essential oils I had on hand.  Lemon sounded like something dishwasher-y and tea tree oil has a long history as a natural antibacterial agent.  The bottle of vinegar is just that–a bottle of vinegar you squeeze into your dishwasher's rinse aid dispenser before every wash.
I've been using it ever since, and it works great.  Now, I will say right now that I am one of those people who cleans off all the food from a dish or platter before dropping it in the dishwasher.  I know your dishwasher is supposed to work better when the dishes are dirtier, but that has not been my experience.  Someone will have to let me know if this detergent works as well with caked on food. (Gag.)
Finally, let's take a moment to laugh at my inability to judge volume and space, shall we?  I can never accurately judge the size vessel I will need to contain anything, and the dishwasher detergent was no different.  I bought this ridiculous 17-cup container when I could have easily used one of my canning jars at home.  Yesterday I made homemade pudding (holy cow! nothing like store bought!) and dirtied three different bowls trying to find one that wasn't too big or too small.  I'm a work in progress.