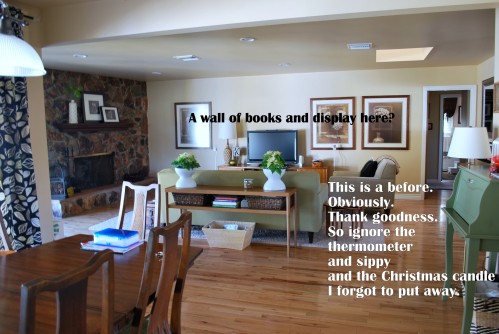 [For those of you who don't read on the weekends, you are in for a treat.  I didn't want to bother the very busy Nicole with my design dilemmas, so I started trying to figure something out on my own, as the following convoluted post details.  She read it and lost consciousness.  When she came to, she started emailing me frantically to save my from myself. I'll update with her plans as they solidify, but until then, can we talk about T.V. usage?  A few of you have already mentioned in the comments that you gave the box the heave-ho a while ago.  How do you feel about T.V.?  Honestly, so long as I have books and blogs in my life, I can take it or leave it.]
Gross.  The living room looked beautiful with all the greenery from Christmas.  Now it looks like a barren sea of knit-knot beige.  Time to remedy this nonsense.  I think it was last spring, maybe summer, when The Mister and I first noticed how our T.V. sat on an alter in the center of our home.  Because of the  mid-century floor plan (which we LOVE), you can see this T.V. from every entrance point in our home.
Front door?  Check.
Kitchen and side door?  Check.
Den/Toyroom?  Check.
Backyard?  Check.
Bedrooms? Check.
FRONT PORCH?  Check, for Pete's sake!  Check.
What is sad about this is that we don't really watch T.V.  Occasionally there will be a game on The Mister feels obligated to watch (he's grumbling things don't look good for Dallas as I type this), but that is only very occasionally.  I can safely say I watch about 3-4 hours of T.V. per week, usually less.  There are some late night crime shows we TiVo and MadMen.  The crime shows we don't even enjoy much anymore; they are something to do together in those quiet hours after the boys are in bed.  I would be content reading, and usually I get bored midway through the program and crack open a book.
This brought us to the crazy decision to cancel our T.V.  For some people this is insanity, but I don't think it will impact us much.  As far as shows we love, like MadMen, I hear there are ways to see these shows online and then through the magic of cables, cords, and something else, watch them on your T.V. at home.  Plus, the money we save on cable could go to much better use on projects around the home or family activities on the weekend.  We looked into it over the summer, and the right time to cancel our cable is end of January.  The end of January is right on top of us, so a decision is imminent.  One point that has been decided: any T.V. watching (via internet or cable package) will happen in the toyroom/den on a 26″ flat screen currently sitting unused in the office out back.  The huge one we have in the living room we will either sell or store.
The furniture in the living room I can then move to the toyroom-turned-den.  This is a little mockup of what I have planned for the toyroom-turned-den if I can convince The Mister to paint it Polo Green.  I admit it's woefully incomplete.  The barnwood frames will hold three poster sized, color pictures of the boys and should eliminate the drab look (I hope).  Everything hinges on what color I paint the room.  I want to paint it Polo Green, which The Mister is convinced will look horrible.  I say the white furniture will keep it from looking like a cave, but he is not buying it.  (I'm still looking for the perfect way to house toys and a T.V., and the sofa pictured just one similar to my actual sofa.  Macy*s wasn't letting me grab the image via polyvore.)  I showed him these fun pictures of a dark room and white furniture and thought the fact I would be keeping in place silk curtains we already have in the room would please his budget conscious/waste hating heart. My mistake was showing him pictures that are feminine and artfully cluttered.  I think his sperm count dropped two thousand points when he saw the dress form in a ruffled apron.  Not my most tactical move, that's for sure.  (I wonder what it is like to live in a home with feminine touches?  Magical, I imagine.)
But let's not focus on the den for right now. First thing's first: the living room pictured at the top of this post.
The color is horrible.  I know a few of you like it and have emailed me for the brand and name (Ralph Lauren Devonshire) but I can't stand it, mainly because I made the mistake of painting the ceiling the same color thinking I would later install crown moulding.  I contacted Maria from Colour Me Happy (she is ridiculously nice!), and she suggested Ralph Lauren Sisal.  She picked this color with my hulking butterscotch-rock fireplace in mind, which brings me to my main question before I embark on any redecorating.  Imagine this room devoid of furniture and freshly painted.
Would a wall of bookcases (with room to display objets de'art) look odd next to such a huge fireplace?  I don't want to point to a source and say I want something like this, but not really.  But, well, I want something like this, but not really.  Wrong color (or maybe not?), not enough room for books, and wrong size, but it at least gives you the idea of what I am talking about for the living room wall.
Does that create a competing focal point?
Will it establish a 90° angle of TOO MUCH?
I need display area.  I really need bookshelves.  I thought this large expanse of wall would be the perfect place to solve both issues, and I'd rather be greeted with books and my ceramic collection than a flat screen panel when I enter the room.  Still, a piece like that will have to be custom made (unless anyone knows of something online) and most likely expensive (I thought about Billy's from IKEA but won't that look cheap?).  I don't want to have anything made or buy anything prohibitively expensive and find out months later that it really doesn't work.  Back in our dual-income days we did that far more often than I care to admit.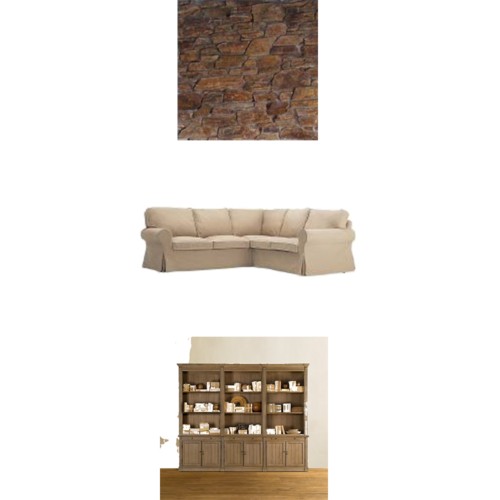 Along with the wall of books plus I'm imagining a sectional and gushy ottoman/coffee table to create a library-like atmosphere.
If the bookcase doesn't work, then we will have to find a way to make it work in the den, which is exactly why I can't focus on that room just yet.  What I will do in that room hinges on what I can do in the living room.
Okay, that's it.  Any thoughts?  Cheers to me for achieving step one on my new New Year's resolution.