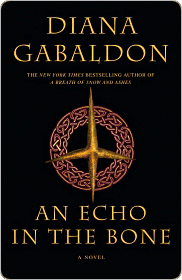 I didn't fall asleep until 6:00 am.† I blame this bout of insomnia on a late afternoon coffee and wrote about it on the Inland Empire Family blog.† On the bright side, at least I got to finish An Echo in the Bone, the latest Diana Gabaldon book in the Outlander series.
832 pages of American Revolution, people.
I almost stopped reading the series after the second book.† I just couldn't get into it because Gabaldon spares no detail when it comes to plot and historical accuracy.† Interested in the Jacobite War of the 18th century?† THIS IS YOUR BOOK.† Still, everyone kept telling me to plow through because the end would reward me.† Sure enough, it did.† I finished book two at 2:00am and was at the bookstore the next morning at 9:00 to buy book three.† Galbadon wrote book two so she could get to book three.† Consider it a 752 page bridge.
Likewise, I feel An Echo in the Bone is an 832 page bridge.† The caltrop on the cover represents the four storylines in the book (developed over seven books and roughly 6,000 pages) and let me tell you–not one is resolved by the last page.† In fact, they are all cliff hangers.† Cliff hangers, and this woman takes three or more years to write each novel because, hello, they are each over 700 pages long published.
Don't let my moaning turn you off.† It's a great series, as Frances, Kendra, and Tony will quickly jump in and tell you.† (All three ladies were instrumental in getting me through book two.)† It's not a historical romance, but it is about a great love story.† It's not a war novel, but darn it if we aren't dropped in the middle of a revolution every time.† It's in the literature section in the bookstore if that matters to some of you.† (Um, it kind of matters to me–when I'm not on a cheap romance bender.)† Good stuff, but now I am done and it's time to move on to one of the twenty five books I have waiting in piles all around the house.
I'm kind of sad about it, actually.† It's a bit like saying goodbye to a group of people you know you won't see for a while.