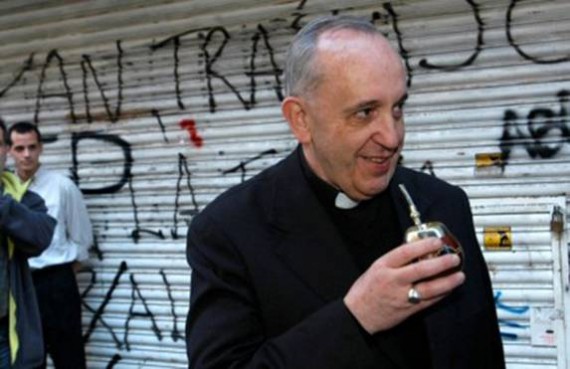 I have the most vivid dreams. I don't dream as much, that I can remember, when I stay up late or sleep less than 7 hours. Lately, though, I've been making an enormous effort to get to bed before 10:00pm so that I can be up by shortly before 6:00am. The result of which has been dreams. Crazy dreams, scary dreams, bizarre dreams. So many dreams, but none more memorable than one during the early hours of Thursday morning.
My mother and I, as well as teachers from school, were invited to a private audience with Pope Francis. After the audience, we lead him in a procession into mass. Obviously, all of us involved considered this a huge honor. In my dream, I spent quite a bit of time shopping for the best, most flattering outfit. I ended up wearing a dress from Target. That's not the punchline; I actually rather like the dress. The coral and yellow striped beach hat was another story. Not even dreams could make that hat acceptable.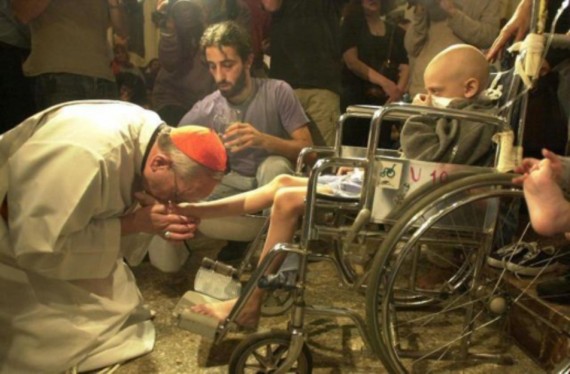 We were lined up with the Pope who, in my dream, was petite and friendly. Big church doors opened–I think my mind inserted Westminster Abbey–and Pope Francis turned to me and said, "Here we go! Are you ready?"
I said yes, even though I felt anything but ready.
Suddenly, as often happens in dreams, we were in the sanctuary. This sanctuary was different. It was circular, like the old 360° stages used in MTV Unplugged, only enormous. The stage held comfy leather sofas at least two deep. And chairs, also comfy, but more like something you'd see in a doctor's office. Needless to say, we were all excited about the sofas and chairs.
I approached the softest looking sofa but was surprised to find a man stretched out and fast asleep. How rude of him, I thought, to be at this important mass, in a place of honor, only to drool all over the furniture. To say nothing about wasting the best seat in the house! My mom and I shared a glance of annoyance.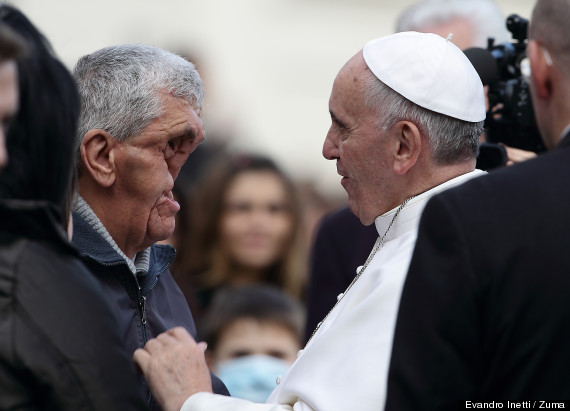 We kept moving. I saw two chairs that were empty, but on my way there I almost tripped on a pile of of dirty, stained blankets on the floor. I made a mental note to talk to whoever was in charge and tried to discreetly kick the blankets under the nearest chair. My foot hit something solid. I looked down and found the blankets covered a homeless man. A squatter! Now the people in charge were really going to hear it. All of us started mumbling opinions, none of them kind.
As I looked around the sanctuary, I noticed many of the chairs and sofas were occupied by the homeless, the addicted, and the ill. Even the floors were difficult to navigate. But it wasn't impossible to sit down. The two chairs next to the homeless man wrapped in blankets were empty, but to sit in them we would have to step over the man. His stench was overpowering. He made my eyes water.
There was a chair next to another man, but he was obviously intoxicated. I almost sat down there, but he looked like he was going to be sick. No thanks!
It seemed like every seat in the sanctuary had a problem.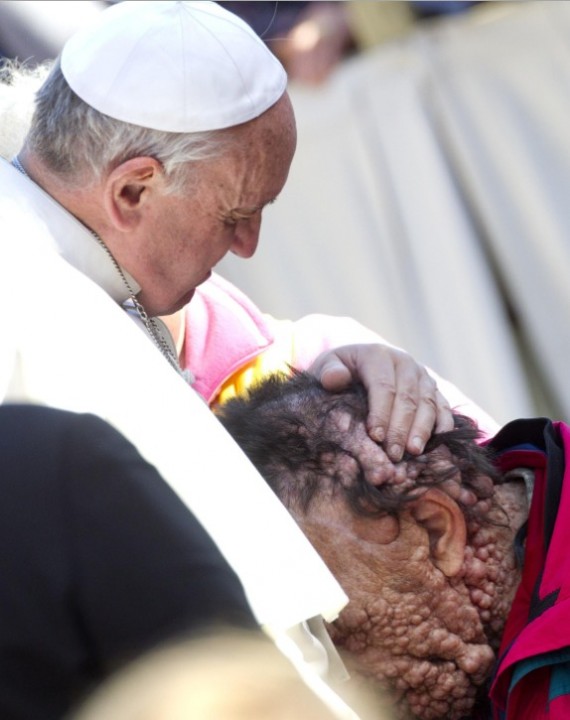 At this point, mass was about to begin. Those of us invited by Pope Francis made our way to the nave. Not nearly as prestigious, but it smelled better and we could sit next to each other rather than people we didn't know–or care to know, honestly.
During all this, I could feel Pope Francis watching us. I caught his eye; he smiled just like he does on TV and in pictures. I preened.
In a soft, gentle voice he said to all of us, "Your true faith is expressed not in your presence at a special mass, but in your treatment of the poor, the ill, the marginalized people of society."
I woke up.