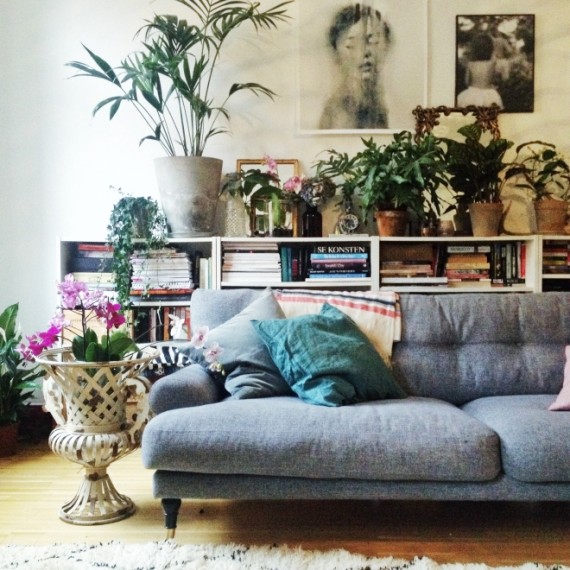 Mother's Day is this weekend, and I told the Mister to buy me a plant instead of flowers. I think he would prefer the flowers since they're so easy to do, but too bad! My day, folks. MY DAY.
I wrote about the plants I want over at Wayfair. As always, I appreciate the support for those of you who decide to visit me over there.
Hello! Please click on the image below if you would like to learn more about The William Morris Project. Thank you for visiting!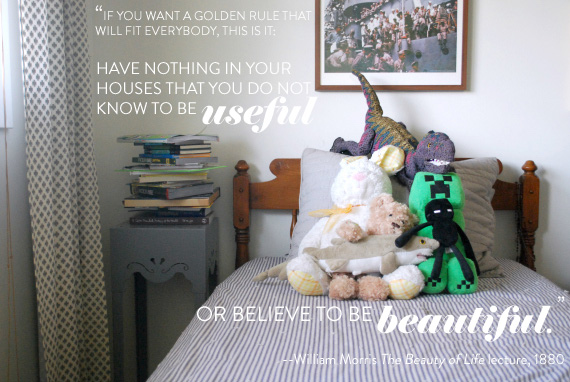 The last time I worked on my makeup drawer, it was a total redo. I was proud of how much I had purged at the time, but looking at the after now, I see I could have tossed in the trash another bag's worth of makeup.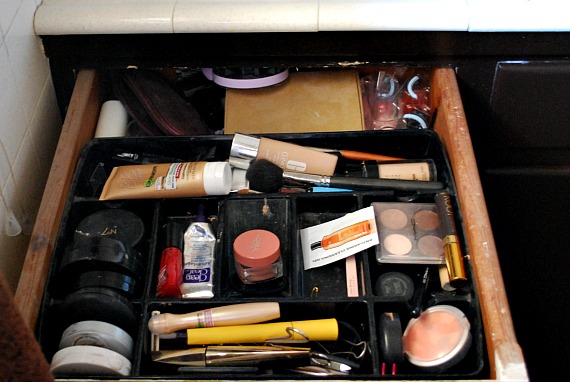 My makeup drawer last week may have had less makeup than the first time I cleaned it out, but it was back to being cluttered and messy. Loose powders and compacts are dusty monsters.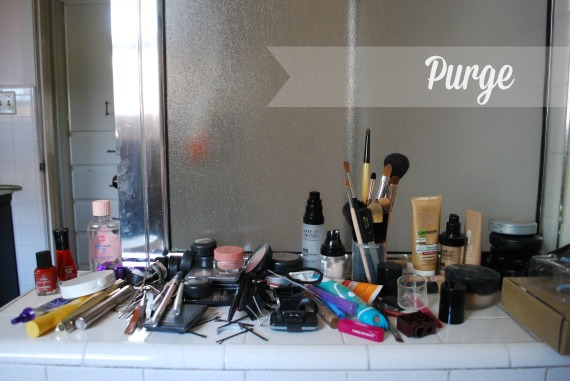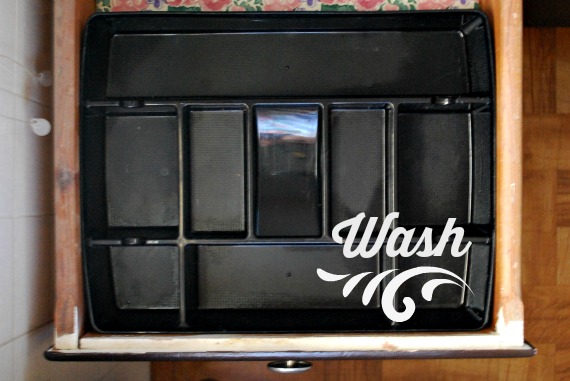 I took out everything in the drawer and put it in a purge pile. The obvious items went out first. I admit, there weren't too many obvious items. I knew I would start rationalizing, so I went into the project with some notes on makeup expiration. If it had expired, I tossed it out–with the exception of a handful of eye shadows because while the beauty editors at Allure says they expire in 3 months, other sources said 12 months. I wear eye shadow, at most, a few times per year. I don't want to toss out everything I have and then buy replacements that will sit in a drawer. For now, some eye shadows stay until I can figure out a workable solution.
Sticking to bright line rules whittled down my makeup by at least 50%. After that, it was as simple as washing out my makeup caddy and putting the makeup back in place.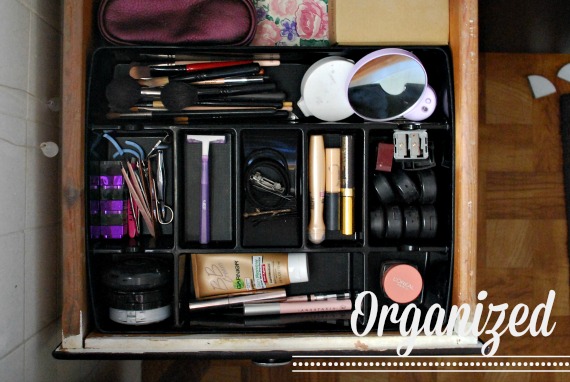 Here's the new and decluttered makeup drawer. I admit that I will probably add some mascara to the drawer–or nice eyeliner since I shouldn't wear mascara.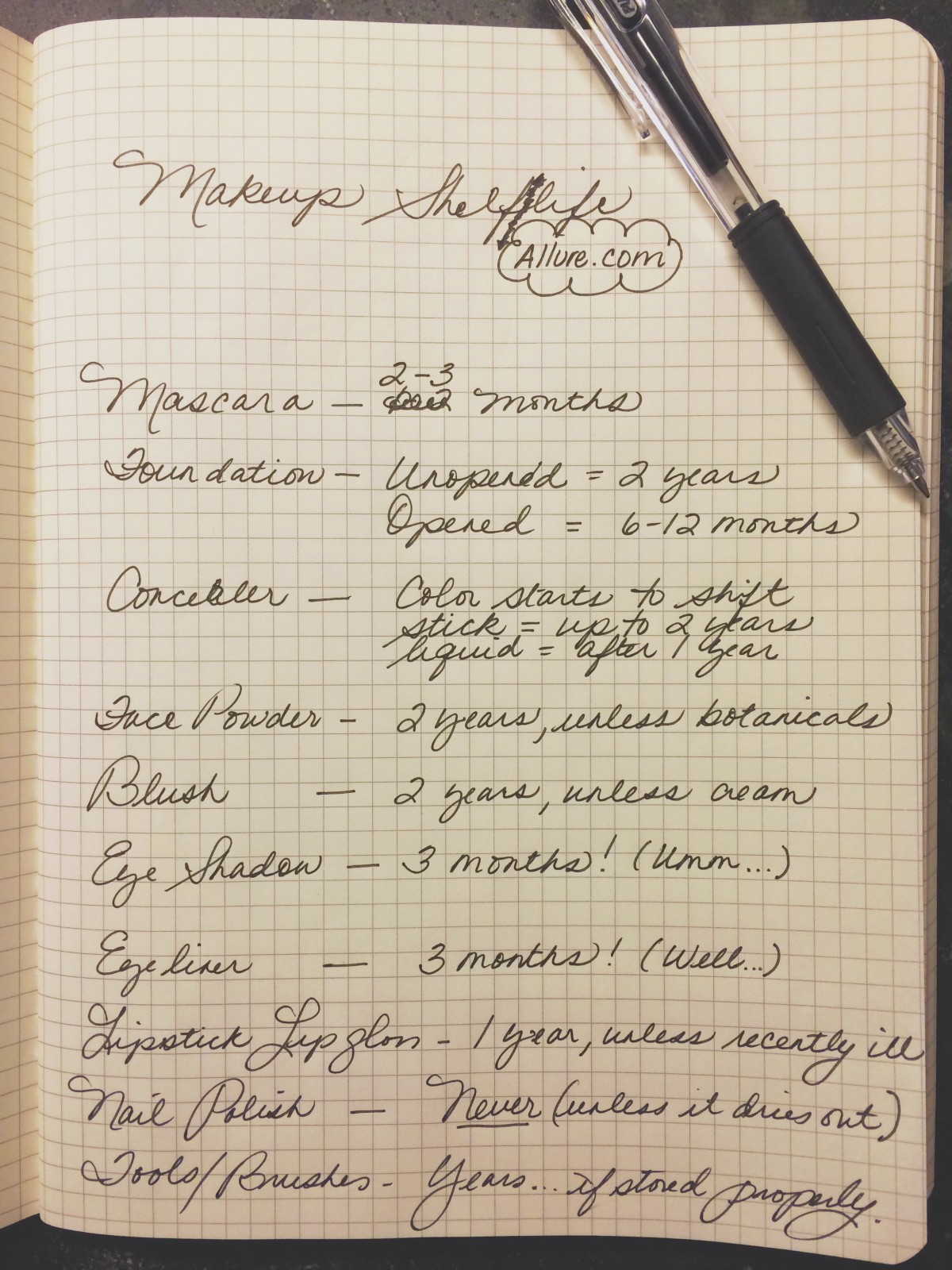 These are my notes in case you were wondering about the expiration dates. You can see them–sans scratch outs and misspellings–in the Allure link above.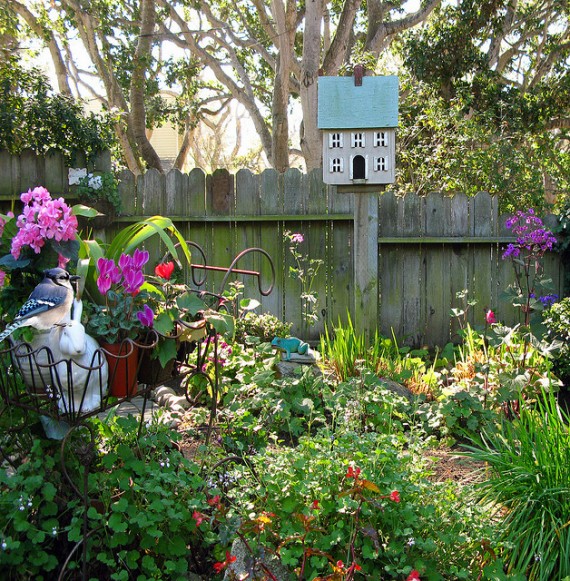 The other day I bought two bird feeders, one for hummingbirds and one for song birds. I filled them up immediately, but so far they haven't had any visitors. I thought with the warm winter we had there would be hummingbirds, but I did some research and it looks hormones determine their migration, not weather. California often has year round hummingbirds, but I can't say I've ever paid much attention. This bird thing is all new to me! Thanks, Nico.
Songbirds we have, because I can hear them in the early morning. I'm not sure why they won't eat from my feeder. I did buy good quality songbird food, so I'm not sure what's up. Time for more research, I suppose.
The above picture is from a garden that caters to birds, insects, and other wild animals. The owners joke that it's a free outdoor restaurant. I would love a garden like this! It's pretty, not too fussy or formal, and colorful. If you've never looked at the garden photos on flickr, then you're missing out. There are some seriously talented gardeners in the world.
I did a post about gardens for Wayfair this month–this one about must-have garden tools. I would love for your to check it out–or at the very least throw me a bone and click on the link. Hah!
source
Hello! Please click on the image below if you would like to learn more about The William Morris Project. Thank you for visiting!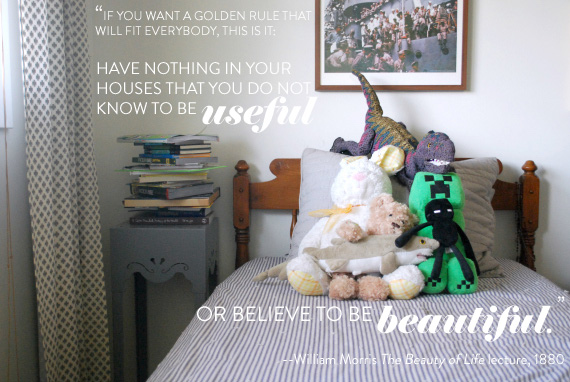 Only a holiday, in this case Easter, can take a cluttered refrigerator and turn it into Monica's closet. It never fails. I'm not fantastic when it comes to cleaning out the fridge. I have a friend who cleans out her fridge every week before going to the grocery store. Every week she washes the shelves, cleans out the drawers, and tosses out whatever needs tossing. She rarely has anything that needs tossing, as you can imagine. Insufferable organized clean person.
My fridge gets nowhere near that attention. There isn't food molding or open cans of soup or raw meet dripping onto the vegetables, but yesterday, 3 days past Easter, it was a mess. (You can see the before picture on instagram.) Cramming the boxes of kale was the second to the last straw.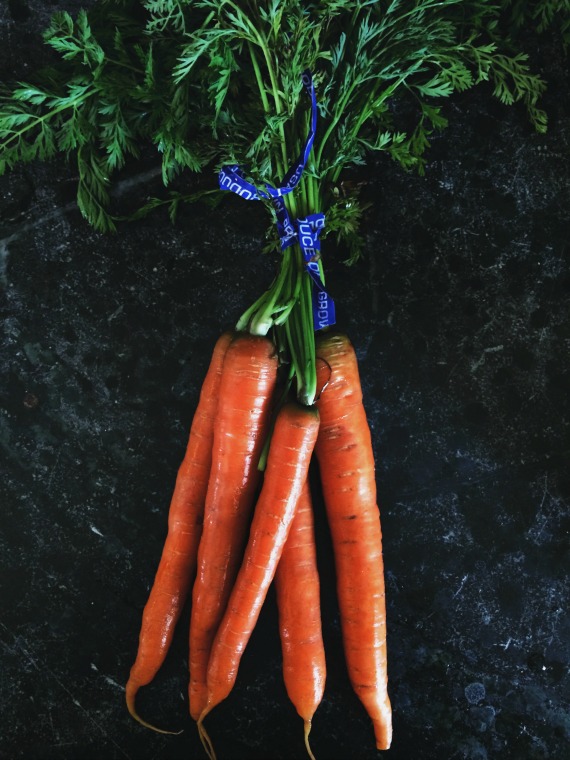 The last straw was receiving my first order from Farm Fresh to You. I wasn't about to stick all those vegetables in a cluttered fridge so they could get lost and spoil. I cleaned out the fridge, which wasn't as bad as I thought it was going to be. Again. If I had a dime for every time I said that I could pay someone to declutter my house.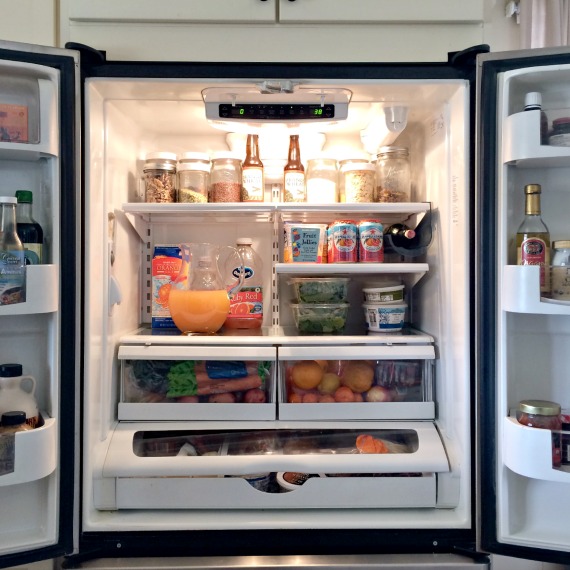 So much better! I even decided to make use of the wine rack thing that I always said I would never use. I tried to use the soda tray, but I couldn't figure out where it went. Both the wine rack and the soda tray may go back once we're done with the wine and soda. Both reflect Easter shenanigans since we don't drink wine or soda regularly.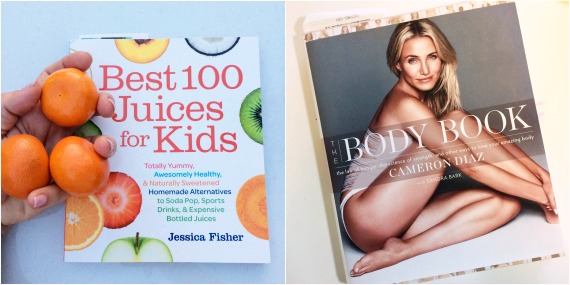 The Farm Fresh to You membership happened by accident. I opened the door to a solicitor and I signed up immediately. It's something I've wanted to do for years, and I'm glad I did. I know I could get everything cheaper if I did the shopping on my own, but I also know that's not something I will do. I need it delivered to my door, and I need the weight of picking out what to buy removed from my shoulders. I do best when I don't have a lot of options and I'm a creative cook when I'm forced to use something before it spoils. If left to my own devices, I'd forget the days the farmer's market was open or show up and buy the same thing over and over again.
My post on skincare motivated me to tackle my diet, which I'm sure contributes to my breakouts and rough complexion. Since the boys and I are on Easter vacation, I haven't found bought Starbucks or snacks. I already feel better. I'm going to eat at home more, plan out breakfasts (my downfall), and try out some recipes. I've been resistant to cooking from recipes lately, which wouldn't be a problem if I was making nice meals on my own. I swear, if I liked quesadillas, that's what we would be eating every night.
I'm debating buying the Bountiful cookbook. I've heard amazing things about it, and Andrea made a goat cheese + lemon spread recipe from the book that was incredible. Any other healthy cookbooks you recommend? I know, I know. You're going to recommend Gwyneth's It's All Good. Any book but that one, even though it completely changed Andrea's life and by all accounts is fantastic. This is going to sound horrible, but I can't stand Gwyneth Paltrow. She drives me stark raving mad. Everything is so sui generis with that woman. She doesn't get a headache. She gets "light-headed" and fears she's "having a stroke." Heaven forbid the woman decides to divorce like the rest of the plebs. No, she has to "consciously uncouple" and access her "pain toolbox."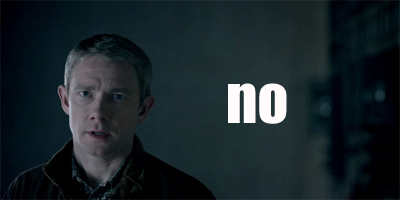 I can't handle her. I really, really can't. She's beautiful, though, and her relationship with her father was touching. I'll give her that. Gotta end on a positive note.
Hello! Please click on the image below if you would like to learn more about The William Morris Project. Thank you for visiting!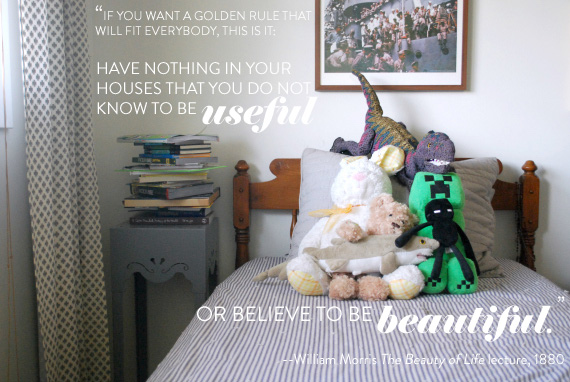 Spurred on by the success of my bill drawer re-do, I decided to revisit " target="_blank">battery box and candle drawer, which took me two attempts to organize. More because it was boring more than anything else. Check out that original 'before' picture! What you don't see in the last 'after' was the pile of candles (tapers, tea lights, etc.) that I squeezed into that small space on the right.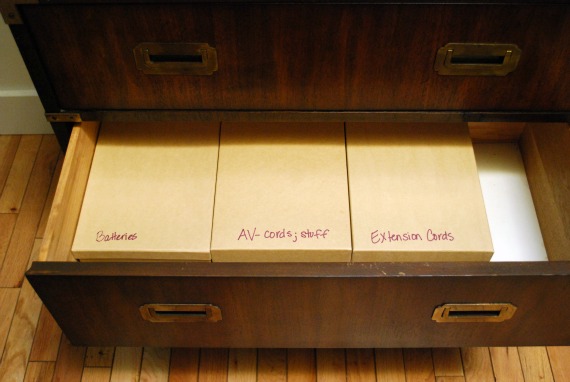 Having a battery box is an idea I took from my mom. She has always stored all her batteries in an old shoe box with BATTERIES spelled out in gold vinyl letters. It was so convenient to know exactly where to go for batteries because this was the age of Walkmans, "Ghetto" Blasters, and Nintendo Game & Watch. We used batteries. Hard. She still has the same box with the same letters, by the way.
Best thing I ever did was to implement the battery box. Everyone knows where to look if they need a battery. Even Nico! He knows where to go and he puts things back…most of the time. The only problem I had was with the loose batteries. Apparently, it completely and totally not safe? The jury is still out on this. Some people claim YOU CAN BURN YOUR HOUSE DOWN, YOU FOOL! And other people are all, eh, just don't store them loose next to other metal objects if you want to avoid a short.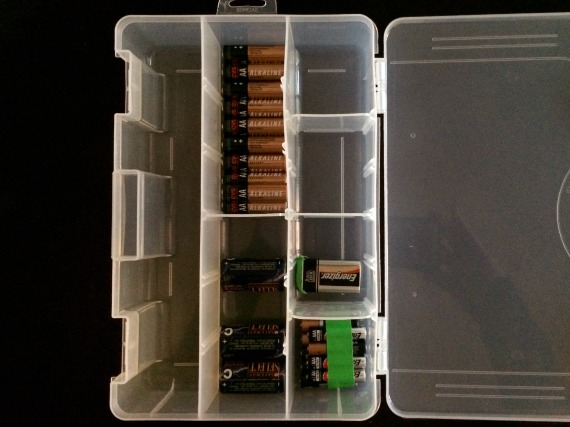 I decided to take the cautious route (shocking) and store them in a plastic container from Michael's. Everything I read on the internet aka "where everything is true," said to top loose 9v batteries with electrical tape or duct tape. All other loose batteries should be taped loosely together to keep opposite ends from coming into contact. All batteries have the Cheese Touch.
If you think I'm opening up packages of new batteries and organizing them into slots and then wrapping them in tape, you are seriously high. This is for already opened battery packs only.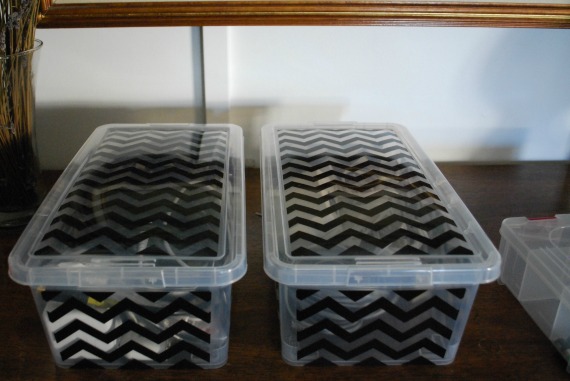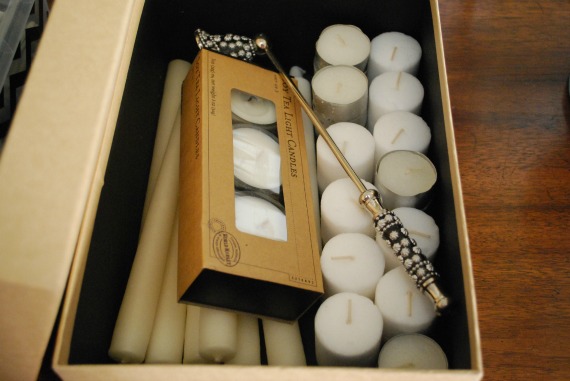 I transferred all our AV cords and chargers into a smaller plastic box. I did the same with our telephone equipment, though I should revisit that box and see if it's necessary to keep the contents.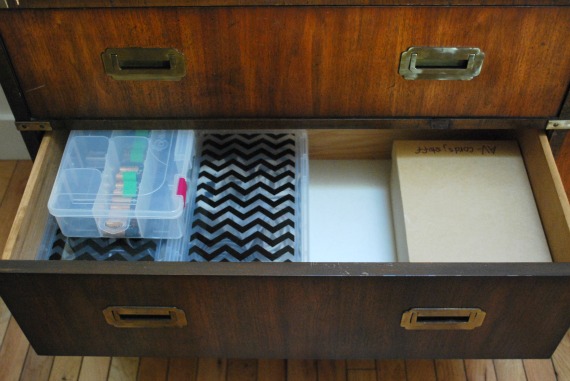 So much more room! Much better.