A while back I wrote about looking for a plant stand. I wanted something larger than what I found, and I also wanted something in a dark finish so it would sort-of match the dining table since they'd be in the same room–mere feet from each other, actually. The IKEA one I mentioned in the post was in the right price range, and I liked the glass shelves, but I wanted something sturdier in such a high traffic area. I had visions of glass all over the floor following an attack from an errant soccer ball or light saber.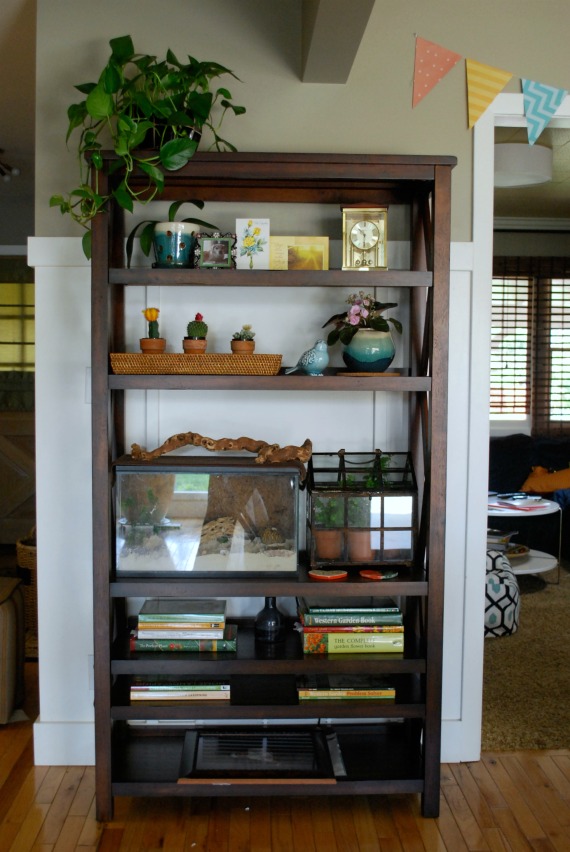 I ended up buying this bookshelf on sale at Cost Plus World Market. I wanted solid wood in a dark finish, and this bookshelf meets both requirements. Cons: the shelves are wood, and I wanted something less easy to suffer water damage. Another con (and this is a major one) I can't display any of my tall plants. The shelves are for books, so that's expected. Also, our hermit crab takes up a good deal of room and determined how I was going to place the rest of the shelves.
There is enough room on top for my pothos, and I'm thinking of adding a string of pearls, but I killed my last one. I think the pot and soil were the problem, so I'm willing to try again.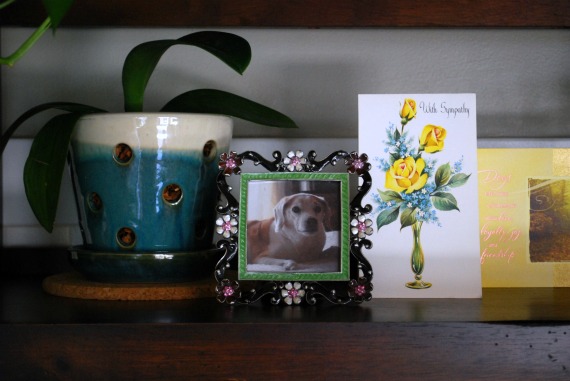 I finally printed out a picture of Buster. Nico and I cried when I placed it on the shelf. I was in a glum mood for the rest of the day. Mikey just stood there with a stoic look on his face.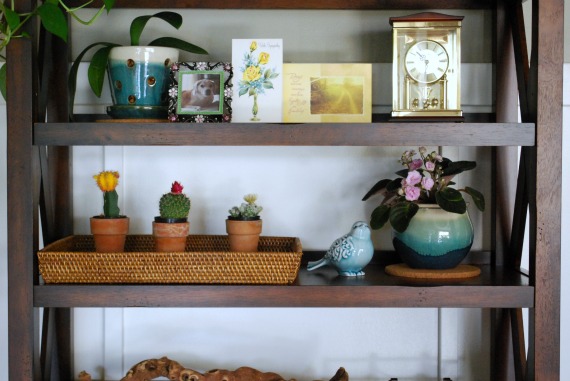 I need to repot my cacti, but I can't decide If I want to add more.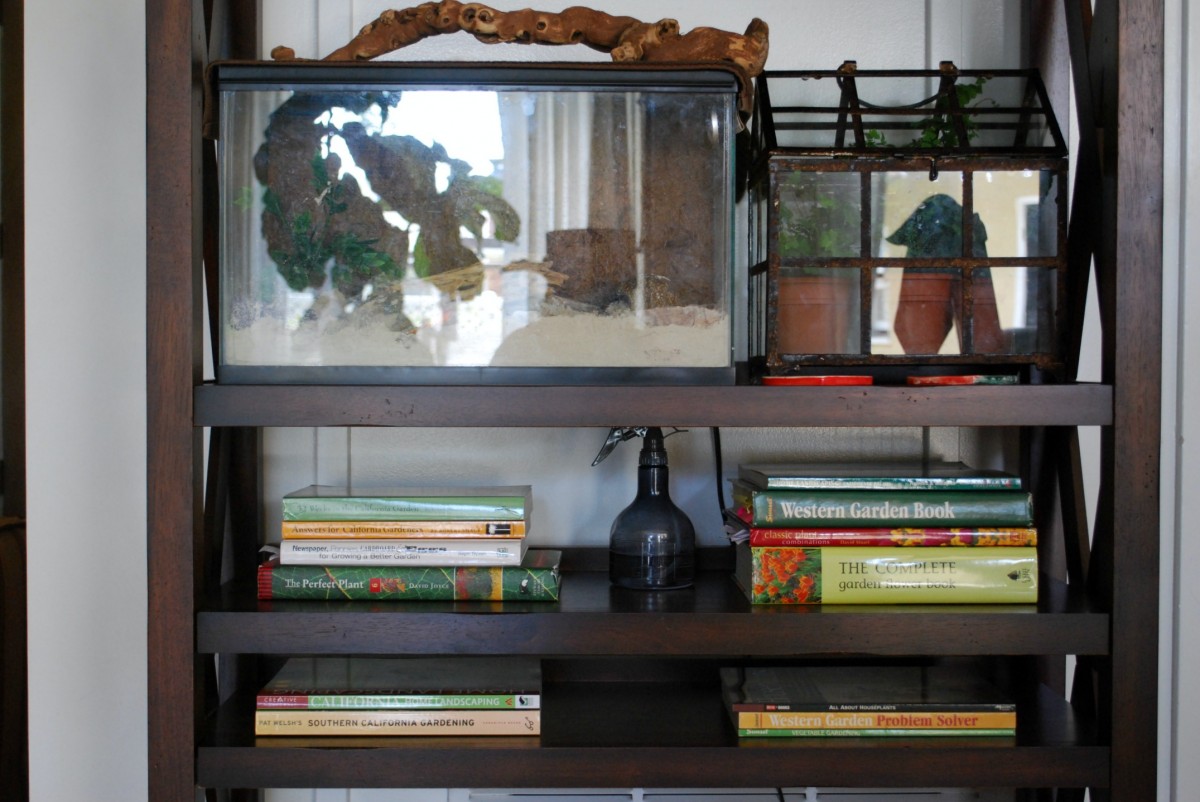 The hermit crab tank and my ferns, which are so far doing well in the terrarium. I mist them regularly, but I don't know what I'm going to do once they outgrow the terrarium. Buy a larger one? No clue what to do. The main point of this picture, though, is to rejoice that I finally have a place to easily access my gardening books. Observation: the best garden books are vintage or at the latest from the 80s. (Which I guess is vintage now. Gah.) Today's garden books are slick and pretty and, from my experience, rarely of much use. I would love current recommendations that aren't a waste of money and are for people who actually enjoy and grow house plants. The books I reference most are goofy-looking Sunset publications from the 70s with poorly-styled photos. I've used this one since I was a kid. (Wish I was joking.)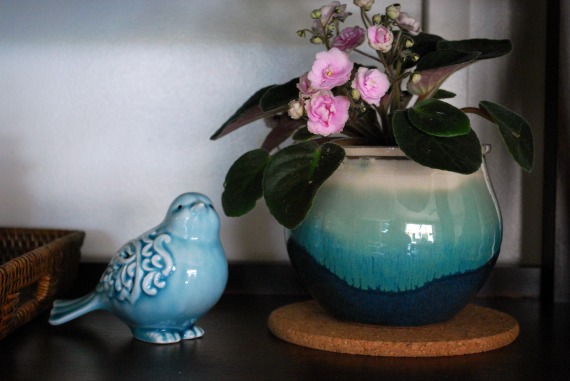 I bought my first African violet pot! I've resisted for years, and after a disastrous attempt at keeping African violets 14 years ago, I figured they weren't for our dry area. Aha! All that changed with this short and squat self-watering pot. I'm now a firm believer in the right pot for the right plant. I thought if I babied them enough, I could make anything live. Nope. Wrong. So wrong. I'm now so happy with my violets that I want to start a collection of them.
I posted a similar picture on instagram, and someone mentioned that African violets reminded them (in a good way) of their great grandmother. Sounds right up my alley.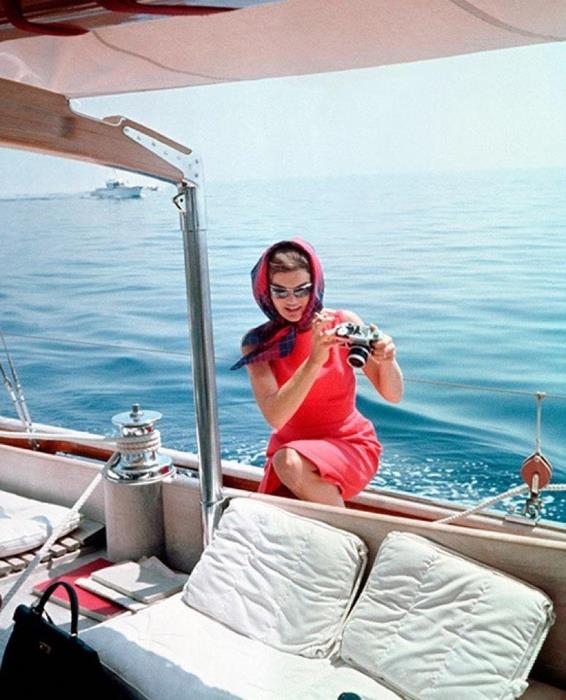 The best thing about working for Wayfair is how accepting they are about my personal beliefs and interests, even when they may go against their sales goals. I debated for a while before accepting their offer to post for them. I worried that I would have to sell items people didn't need in a style I didn't like. Luckily, that has never happened. In fact, I've had the opposite experience. They have encouraged me to write about what I love because they believe passion sells, not strategically placed links. When Buster died, I missed a deadline. It just completely slipped my mind, and when my contact emailed me asking where my post was, I was horribly embarrassed. I wrote out the post and sent it to her as soon as possible. A few days later, this pillow arrived on my doorstep. Forgive me if I've told this story before, but it's so nice that I like to tell it over and over again.
So, holiday decor. I used to hate it, but working in the library got me to see the magic in decorating for holidays–at least within reason. I don't mind going a little crazy for the kids at school, but having all those decorations at home goes against the principles of The William Morris Project when you think of the money spent and space required to store them properly.
I've been thinking a lot about outside decorating for the holidays. How to make it inviting without being over-the-top or obnoxious; how to spend my money on items that last beyond a few weeks; how to spread what I think is beautiful without being wasteful of both my time and my money. That's why I wrote about over at Wayfair, and I would love for you to check it out.
As always, thank you for your support.
How to Decorate Your Yard for the 4th of July
A couple of weeks ago I noticed a pimple on Mikey's left cheek. He's nine, so I was a little surprised. Pimples in 7th and 8th or maybe 6th grade I expect. Not so much in 4th grade. I told him to wash his face. The next morning I looked at it again and wondered if it was really a pimple. By the end of the day, I decided it was a spider bite.
The next morning I an appointment with the doctor since it didn't seem any better. I was talking about it to some other moms at school and pointed it out. They thought it looked more like a mosquito bite, and then Mikey turned his head and said, "Well, I got more last night." His ear was blistered with bites. One was really and truly blistered over. I kept my poker mom face on the outside. On the inside I was already imagining dousing his bed in gasoline and lighting a match. The doctor confirmed my suspicions. Five spider bites. FIVE. I wasn't surprised after I gave it some thought.
A week prior, as I was getting into bed, I pulled back the sheets and saw an enormous spider on the Mister's pillow. I briefly considered pulling him out of the shower to handle the situation while I called a real estate agent. During my internal debate, I lost track of the spider. (!!) I did what anyone would do in my situation. I tore apart the bedroom and moved all the furniture until I found the spider and snuffed out its life like a 17th century candle. My apologies to vegan and animal activists.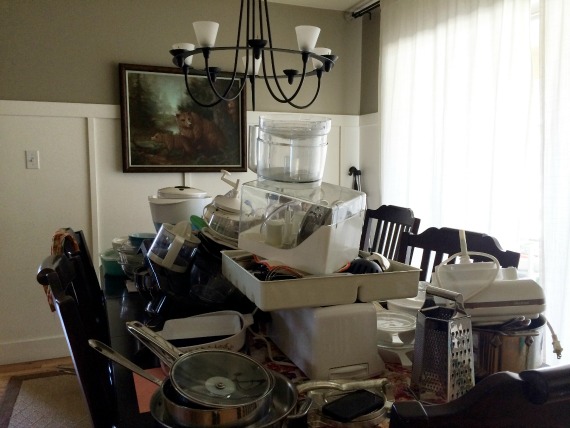 This, on top of the ants. The first thing I do in the morning is roll over and put on my glasses. There were days where I would put on my glasses and see ants crawl across the lenses. Ants and spiders in this area aren't unusual, especially when it gets hot. But this, this is unheard of. We are teeming with ants and spiders and even one cockroach. One, but it was large enough for me to think I had Gregor Samsa in my family room. Also, there is never just one cockroach.
I am really weird about kitchen cleanliness. I don't like food laying around, don't leave stuff on the counter, and eat in the dining room or family room since we use our bedrooms only for sleep. The Mister is even more particular about crumbs and, for the most part, the boys are pretty neat when it comes to food because we live in ant country. They know better. If you grew up in this area, you don't leave food on the counter or dishes out overnight. It's just not done by humans age 7 and up.
I'm trying to explain that I have no idea why we are suddenly having this ant and spider problem. A friend on Facebook suggested that one of our neighbors must have recently bombed their house for pests. Well, that sucks for my other neighbors because we are bombing the hell out of this house on Monday. In 14 years of marriage, we have never had to bomb or spray or do any sort of pest control. There's a first time for everything. They're even testing for bed bugs–OMG PLEASE NO. GROSS.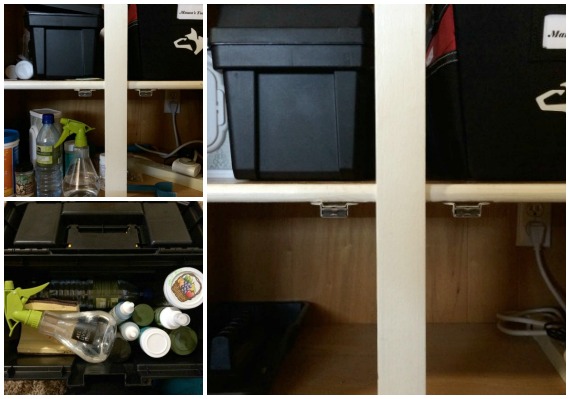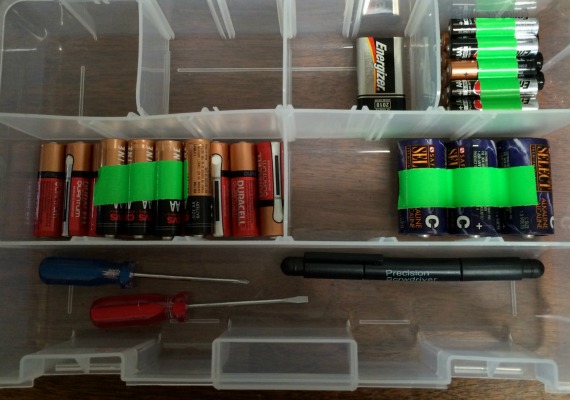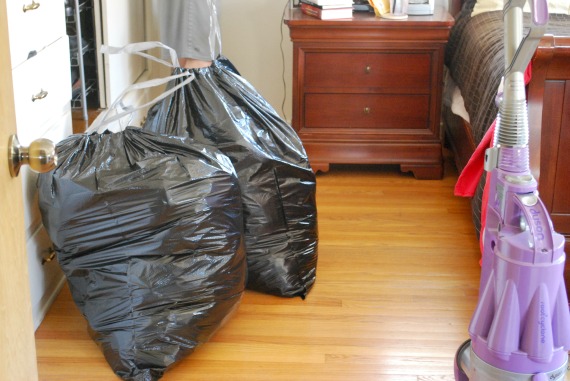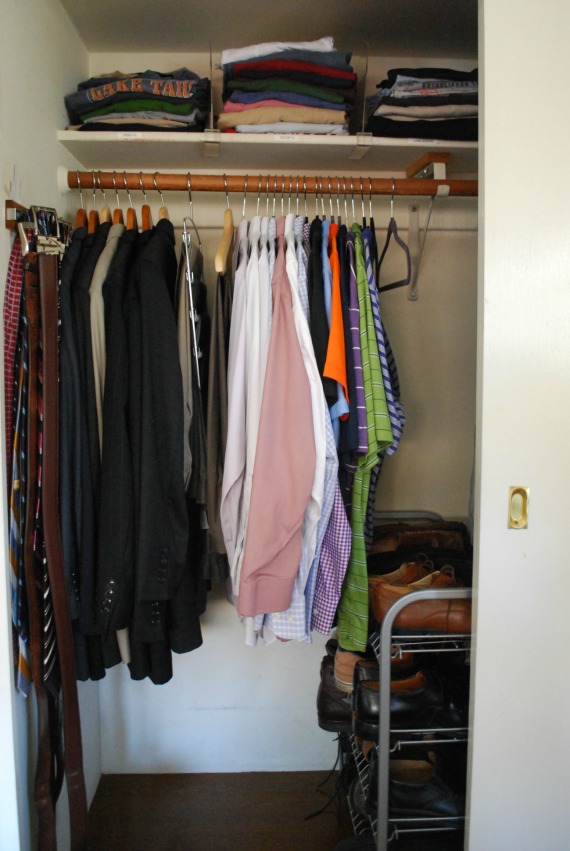 We were told to remove all items like food and kitchen equipment stored waist high or lower and put it under a tarp on the dining room table. Pull all furniture away from the walls and make sure there is access to baseboards and corners. What a task! And on a Sunday! I freaked out about it from Friday on because, really? Who wants to do all that on the weekend. It's like moving.
Well, we did it as a family and as much as it sucked, I knocked out so many projects. Gone are the little piles. The Mister got rid of two large trash bags of clothes. The boys finally cleaned out and organized their closet and toy cabinet. I purged the kitchen again, though there wasn't much I got rid of. I bought two precision screwdrivers for my battery box and cleaned out all our goldfish supplies and replaced it with our hermit crab supplies. The counter tops are clear of paperwork and clutter. I created a donation pile. I feel really, really good.
Thanks, ants and spiders.
Hello! Please click on the image below if you would like to learn more about The William Morris Project. Thank you for visiting!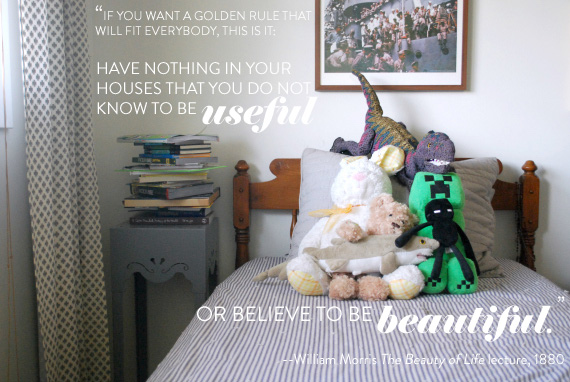 I'm pretty pleased with this one, folks! Not that it's revolutionary or anything. I admitted to myself that every project I do will adapt as we change as a family. When I put all the books in one room, Nico wasn't much of a reader and Mikey was reading small series books. Now Nico has interests of his own and Mikey likes big books. I can't blame him.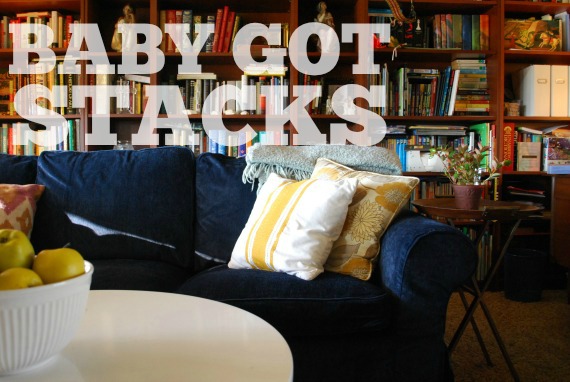 Between Mikey's many series and Nico's developing interest in reading, books started to collect in every room of the house. The fact I continue to buy books is absolutely irrelevant to the issue at hand. (HAHAHAHAHAHAA!)
Side note: I started reading most of my books on my ipad because the Mister was ready to make me sleep outside with my books and a flashlight. I love to read at night, so much so that I can't fall asleep unless I've read two hours before going to bed. This is a problem when two hours means after midnight. He bought me the ipad and begged me to read with the lights off. That was fine for a while, but over time it bothered my eyes and I started to miss the experience of owning books. I like the look of books everywhere. I like going to the bookstore and searching for the perfect book. Also, and this will sound odd, but I swear my taste for books has turned tawdry now that I know I don't have to worry anyone at school will see my copy of Gay Wizards, Consulting Detectives and the Women Who Love Them: The Best of 2014.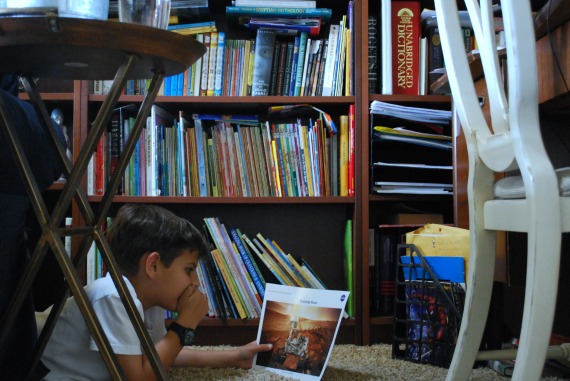 I realized believing I could store all our books in one room was like that one time the Greeks told the Trojans, "It's just a horse!"
So I bought two cheap bookcases from Target for the boys room and had Mikey and the Mister put it together. Both went into the room and we started the book purging process. It wasn't easy with Mikey, who is a sentimental pack rat. Nico, not so much. If he saw the movie and read the book, he was okay tossing it. I took close to 50 books to the school on Monday and, I'm happy to say, a lot of them were checked out by the younger grades.
I'll show the boys' new bookcases another day, but for now here is what I have done so far with my new found four shelves of space.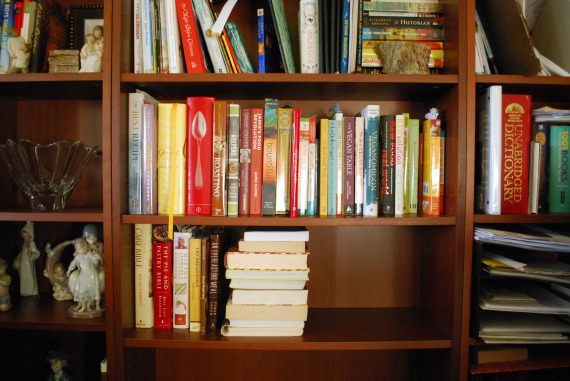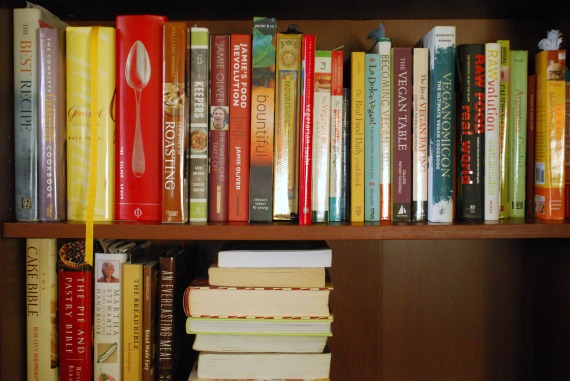 Cookbooks! I finally have a place for all my cookbooks! I used to keep them in the pantry in the kitchen, which was fine, but my motivation to use them was less than zero. To access them I had to get a step ladder and forget it. I forgot which books I owned and I ended up storing my most used books in a kitchen cabinet. Now I have them all on two shelves with nine ready to go to Goodwill. Yes, I purged my cookbooks while I was at it to make room for two cookbooks I bought last month. That means I'm seven cookbooks lighter, so at least I'm going in the right direction.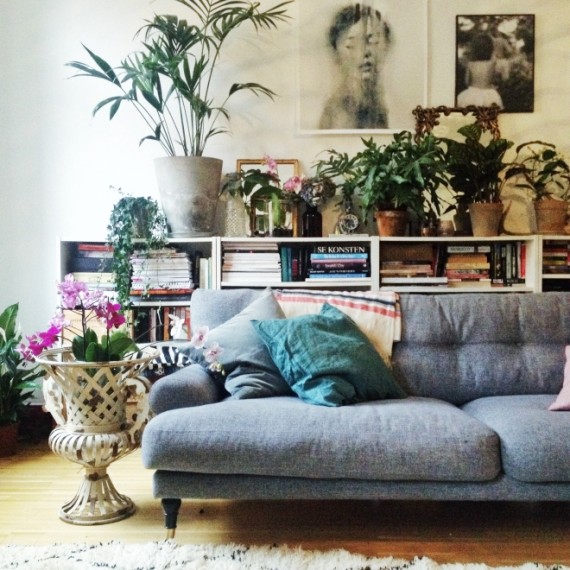 Mother's Day is this weekend, and I told the Mister to buy me a plant instead of flowers. I think he would prefer the flowers since they're so easy to do, but too bad! My day, folks. MY DAY.
I wrote about the plants I want over at Wayfair. As always, I appreciate the support for those of you who decide to visit me over there.