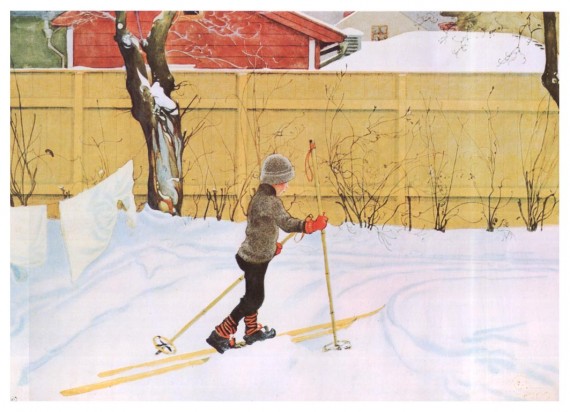 Wayfair asked me to write a post on winterizing the garden and I was like, huh? I had to research how winterizing was done because where I live, that pretty much amounts to putting on a windbreaker when you go out to get the mail. Occasionally we get an inch or two of rain, causing everyone to toss their hands up in a panic and crawl the city streets at 15 mph to avoid the dangerous puddles.
After consulting quite a few books, some of which I actually own, I managed to come up with a winter plan that will (hopefully) please most New England gardeners. Just for fun, I shared what my garden books recommend southern California gardeners to prepare for winter. You can read the post here. Don't laugh.
p.s. What does Carl Larsson's painting The Skier have to do with this post? Nothing! I just love how his work exudes peace and happiness. Did you know that he had a traumatic childhood, and that much of his work reflects the desire to give his children something different? They "became the most immediate and lasting part of my life's work. For these pictures are of course a very genuine expression of my personality, of my deepest feelings, of all my limitless love for my wife and children." [source]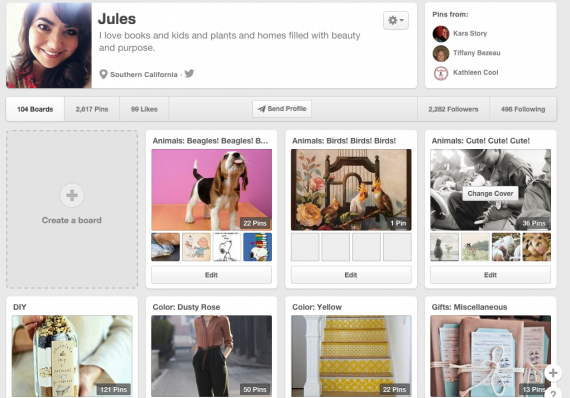 This might be one of my biggest projects yet, and I don't even have to move from my chair. I spent two hours last night cleaning up my pinterest boards. I went from 156 to 104 boards. That's a decrease of 33.33%. Not bad! I would love to get under 100 boards, but that's impossible since I haven't moved over my boards from the library account I started a couple of months ago.
Yes, I started the library account because my original account was too cluttered for me to find anything. Heaven forbid I just clean out the cluttered account! At least now I can say that I've taken steps to having a pinterest account that won't give me a nervous breakdown.
Things I'm doing to clean up my Pinterest space:
Deleting all boards with only 1 or 2 pins
Deleting all boards that are no longer relevant, like boards on specific books I've read
Deleting all recipe boards that include ingredients I no longer eat, like chicken
Deleting inspiration boards for rooms/trips/designs that are no longer relevant (I no longer need a laundry room board, for example)
Giving all boards heading and sub-heading
Alphabetizing all boards

I'm still working on all bullet items, especially the last two. Alphabetizing boards takes forever! You have to move them around with your mouse because pinterest isn't enough of a time-suck as it is, I guess. I want to see a button that says "ALPHABETIZE BOARDS" and then be done. I'll pin that under "In My Dreams."

Over the summer I spoke a lot about wrapping books for the library on Facebook, Twitter, Instagram, here, church, the supermarket…anywhere there was an ear and a platform, basically.

It didn't occur to me that some people wouldn't know what I meant when I said I was wrapping hundreds of books. A few people thought I was setting up a blind date with a book program, one friend, who gives me way too much credit, thought I was wrapping them up for a giant "Christmas in August" book party with the students. Still other people thought I was wrapping everything in brown paper like regular textbooks.

In reality, I was wrapping new paperbacks with laminate so they last longer. I mentioned that in a comment somewhere (the problem with whining in so many venues), and then moved on to complain about something that was more inclusive and allowed everyone to coddle me like a baby koala bear with a broken paw.

Only yesterday did it occur to me that wrapping books with laminate is someone everyone should try, especially if you have little ones. The books I could have saved from Nico's gummy mouth!

Here is how I taught myself to do it last year, when one too many Goosebumps books crumbled into a fine dust in my hands. There may be other, better tutorials out there, but this is my method.

Lots of pictures with this one! Let's get started.

Grab a book you want to wrap. It's okay if it looks tattered beyond repair! The laminate won't make it look new, but it will keep it from breaking down more and it will look slightly more presentable. In this case, I'm wrapping a book I read at the pool all summer (Main Street Vegan by Victoria Moran). It has water damage and a minimally frayed cover.

The first thing you will need is book laminate. For the library, I use Demco CircExtender Laminate. It creates a permanent bond 6-24 hours after application.

PROS: permanent, strong, matte finish, rolls come in multiple sizes

CONS: may be difficult to work with (you get used to it), bubbles are difficult to remove, extremely tacky, requires trial and error, cost, availability

This is the laminate I prefer, but I've wrapped enough books that I can do it in my sleep. I rarely have to reposition a book once I set it on the laminate, and that's key with this brand. They say you can reposition it, but they are liars. I can only find this laminate online, so that's an issue.

While I was still figuring out my technique, I used clear Contact paper, which is far more user friendly and available in small rolls at Staples and Target.

PROS: price, availability, easy to apply and forgiving of mistakes, completely reposition-able, matte finish.

CONS: not permanent, may require taped ends for secure application, not as sturdy, more expensive in store unless you buy it in bulk online or through business catalogs

Cut out the laminate.

Most chapter books will require between 12″-14″ of wrap (12-14 squares). You want an inch or more of laminate all around your book.

I remove all the paper backing and place the book on top, but in the beginning I removed only half of it, like you see in the pictures. I removed the paper as I went, almost like applying a band-aid.

Roll Book Onto Laminate

This is the best way I can explain it, but I had Mikey take a million pictures of the process for reference. Keeping in mind your 1″ border, you place the edge of the book down onto the laminate and then roll the rest of the book on. You do this to avoid air bubbles. If you place the book down flat, air bubbles are guaranteed. Once I roll on the book, I put pressure on it and smooth it out like you would a tablecloth. I have no idea if this prevents air bubbles, but it's habit now.

Note that I have removed only 1/2 of the paper backing.

At this point, before I move on to the next step, I flip the book over once and check for air bubbles. I smooth out those I see, just like I would if applying wallpaper.

Apply Laminate to Back

Remove the rest of the paper backing (if you haven't already), flip the book over, and firmly tug the laminate over the spine of the book. Then beginning smoothing the laminate onto the backside of the book, almost like a reverse of the "roll" step above. Watch for air bubbles.

Smooth down laminate.

Using a bone folder, squeegee, credit card, ruler, etc., smooth out the laminate. In some cases, you'll be smoothing out air bubbles. In this case, I was just making sure the laminate had a nice, strong bond to the book.

Cut the corners off the laminate, including those by the spine. This is the part some people find confusing. Even at the spine, you are cutting at an angle to create mitered corners. You can use straight cuts, but it will make wrapping the book harder. Also, your end product won't look as nice.

Wrap laminate around book.

Hopefully these last two pictures show why mitered corners will make your life easier as you wrap the interior of the book with laminate. Tug firmly so that the laminate is flush with the edges of the cover, then smooth onto book.

That's it! Done! I should have done this before I read it for two months at swim practice, but there you go.

I survived my first day of school as a teachers aide! I came home exhausted but aware of the fact that I have to be more organized at home than I have ever been if I want to juggle everything successfully. To that end, I decided yesterday I was going to work on how I store homework and classwork throughout the year.

My proven method worked until last year. Having both boys in elementary school meant a dramatic increase in paper, and it was no longer easy to pull out what I needed when discrepancies arose. There was too much stuff, and I was getting bad about discarding the items that weren't graded. In Nico's case, it seemed like everything had a grade.

[I keep all graded assignments, classwork, and tests until the final report card for that trimester. This has been fabulous for those times where grades were entered incorrectly or assignments were marked missing. It doesn't happen often, but when it does, I'm glad to have the backup I need before I question the boys or the teacher.]

This year I am straight-up copying my friend Susan. She makes Martha Stewart look disorganized, so when she says a system works for her, I feel pretty confident in appropriating it as my own and doing no further research.

This is what she does.

I couldn't find two accordion files–Susan uses the big ones with the handles–so I bought two Martha Stewart accordions on clearance. I figured if the smaller size doesn't work, paying rock bottom for the files wouldn't hurt as much. And I can always re-purpose them, too.

Here is how I set up Mikey's accordion. Because these accordions are smaller, I doubled up every month except for the beginning and the end of the school year. Nico's doesn't have the student handbook file since only one of those goes home, so I don't know how, or if, I'm going to use the last pocket.

I'll give an update in a few months on how they are working for us.

I have a couple of reasons for this post. First, can you see images? Please let me know if the problem has been resolved for you. Thank you for putting up with the inconvenience, too.

Second, day planners! Specifically, paper ones. I can't handle the new calendar in iOS 7. Appointments disappear or get moved to other days, I'm not getting my alerts, and the wheel date selector makes scheduling difficult for people with man-hands. I already dislike relying on electronic devices and am 1 of 5 people who still uses a paper address book. Also, and here another instance where computer-loving folks will toss their hands up in shock and think I'm really, really dumb: I keep all my passwords in a paper logbook.

That's right! All my passwords in a paper logbook, not in a cloud or in an "impossible to access by hackers" security site online. When people found out about this on Instagram (I shared a picture of my logbook) there was an outcry of warnings and recommendations for online password keepers. I appreciate the concern and welcome the constructive feedback. Here are my thoughts on that: I'm a middle class, unknown woman from suburbia. I doubt I'm the mark of an Ocean's Eleven team of hackers intent on stuffing their coffers with millions. And, God forbid, should a couple of random burglars enter my house when I'm not at home, they won't ransack the place looking for the internet password logbook I may or may not have. "Put down the TV and jewelry box, Bob. Time is of the essence, so let's first figure out if she bought one of those cute password logbooks I saw at Target."

When it comes to online security, I don't believe there is a safe way to protect myself, with the exception of avoiding all online activity and paying for everything in cash. Even then, security is a myth. Identity exposure is the reality of living in a world increasingly dependent upon digital communication, especially if corporations like Target can get hacked twice in less than 6 months. I'm at risk whether I store my passwords in a book or online because it's the act of necessitating a password that puts me at risk. Online or paper, we're all screwed in the end because if someone wants our information, they'll get it. Maybe I'm just a pessimist.

Back to day planners. Anything computer/electronic/online is not an option for me. I know many of you use Google Docs/Calendar or have had great luck with ABC online planner, and that's great! It's not you, it's me. Paper all the way.

The problem I have is that finding the perfect planner is like having fun at a timeshare presentation. It's possible, it's just not likely.

I've spent an obscene amount of time researching planners. It's embarrassing. So embarrassing that the Mister turned to me last night and said, "The amount of time you have spent researching day planners is embarrassing."

I've narrowed down the options and will now crowd-source you for opinions or planners I may have missed.

LESS THAN $30

The Arc Planner by Staples is a letter-sized planner with a neoprene cover. The calendars and paper accessories come separately, allowing for customization. There are plenty of free printables and customizing tips on Pinterest. Arc refills are around $5.00. My concerns: the low price of the planner disappears once you factor in the price of the refills. The 6-ring layout makes it difficult to customize your own refills without a special punch, which makes using the Arc-made refills an easier option. That's intentional, I'm sure.

$58, PLUS SHIPPING

The Simplified Planner by Emily Ley is clean and simple. The available patterns are limited, but I like them, aside from the pink key-pattern. The size is 9×10. The daily schedules are from 7am-7pm in half-hour increments, which is a must for me since I need the planner to keep track of my library schedule, doctor appointments, swim team, music, choir, and the Mister's travel schedule. An appointment calendar isn't necessary for many people, but it is for me. Each page has a to-do list, a spot for notes, and a spot for dinner plans. There is plenty of white space and the layout isn't cluttered. This planner would be perfect for me except for the calendar year organization. I absolutely need a planner with an academic calendar.




Do it All Planner by Orange Circle Studio

$14.99

This planner is by Orange Circle Studio, but it represents that category of day planners you can find in stationery stores or big box stores. These planners are small, sturdy, and simple. The price is reasonable. Rarely are the days organized in 30 minute increments, but in the case of the Do it All Planner, there is enough room for multiple appointments in one day. Still, I need the time increments to avoid double booking myself. There is no real way to customize the planner or refill pages, which means you're buying something new every year. Because the price is low, that's okay.




The Life Planner by Erin Condren

$50-$75, PLUS SHIPPING

If you are a blogger or read blogs, you might have heard of this planner. Erin Condren is the chevrons of day planners. They life planners are colorful, full of pattern, come with 300 bells and whistles, and can be customized to within an inch of your life. There are pockets and stickers and rulers and coil clips and gift labels, and contact pages, and blank pages, and lined pages, and stationery pages, and a little monkey that follows you around each day playing a music box to alert you of your appointments.

The number of reviews and youtube customization videos devoted to this planner is overwhelming. In fact, everything about this planner is overwhelming. It's too much for me. Too much color, too much pattern, too girly, too much everything. Even the commercials are too much.

Is it a planner? Is it a scrapbook? I don't have time to make Easter Egg shapes out of washi tape, that much I can tell you. I don't do brunch with girlfriends. The daily schedule is morning, day, evening–no 30 minute increments. I spent an hour looking at patterns and couldn't find one I truly liked. I'm pretty sure this planner isn't for me.




2014-2015 Plum Paper Designs Planner

$31, PLUS SHIPPING

The Plum Paper Designs Planner is another popular planner among bloggers. It's not an Erin Condren, but it's slowly but surely capturing market share. There are a lot of "Why I ditched my Erin Condren for Plum Paper" videos out there. The Plum Paper planner is cheaper, so that's good. The planner is 7.5×9 with a plastic cover and spiral binding. The pages are semi-customizable, which means I can organize my days in increments. Best of all, I decide the month I want to start my calendar. No waste, no juggling another calendar until January. This is a huge selling feature for me! There are some bells and whistles, but not so many that I'm overwhelmed or feeling like I'm wasting time and paper.

I don't like most of the patterns, so that's too bad. I also don't like the frosted plastic cover that protects the patterned cover underneath. That makes me think the patterned cover isn't durable. I'm not confident in the spiral binding.

Out of all of the planners I've looked at, the Plum Paper is the one I will most likely buy. We'll see. I still have a couple more weeks to make a last-minute decision.

OK, so. Anyone else out there using a paper planner, or am I a lone ship at sea?