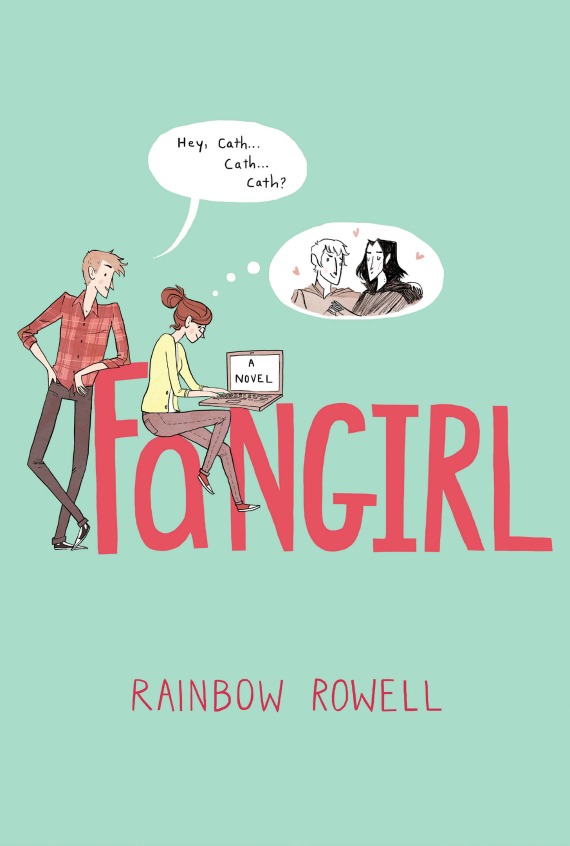 I finished Fangirl by Rainbow Rowell on February 18, 2014 according to my page on Goodreads. I'm sure most of planet knows by now how I felt about her previous book, Eleanor & Park. It is one of the very few books I assigned 5 stars. Everyone knows how picky I am when it comes to rating books. My friends Kendra and Carey make fun of me repeatedly, calling me the Scrooge of readers. Kendra still hasn't forgiven me for giving The Girl of Fire and Thorns 2 stars. (I stand by my 2-star review, Kendra, so don't even.)
On February 18, 2014, I gave Fangirl 3 stars. I liked it, but I wasn't telling the world about it like I did Eleanor & Park. I had trouble connecting with the story because I couldn't relate to the main character, Cath, who is a socially awkward, passionate fan of the Simon Snow series (think Harry Potter). She is such a fangirl, she writes Simon Snow fan fiction, and however shy and introverted she may be in real life, online she is a superstar. Her Simon Snow fan fiction rivals that of the actual series in popularity, and as strong a writer Cath may be, she can't imagine writing anything other than Simon Snow fan fiction. Fangirl is about Cath's attempt to live life outside the fandom.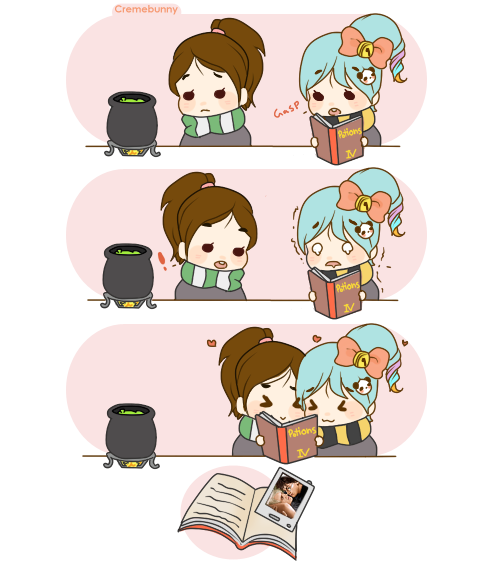 I was a fan of the Harry Potter series, but at the time the books came out, I was in my late 20s and in law school. I spent very little time on the internet and reading was something I had to put off until summer. No matter how much I loved Harry Potter, it wasn't enough to get online and, to be honest, I didn't know fandoms or fan fiction existed. I haven't even watched all the movies because I wanted to reread the books first. What I know of Harry Potter is because of the books. That becomes important later.
My first taste of fan fiction came with Twilight. Long before 50 Shades of Grey became the juggernaut everyone but me has read and loved, it was fan fiction. The first time I heard of it was on a book blog. The blogger linked to it, gushing about its magnificence. Okay, I thought. I'm always up for free books!
Holy hell, NO. I was shocked at how awful it was. I read three pages, maybe less, before I gave up. This was 50 Shades before it became 50 Shades! I'm sure it went through numerous revisions (new names, at the very least!) before publication. I can almost guarantee what I read isn't what was published. Note: I'm not saying what was published was good, but I hear the story is compelling.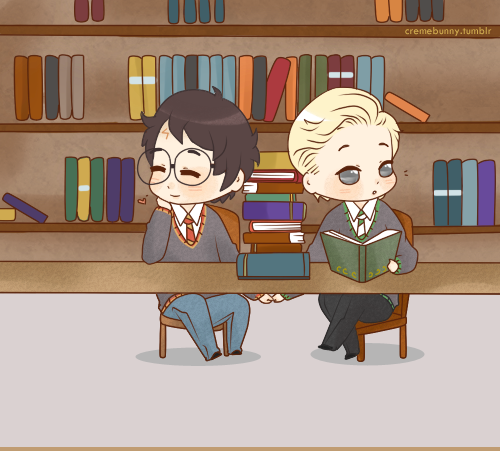 Last night I changed my rating of Fangirl to 4 stars because in retrospect, while I didn't connect with Cath, the book did open up a whole new world for me. Cath is obsessed with Simon Snow, but her fan fiction is about Simon and Baz falling in love despite being enemies. It's slash. Obviously, Simon and Baz are Harry and Draco. Keeping in mind my previous media-free Harry Potter enjoyment, you might understand why, when I read about Simon/Baz aka Harry/Draco (now you know why it's called 'slash'), I looked up and thought: Wait. You mean I'm not the only one who thought Harry and Draco stormed around Hogwarts acting like Elizabeth Taylor and Richard Burton?! I remember reading Half-Blood Prince and thinking Harry needed to chilax with the Draco obsession or invite him to Madam Puddifoot's Tea Shop and be done.
I became more invested in the Simon/Baz story–Fangirl includes excerpts within the story–than in Cath's story. It reminded me how much I liked Harry and Draco as characters, and to throw them into my very favorite enemies-to-lovers trope (Cecily and Nico! Moonlighting! The Taming of the Shrew!) was just gravy. When I finished Fangirl, I was sad to leave behind Simon/Baz. Then, a few days later I–swear, no joke–went online to see if anyone else liked the idea of a Harry/Draco pairing.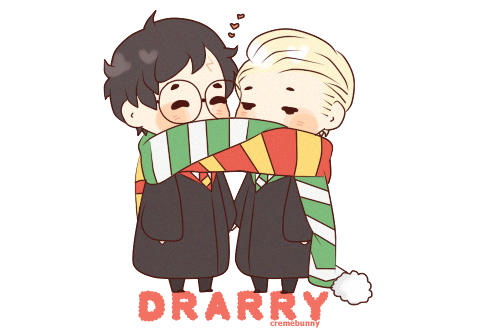 HAHAHAHAHAHAHAHAHAHAHA!
Yeah, turns out one or two other Harry Potter fans like the idea of Harry/Draco. Since then, I've read many, many, many stories involving Harry/Draco. Some of them are horrible and focus on the sexual relationship. Eh. No thanks. I'm not interested in erotica for the sake of erotica. I'm interested in watching a relationship evolve into what it will ultimately become. For me, that's the best part of any romantic story. I tend to lose interest once the initial tension resolves. The other stuff, though, has been really well done. There are fanfic authors who, like Cath, write better/tell more compelling stories than what you see in publishing today.
That's why I thought yesterday's comment from Anna was so great.
I just want to speak up, briefly in defense of fanfiction: I have been reading fanfiction for over 13 years now (wow, just did that math) and have often found it to be much more compelling, true, and profound than many published works – especially the kind you're calling for here, books for teens/tweens. I won't argue that there is some real junk out there, but the same can definitely be said of many "real" books.

Fanfiction is primarily a labor of love, and it shows. The time and effort put into penning works of 75K+ words cannot be understated. I have always loved to read and devoured books at a pace that my family and library couldn't always keep up with; fanfic filled the gap. It also made writing much more accessible (as people my age were writing things both great and terrible, and therefore I could either look to them or definitely do better). Don't knock it; reading IS reading – I ended up with a degree in Publishing.
I completely, totally, almost agree 100%.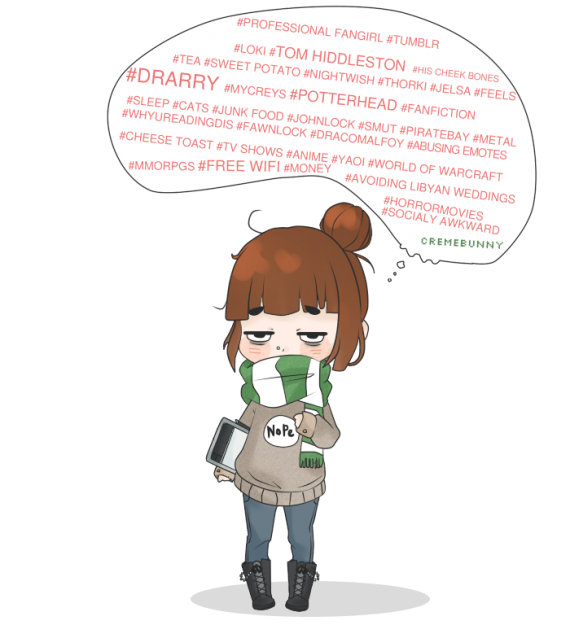 In my experience, the fandom often determines the quality of the fan fiction. The Harry Potter fandom, for example, is so gigantic, and has such a wide demographic, odds are you will find something amazing. On fanfiction.net alone, there are over 670,000 pieces of Harry Potter fan fiction. If we apply Sturgeon's Revelation to this and assume 90% of that 670,000 is crap, that means, theoretically, there are 67,000 pieces of damn good Harry Potter fan fiction on that site. Funny, by the way, that Sturgeon was talking about Science Fiction, another much maligned genre, when he came up with that 90/10 rule.
Anna's comment was in response to my desire for the 7th grade girls at school to read something other than Wattpad fan fiction. I believe reading is reading, and I would rather they read One Direction fan fiction than nothing at all, but I can't go so far as to say "thank God for fan fiction because otherwise there would be nothing to read." There are plenty of books to read. There are so, so many books kids can read right now, this very second. I didn't read H/D because there was nothing else for me to read last month. (And I did read 4 other "real" books in that time.) I read H/D because I wasn't ready to let go of those characters/that plot, and that's fine.
I'm thrilled fan fiction exists; I wonder who I would be today if, at a very impressionable and creative 12 years of age, I had a community like that to support and nurture my writing. It is a wonderful introduction to the world of fiction writing and world building. But, I want the 7th grade kids to be cautious about becoming so comfortable they lack motivation to try something new or assume nothing else of value exists. This isn't an idle concern. I believe The Baal Shem Tov said relationships are mirrors, and what we see in others are the traits strongest in ourselves.
Images: Cremebunny's Drarry digital artwork kills me. Something so adorable shouldn't exist.