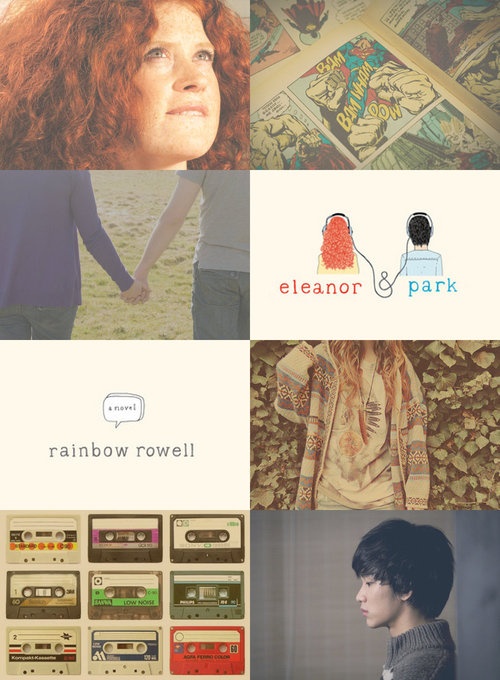 I adored everything about Eleanor & Park, including the ending. I'll break down what I loved about this book–me, the jaded reader who assigns 3/5 stars when I'm feeling generous–in greater detail below, but first I thought I would explain how I came across my favorite book of 2013.
My nutritionist knows how much I like to read, so she recommended I read body-positive fiction. We can define body-positive in this case as characters who are overweight and still manage to win the guy/get the promotion/save the world/etc. [The definition of body-positive changes with the person, obviously. I want to be clear on that–a tall, thin, and delicately shaped woman is still a woman and isn't by inference body-negative.] She suggested was Good in Bed by Jennifer Weiner. I read it.
Yeah. So, anyway.
I decided to branch out and read some more books and began looking on Goodreads for lists featuring books with plus-size or chubby or rubenesque or soft protagonists and found a couple. Eleanor & Park was down towards the bottom of one of the lists. It had a cute cover, so I clicked on it. When I saw it was young adult, I made that 'just swallowed a lemon' face and moved on. But I really thought the cover was cute and the lists were otherwise atrocious, so I caved after a week or two.
I couldn't put it down. Here's why.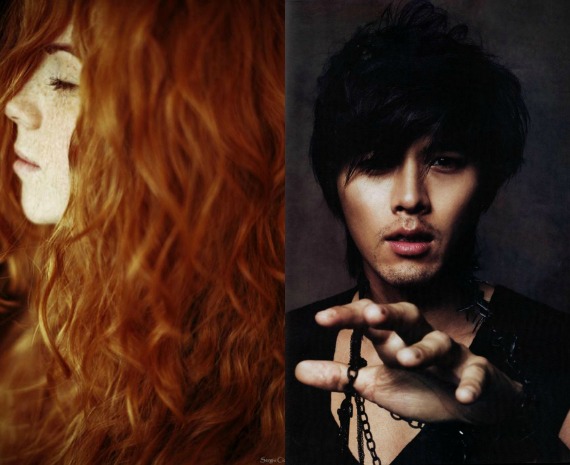 Diversity, Reality, and Characters
Eleanor is a classically overweight high school girl in that she's big, but not as big as she thinks she is, and her boyfriend finds her and her "negative space" more appealing than Storm or She-Hulk or "Betty Boop drawn with a heavy hand." Her hair is a bright, curly red and she's covered in freckles. Her clothing is frightening in its creativity, but she pulls it off because it's not clear that her classmates realize she alters her clothing to hide her poverty as well as display her individuality.
She's a freak, and not always by choice. She's socially awkward and hard to be around. When Park falls in love with her, she doesn't magically turn into someone beautiful and polished. She remains the same in appearance and affect; it's only Park's appreciation for who she is that changes and even after falling in love with her he doesn't always see her through rose-colored glasses. It's not a blind love.
Speaking of Park. He's half-Korean, 5'4″, and slender. Thank you, Jesus.
First, Asian romantic male leads are few and far between. Second, when there is one, he's always, always, always 7'2″ and 275 pounds of sinuous muscle. I'm not saying Asian men can't be tall and ripped. Obviously, they can. (Newsflash: so can Latin men.) I'm saying it was refreshing to read a male romantic lead who didn't battle his perceived romantic rivals in hand-to-hand combat and then toss aside their broken, bloodied carcases so that he could urinate a proprietary circle around his fair maiden using his "so enormous!" staff of life.
Long live Beta Heroes.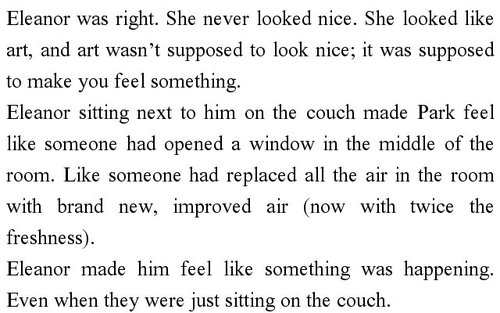 The Dialogue, The Writing
Yes, the first chapter was littered with f-bombs. But, you know what? I remember most of the boys on my high school football team talking like that. It seemed realistic to me. Teenagers cussing, trying to be adults and using words to seem more mature when what they are talking about is anything but. The rest of the book is not like that, thought there is mature language and concepts. (No sex.)
There is a scene where Park holds Eleanor's hand for the first time that is so wrought with tension I swear you will be transported back to the first time someone held your hand. I read that scene several times because it described that feeling of euphoria so well, and not once did the characters feel electric sparks shoot from their finger tips and radiate up their arms. [sidenote to all other writers: stop with the electric sparks and touching. We're humans, not conduits.]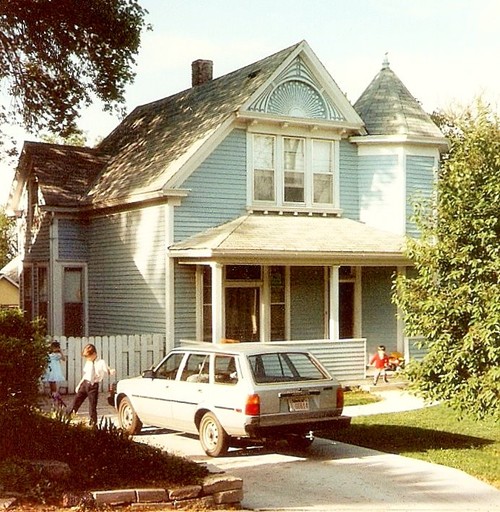 The Setting
1986 Omaha, Nebraska. While they both live in a working class neighborhood, Eleanor is at the poverty line because of her abusive, alcoholic step-father. She doesn't own a toothbrush. She brushes her teeth with salt packets from the cafeteria and while at first that sounds hard to believe (who doesn't have a toothbrush?) you soon realize it for what it is: another way for her step father to degrade and control her.
That sounds unbelievably sad and like nothing I should relish, but I loved that the financial divide wasn't so great between the two. I'm not a fan of the rich man swooping in to save his Eliza Doolittle.
The Music. The Music!
I hear Eleanor and Park may be made into a movie. This fills me with optimistic dread. I'm suspicious of how Hollywood will handle a chubby redhead and a slender Asian. The soundtrack, however, should be excellent.
Love on a Farm Boy's Wages by XTC is the song Park was listening to when the book opens.
XTC was no good for drowning out the morons at the back of the bus.

Park pressed his headphones into his ears.

Tomorrow he was going to bring Skinny Puppy or the Misfits. Or maybe he'd make a special bus tape with as much screaming and wailing on it as possible.

He could get back to New Wave in November, after he got his driver's license.

–Eleanor and Park
Rainbow Rowell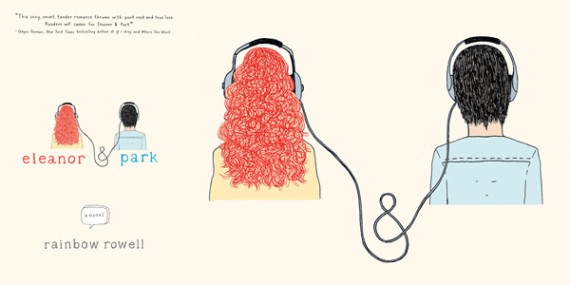 The Only Thing That Bugged Me, But Only A Little
This book is marketed as a young adult novel, and presumably a girl Eleanor's age is the target demographic. I disagree, and it bothers me that publishers assume that young characters automatically mean young adult. I'm trying to think of every 16 year old girl I know, and I can't think of one who would catch 75% of the humor as it relates to 1980s culture. I also don't know that most 16 year olds–who themselves are experiencing first love–would understand the nuances explored in Park and Eleanor's relationship. That entire Romeo and Juliet analysis would have flown over my head in high school. So would the familial relationships and how they contributed to their thoughts and feelings on falling in love and first love.
If I read this at 16 I would have squee!d the entire time until I got to the end. Then I would have been: !!!!!. Today, as an adult woman, I think the ending is what it should be. I still want my sequel, don't get me wrong. I hear there's going to be one of those, too.
Okay! I've prattled on long enough and I haven't even talked about my favorite parts, nor have I done any heavy lifting in the analysis department. I thought I'd save that for the comments to avoid spoilers.
Warning: Spoilers are fair game in the comments!
Image sources: most are from tumblers, which means they could be from anywhere, but you can find "direct" sources in my Eleanor and Park pinterest board. The exception to this is the 2-picture Eleanor and Park character collage I created, but the original images are in the board. The man is Korean actor, Hyun Bin.