Happy, Happy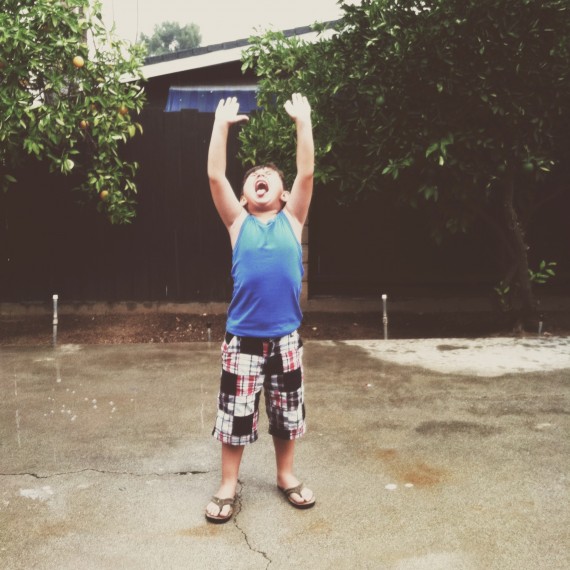 {poor little southern California kid doesn't know what to do with a freak summer storm}
You know how I know my husband is back from his business trip? I tried reading the remaining 30% of the 2nd (truly awful and predictable) book I downloaded on Wednesday night and my braincells whimpered. You know what? They didn't even whimper. It was like turning on the light in a dark room and watching cockroaches scurry for cover. My braincells are the cockroaches in this example. All that was left behind was confusion and shame. I'm going to save it for the next time he leaves town which, sadly, is soon. I'll read it then and think it's a work of literary genius! I won't, but it won't bother me one iota. I'll revel in it's implausibility and cookie cutter characters and plots.
A few of you have asked me for the name of the author, and while I would love to share how low I sink when it comes to reading material (it's pretty damn low), I made a mistake in calling it awful/ridiculous/predictable, etc. etc. Don't get me wrong–it is awful/ridiculous/predictable, etc. etc., but I don't want her find those posts and read that about her work. It was mean of me to say. Constructive criticism is cool, making fun of people–not so cool. She's really popular on Goodreads (it's where I find all my comfort reads) and I think she's self published. Good Lord, I hope she is or there's an editor at a publishing house that should be looking for a job right about now.
See what I mean? I can't stop with this woman.
I will give out the author name when I can figure out a way to do it in such a way that the happy link trail doesn't suggest "if you're looking to waste time and care nothing about quality, have I got the author for you!"
Monday
One of my very best friends is going through a terrible time right now but it means we talk and text every day. There is a silver lining in every dark cloud, I guess.
Tuesday
Nico has been in swim camp this summer and he is now water safe! It was a bit of an uphill battle for him for many reasons so this was a big deal.
Wednesday
Three different people said something nice about me to my face. All three were completely unexpected and not a result of me fishing for compliments. Three nice things! That's the opposite of how this usually goes. Usually I hear I'm a hermit, shouldn't be so hard on myself, or need to relax. [Sidenote: The odds a person who suffers from anxiety will relax when you say, "You need to relax!" are so low that I suggest you spend your time on more fruitful endeavors, like teaching snakes to tap dance.]
Thursday
I went to the airport and picked up the Mister. Now we can be robbed as a family!
Friday
My hope is to do absolutely nothing, though I just remembered as I'm typing that I need to work on a Wayfair post. Which also reminds me that I'm supposed to share the posts I've already written over there. I did two. One on summer camps and one on international barbeque ideas.
The Weekend
I bought a swimsuit I actually like, so I think we might go swimming! Other than that, I don't think we have much going on. I might blow off working on the closet/hidey hole and instead catch up on replying to the comments from this week, which have been so awesome. I swear, they get funnier and funnier. I keep picturing Jasi on the stairs with a book in hand and a meat tenderizer at her side. And let's not forget Phaedra with the stapler. I've seen pictures of Phaedra; I'm surprised the fleeing robber didn't turn around and ask to be stapled to her.
Have a great weekend, everyone.