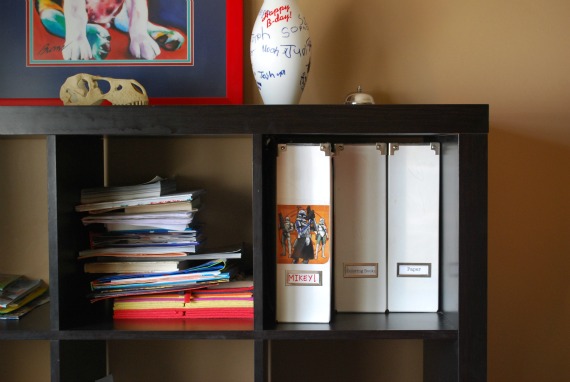 The IKEA Expedit has sat close to empty in Mikey's room since the big toy purge of 2012. I thought I would sell it on Craigslist, but now that we are thinking of putting the boys in one room, I'm thinking I should keep it or swap it out for a white one. Anyone want to trade?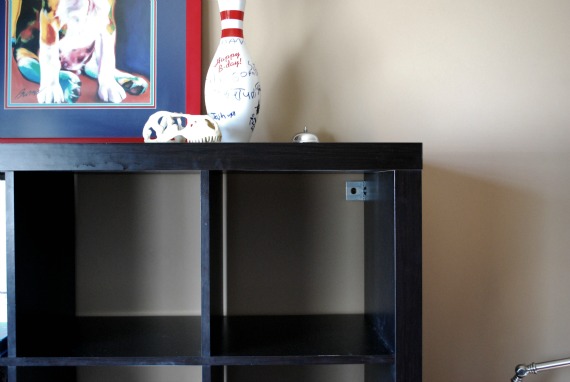 There were a few books, some empty/collapsed cubby bins, and the set up I had to store Mikey's homework K-2nd grade. The way I had it organized worked so well that I decided to tweak it to work for both Mikey and Nico.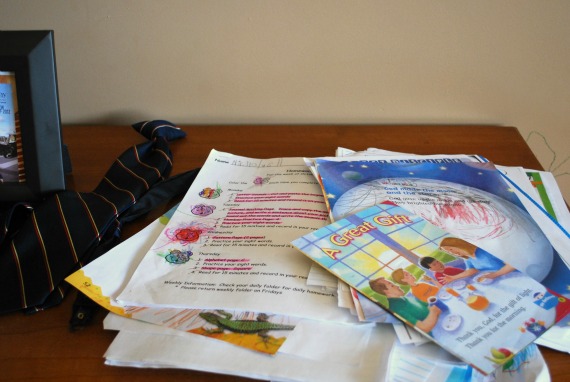 I found with Mikey that Kindergarten through 1st grade came with a truckload of schoolwork and homework to store in the form of worksheets, coloring pages, and little reading booklets. I saw a decrease in the paper by 2nd grade, and so far 3rd grade has been light, or at least reasonable. He brings home his graded homework and tests, but most of his schoolwork is now in workbooks that he leaves at school.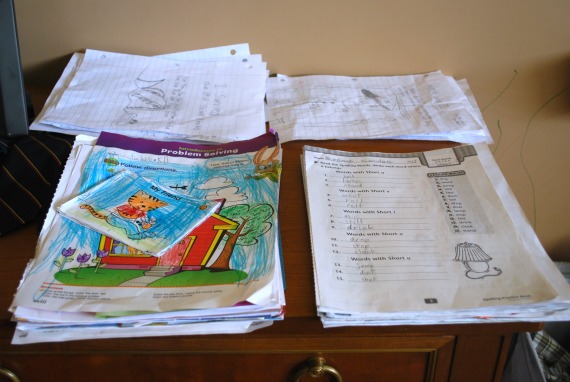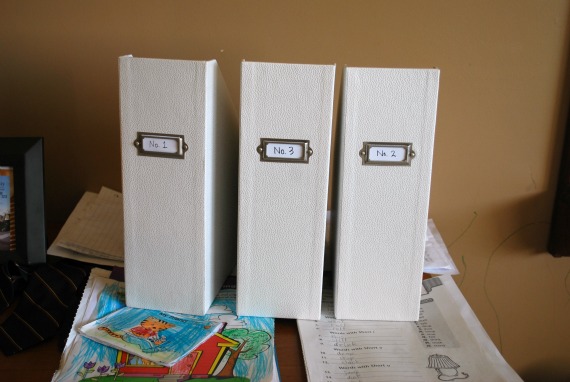 It's hard to tell from the angle of the picture, but already Nico has twice as much paper as Mikey. The lined paper in the back are blueprints, business plans, stories, and comic strips Mikey works on and leaves laying around the house. I love them, so I'm going to find a special way to store them.
Because of the avalanche of paper I know is coming, I decided to buy 3 magazine files instead of the one I used for Mikey. The other files in the lead picture held coloring books and workbooks, and by the end of the year I had to scrunch the paper into the magazine file. Since their school uses a trimester system, I have a file for each trimester.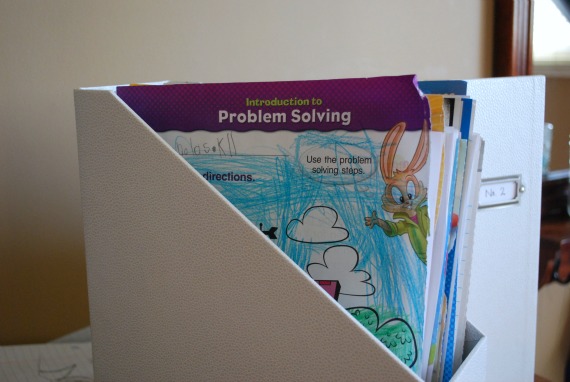 I keep every graded piece of work in the event of a discrepancy or error in grading come report card time. It helps to keep everything in one spot and easy to find. Last month I checked Mikey's progress report online and saw he had a F in science. Not freaking likely, I thought. It turned out to be a simple miss-key, but I had the science test he supposedly failed (89%) as proof.
Because I check homework folders every day, I created a flat-out lazy, brainless system that is easy to manage. I will rarely need to look for graded work, so I pull out the magazine file and put Nico's homework on the right facing out.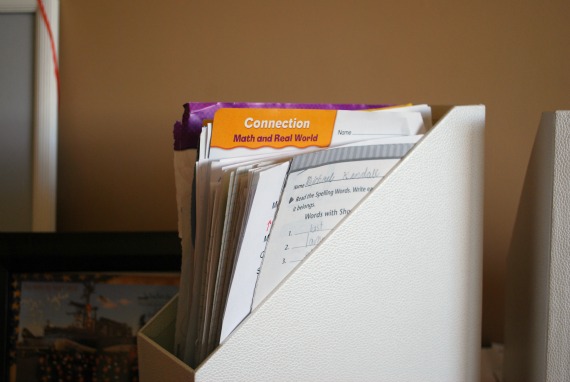 Then I flip the file around and put Mikey's homework on the left, also facing out. They meet back-to-back in the middle. Nothing separates one from the other because it's not that hard to shuffle through some paper once, maybe twice a school year. It's pretty obvious which work is Mikey's and which work is Nico's.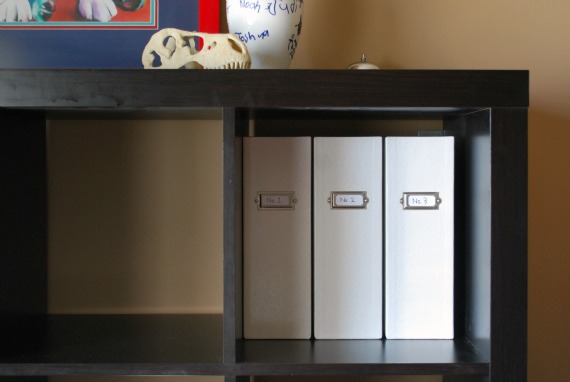 I could get away with one magazine file and empty it out at the end of each trimester, but I like to keep everything until the school issues final report cards. Then, at the end of the year, I throw it all away.
[Pauses for dramatic effect.]
Whenever I say this to other moms, I get wide-eyed stares and clucking tongues. It's true; I throw it all away. I toss coloring pages, tests, booklets, and scribbles. I throw everything away because their teachers have a running memory book for the parents at the end of the year. Inside the slim binders are pictures, big tests, special assignments, and important classwork. Because we're required to check their folders daily, I know when do something fantastic I want to keep. Instead of filing it in the magazine file, I put it aside in their special keepsake box.
My friends think I have a cold, black heart for tossing out their classwork, and I think they are crazy for storing every last scrap of paper in 10 bins that line the ceiling of their garage. If it's special, it shouldn't be in a bin in a garage–unless the garage is a place of honor. Mine isn't. It looks like something you'd see on an episode of Hoarders.
I keep what reflects their personality at the time, not busywork. The subscription list Mikey made for his comic book business, the drawing of the Titanic Nico made after he watched a documentary, that's what is worth keeping. And, when the boys leave to establish homes of their own, I hope it will be worth taking with them, too.
Well, maybe I'll just let them borrow it. We'll see.
::::::
New here? For the next 31 days I'm living according to the famous William Morris quote, "Have nothing in your houses that you do not know to be useful or believe to be beautiful." You can learn more about the project here, and catch sneak peeks of my projects by following me on Facebook, Twitter, or Instagram (I'm @pancakesfries).