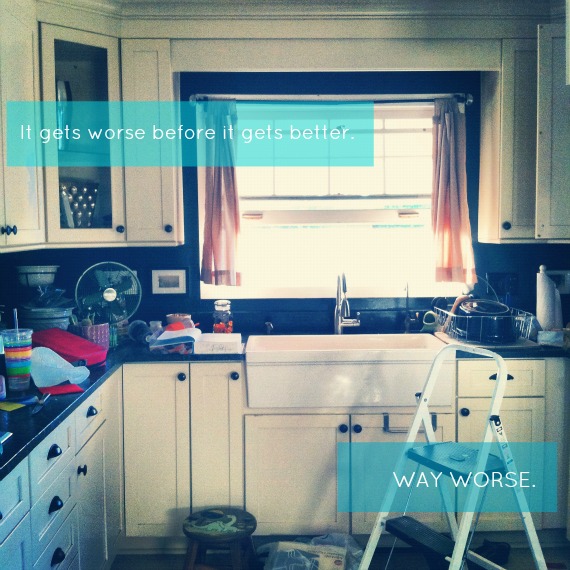 I was a maniac yesterday. I started working after lunch and stopped occasionally to stretch my back, pick up the boys from school, and help Nicholas with his homework. At one point, the kitchen looked like a bomb went off. I stopped after sunset (you'll see the lighting change in the pictures as the day progresses) but had I the light, I would have kept going. I just want the kitchen cabinets done. I'm almost there.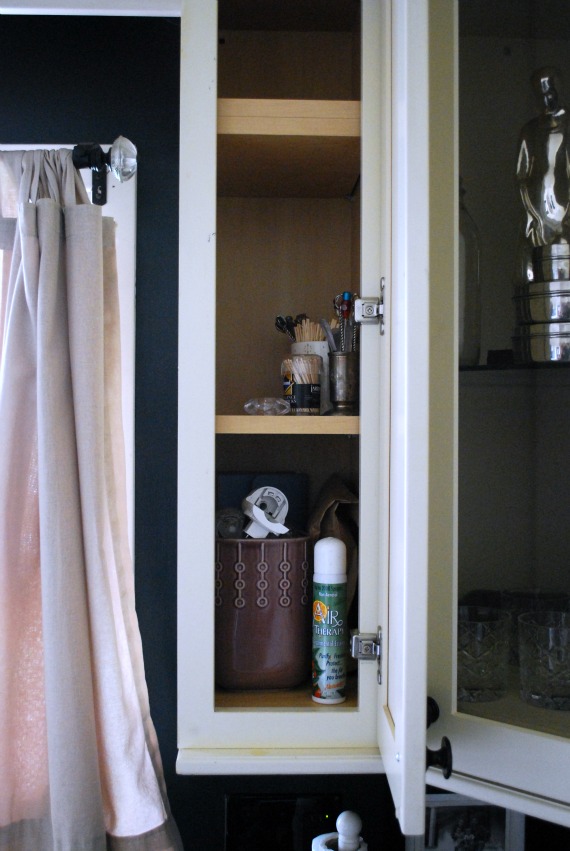 Yesterday the skinny cabinet looked clean, but wasn't a good use of space. I decided to store soap and dog medicine, which we normally keep in a basket on the counter.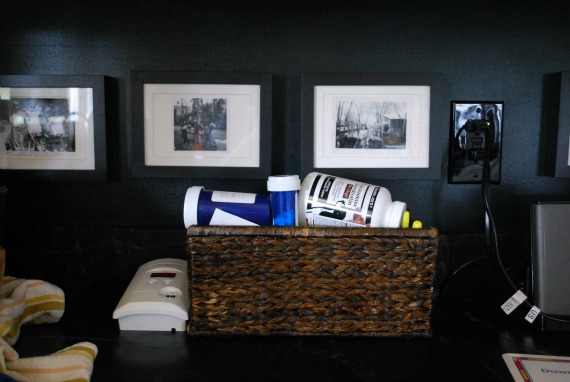 We kept more than dog medicine in the basket. Clearly. I tossed everything aside from the dog medication.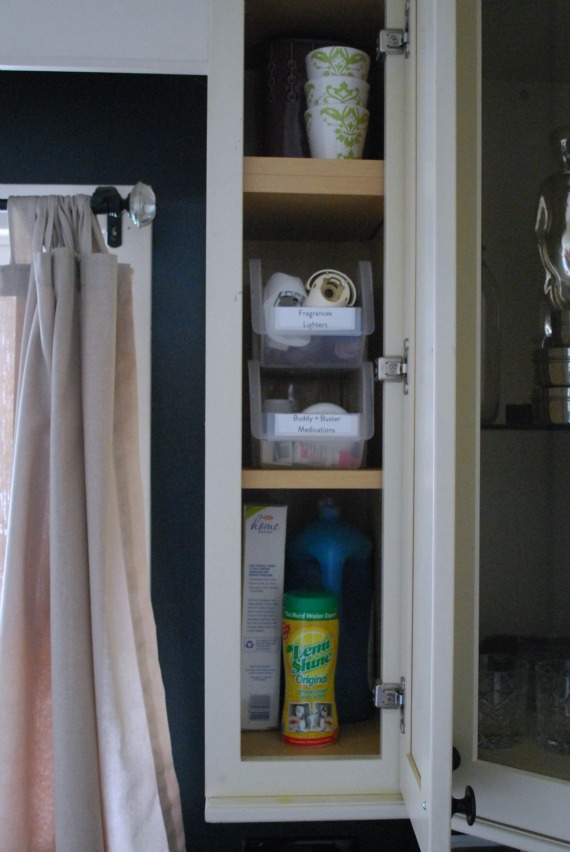 Here's how it looks now.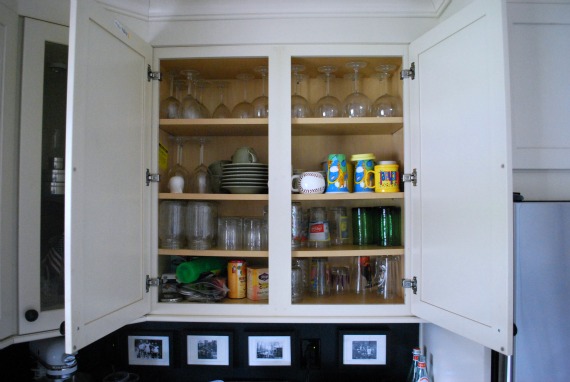 I hit the glassware cabinet next. I've been wanting to do this one for a long time. The first thing I did was to get rid of the wine glasses. We don't need them, so I gave them to my mom for her to use during the holidays.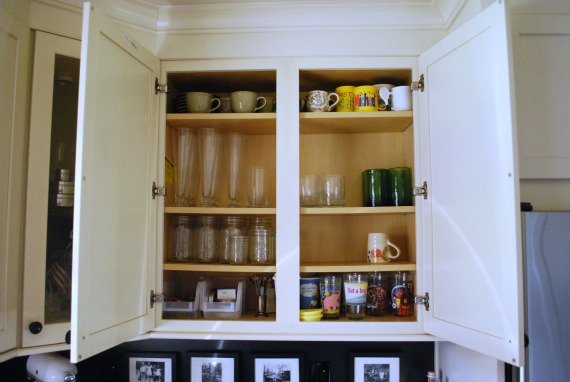 That freed up enough room for me to pull the beer glasses out from another cabinet that was not a mess, but not functional, either. I was able to rearrange that cabinet, too, but don't have pictures. I'm telling you, I was like the Tasmanian Devil yesterday. The loan mug on the shelf is there because I use it only to melt butter for baking. I'm not sure where it belongs.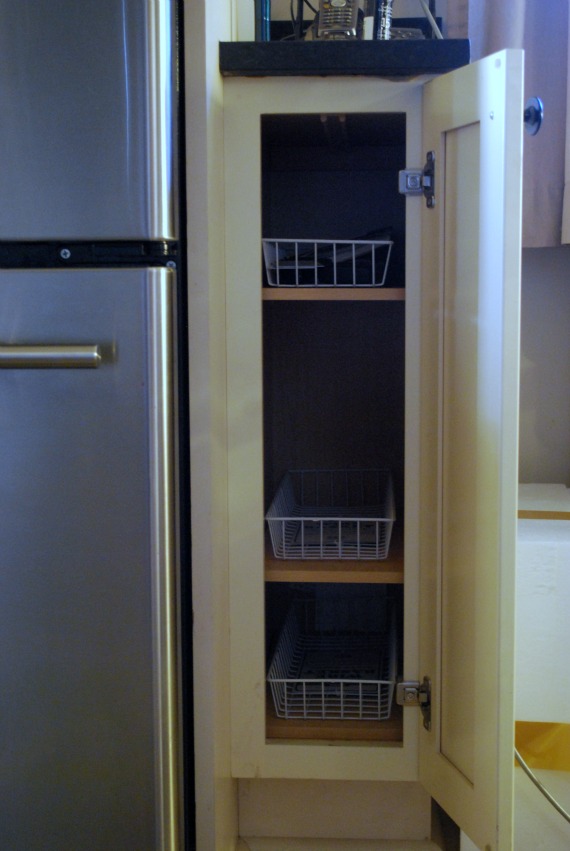 That skinny cabinet I ended with in yesterday's post also got a quick clean up. On each shelf I used wire baskets from The Dollar Store to act as drawers. They work much better than I anticipated!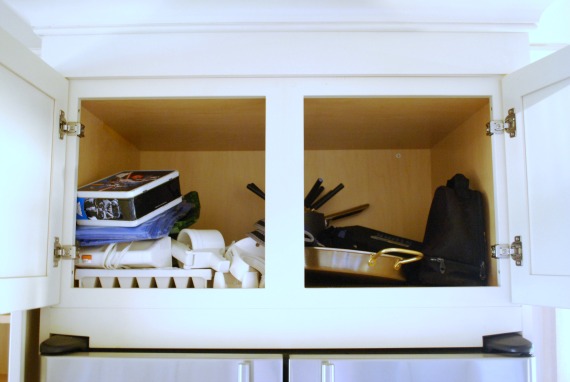 The cabinet above the refrigerator. Worthless. It stayed fairly organized since the last time I worked on it last October, but the lunch bags were flying around like bats.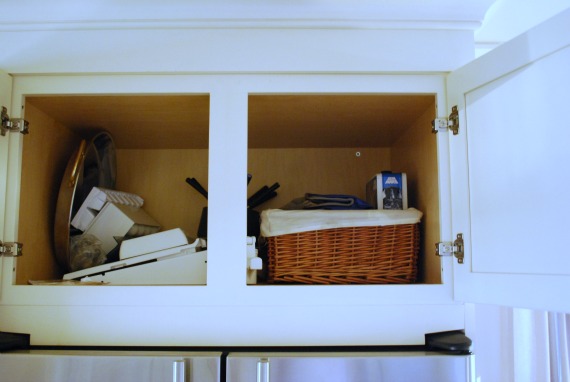 I rounded them up in a basket. The rest of what's up there are refrigerator parts (wine caddy, egg caddy, extra shelf) that I need to keep for the day I sell the refrigerator. Oh, and a paella pan.
I did two more cabinets, and I have before pictures for one of them. The after pictures I will take today before I start on the next project…which better not be in the kitchen.
I've been horrible about remembering the link up because all the days are running into each other. Oops! Here is the link up, better late than never. Please share your William Morris Project inspired projects around the house!
New here? For the next 31 days I'm living according to the famous William Morris quote, "Have nothing in your houses that you do not know to be useful or believe to be beautiful." You can learn more about the project here, and catch sneak peeks of my projects by following me on Facebook, Twitter, or Instagram (I'm @pancakesfries).