What I need to complete the kitchen is a large block of time. I won't have that until tomorrow, so I do what I can, one drawer or cabinet at a time. On Day 6 I tackled the drawer under range.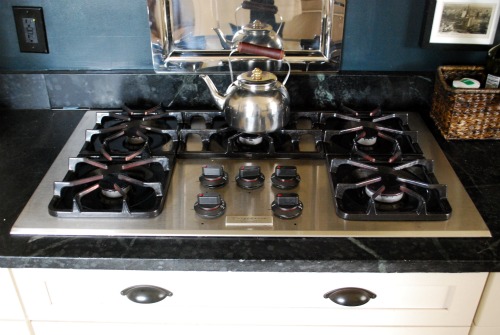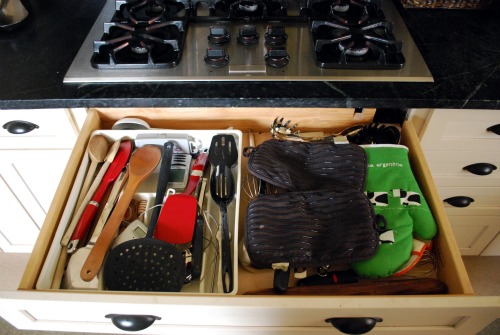 It's a nice, large drawer that could be a real workhorse in the kitchen if organized well. The problem, of course, is that it's never been organized well. It's been rearranged and decluttered in the past, but I never found drawer organizers large enough to properly utilize the available space. Eventually I learned to make do.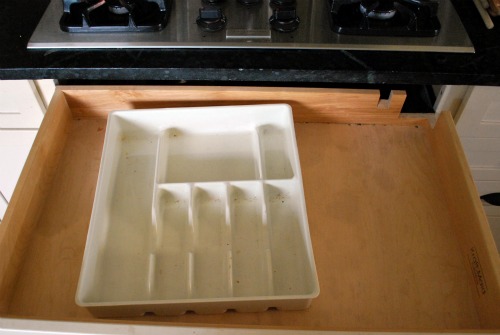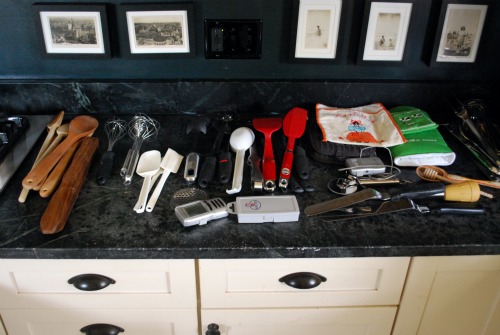 Second verse, same as the first. I took everything out of the drawer and put it in quasi-organized piles on the kitchen counter. Next, I vacuumed out the drawer and washed the ill-fitting utensil organizer with an all purpose cleanser. Then, my least favorite part: analyzing the contents.
I was one ladle short of a soup kitchen.
Almost all of the items in this drawer are from our wedding. Judging by the impressive number of ladles (at least 6), I can only assume that, at some point during our engagement, someone started a vicious rumor that I was unconditionally and irrevocably in love with soup.
This is where it Day 6 became challenging. Challenging being relative, since I'm not talking about spelunking without a light. I'm talking about realizing I would have to put in the donate pile several serviceable kitchen items that take up little room and are of good quality.
That stings.
Also, what if one day I have a chili party? I guess I will have to stand there, shame faced, while my many, many guests fight over two stainless steel ladles. I can almost picture my tear streaked face turned toward heaven in supplication, my right hand curled in a gentle fist against my heart. Oh, if only I had 4 extra plastic ladles!
At the end of the day, logic won. The world waits to see if I will curb my enthusiasm for spatulas before the end of the month.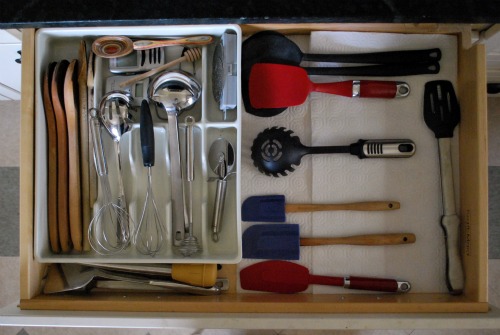 The current utensil organizer remains woefully inadequate. I'm curious to see how these work. At some point this month I am going to the Container Store, drawer in hand, to see what I can find. If I can't find or create something that takes up the entire drawer, I'll pick up cork liner to keep loose items in place. In the interim, simple sheets of paper towels get the job done.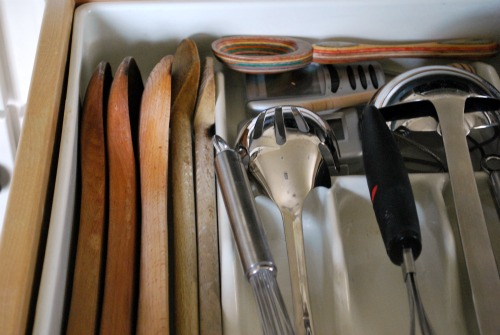 I was ten seconds away from losing my temper when I realized, after 12 years of managing my own kitchen, that wooden spoons store easily and efficiently on their sides. What a revelation! Another revelation: time to oil those wooden spoons, William's Girl.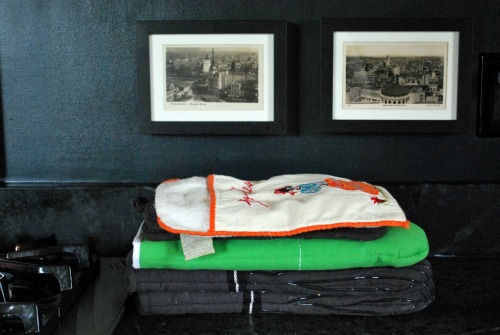 My oven mitts are the only items of importance that didn't make it back into the drawer. I'm hoping new drawer dividers allow for their return because this is the ideal place for their storage. For now, they're in a small and unsatisfactory drawer to the left.
New here? For the next 31 days I'm living according to the famous William Morris quote. You can learn more about the project here.